INCREDIBLE BURT WONDERSTONE, THE
(director:Don Scardino; screenwriters: Jonathan M. Goldstein, John Francis Daley/story by Chad Kultgen; cinematographer: Matthew Clark; editor: Lee Haxall; music: Lyle Workman; cast: Steve Carell (Burt Wonderstone), Steve Buscemi (Anton Marvelton), James Gandolfini (Doug Munny), Olivia Wilde (Jane), Joshua Erenberg (Judah Munny ), Luke Vanek (Young Anton), Mason Cook (Young Burt), Michael Bully Herbig (Lucius Belvedere), Jim Carrey (Steve Gray), Jay Mohr (Rick the Implausible), Alan Arkin (Rance Holloway), Ron Ostrow (Jim the Bartender), Sonya Eddy (Hanna), Fiona Hale (Grace); Runtime: 100; MPAA Rating: PG-13; producers; Chris Bender, Steve Carell, Jake Weiner, Tyler Mitchell: Warner Bros.; 2022)
"What's incredible is how bad a film it is with such a talented cast."
Reviewed by Dennis Schwartz

The veteran TV director of "30 Rock" fame, Don Scardino ("Me and Veronica"), directs this misfire. What's incredible is how bad a film it is with such a talented cast. It's based on the story by Chad Kultgen and is scripted by Jonathan M. Goldstein and John Francis Daley. It weakly tells a familiar showbiz story about the ups and downs of a pair of magicians whose act has become old and they get their comeuppance when they have run out of tricks to sell out the Vegas casino stage show and get fired.

Childhood friends Burt Wonderstone (Steve Carell) and Anton Marvelton (Steve Buscemi) elude bullies by doing magic acts as kids. As adults they partner in a glitzy magic act that makes them stars in Las Vegas.

Burt is an arrogant narcissist, while Anton plays the timid second banana in their number one magician act in Vegas. But gruff hotel boss Doug Munny (James Gandolfini) tells the boys audiences want something new, they have grown tired of their stale act. The public now favors Steve Gray (Jim Carrey), a cable TV entertainer calling himself the "brain rapist," who specializes in doing gruesome self-mutilation stunts like putting a drill to his head to make a hole in it.

After fired the boys dissolve the partnership, but neither one can get work. So Anton does volunteer work for a charity bringing magic kits to poor kids in the Third World Country of Cambodia. Meanwhile Burt can't get work on the Strip and retreats to an old age home for former Las Vegas performers and meets there his magician hero (Alan Arkin). The old timer helps change Burt's bad attitude and rekindle his interest in magic.

Olivia Wilde plays the long-suffering stage assistant to the act and begins a romance with the humbled Burt, who partners again with Anton in a new act. Meanwhile Anton has learned a lesson that the impoverished kids in poor countries want food not magic games (this corny bit goes for a joke).

It's a, vacuous and unfunny pic. There's a cameo by the real Las Vegas magician David Copperfield that serves as a break from all the absurd set pieces.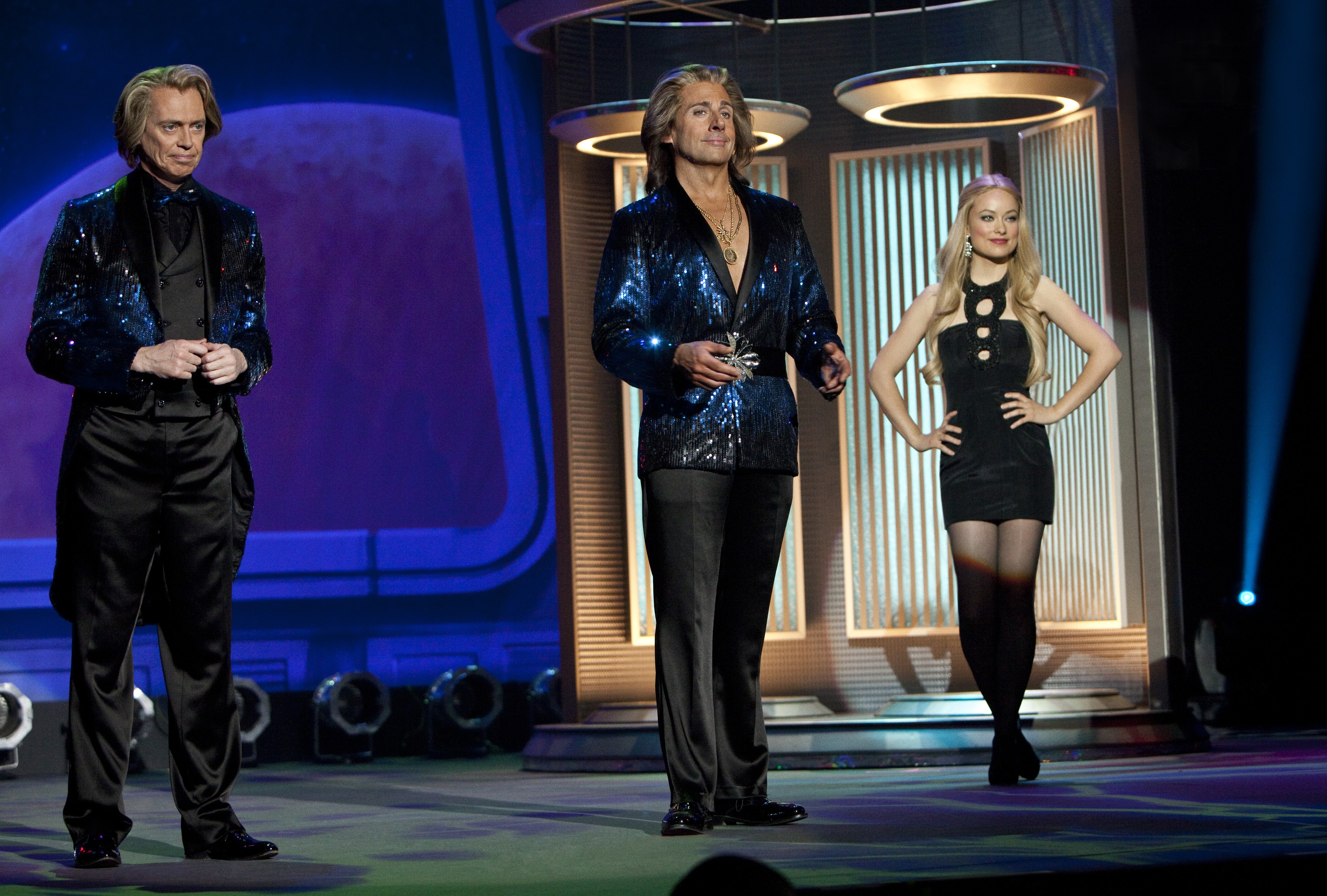 REVIEWED ON 5/7/2022 GRADE: C-