IN THE HEIGHTS
(director: Jon M. Chu; screenwriters: based on the musical stage play, concept by Lin-Manuel Miranda/based on the musical stage play, book by Quiara Alegria Hudes/Quiara Alegria Hudes; cinematographer: Alice Brooks; editor: Myron Kerstein; music: Lin-Manuel Miranda; cast: Anthony Ramos (Usnavi de la Vega), Corey Hawkins (Benny), Leslie Grace (Nina), Stepanie Beatriz (Carla), Lin-Manuel Miranda (Piragüero), Melissa Barrera (Vanessa),  Olga Merediz (Abuela Claudia), Jimmy Smits (Kevin Rosario), Daphne Rubin-Vega (Daniela), Gregory Diaz IV (Sonny), Dascha Polanco (Cuca), Christopher Jackson (Mister Softee); Runtime: 143; MPAA Rating: PG-13; producers: Anthony Bregman/Scott Sanders/Mara Jacobs/Lin-Manuel Miranda/Quiara Alegria Hudes; Warner Bros./HBO Max; 2021)
"One of the better Hollywood musicals in recent years."
Reviewed by Dennis Schwartz

Lin-Manuel Miranda's Tony award-winning musical finally hits the Big Screen after his Hamilton (In The Heights opened off Broadway in 2007 before it ran a year later for three years on Broadway) and then was delayed by the pandemic. It's directed with energy, love and sentimentality by Jon M. Chu ("Crazy Rich Asians"/"Now You See Me 2") and is for the most part smartly written by the female playwright Quiara Alegria Hudes (it sputters at times).
The feel-good Latino musical (featuring hip-hop, freestyle rapping and Latin American rhythms) is about a close-knit group of Latino working-class immigrants living in NYC's Washington Heights (in Upper Manhattan) and aspiring to cash in on the American dream.
 
The story follows the Dominican bodega co-owner Usnavi (Anthony Ramos) in the el barrio, who partners with his cheeky cousin Sonny (Gregory Diaz IV). The bashful protagonist also acts as narrator. We learn he was named for the U.S. Navy ship first sighted by his Dominican parents on arrival in America. He dreams of earning enough to send money home to help repair the run-down family home in the Dominican Republic and of buying a beachside bar because he once enjoyed his visit there with his father. Usnavi has a crush on Vanessa (Melissa Barrera)–the neighborhood  hairdresser, but she yearns to be a fashion designer and move into a fashionable Manhattan neighborhood.

Usnavi's pal Benny (Corey Hawkins) is excited about the arrival from California of his ex-girlfriend Nina (Leslie Grace), who is back after dropping out of Stanford — much to the disappointment of her father –— Benny's boss Kevin (Jimmy Smits), who may have to sell his car-delivery company because her expensive education put him in debt.

The film immediately takes you into its heart with a snazzy 10-minute opening, as it introduces the main players in the film, the citizens of the Heights, waking up on a hot summer morning and shuffling off to work by bus or leaving their brownstone apartment buildings and walking around in the bustling streets.

Lin-Manuel Miranda has a cameo. He plays Piragüero, who is seen pushing his cart through the neighborhood selling fruit-flavored shaved-ices.

It's a loving tribute to a poor neighborhood and its hardy people, who stuck together to beat back the inherent wrongness of gentrification and who always stand up with pride for their Latino ethnic identities.

The many set pieces and musical numbers highlight the film–from such different pieces as the showstopper "96,000" (whereby the characters imagine what they'd do if they won the lottery, after someone supposedly gets a winning ticket from Usnavi's bodega). Also the wistful ballad "When The Sun Goes Down," a simple musical number ably performed by Hawkins and Grace. My favorite piece was from Olga Merediz, the only original Broadway performer to reprise her role. She was Tony-nominated for her stage performance as the Height's honorary abuela, Claudia (she raised Usnavi when his parents died when he was a child). Her song, "Paciencia y Fe," is a showstopper, the most moving and inventively staged one of the film.

It's a pleasant film, offering sheer optimism and sweetness for its featured impoverished but vibrant community. It's one of the better Hollywood musicals in recent years. It chooses not to talk much about living in a racist country or other negatives (though acknowledging they exist—as it briefly mentions the problems over DACA and a 1999 looting incident in the community during a city blackout). Instead it mostly shows off the spirit of its chosen ebullient Latino community and of them finding much to be happy about despite not given an equal chance to get ahead. Though it's sometimes clunky (the film is driven by its episodes and never fully takes shape as a whole).

I think it worked better on stage. But its life spirit, its upbeat music and sweet romances never flail on the transfer to the movie.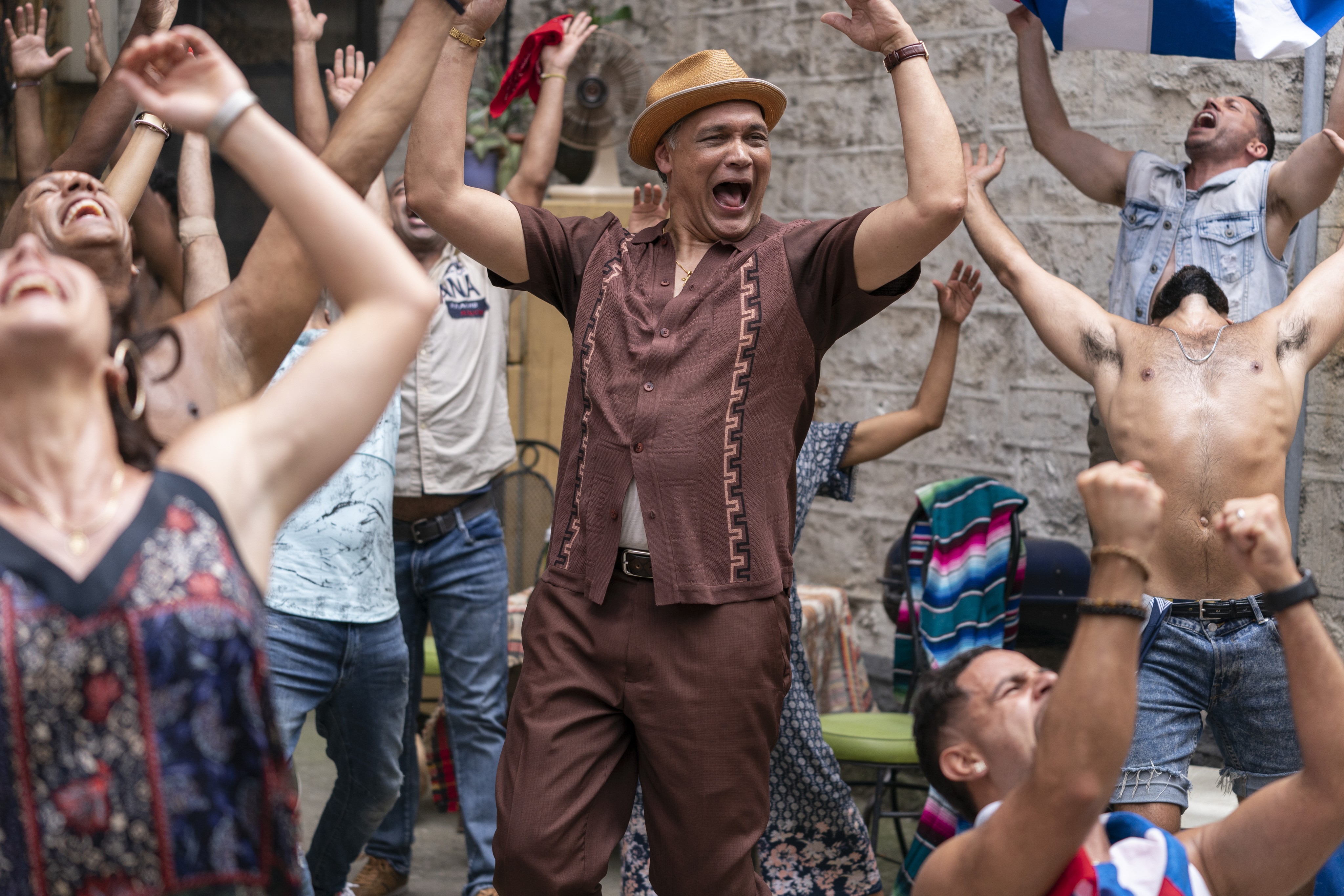 REVIEWED ON 5/27/2021 GRADE: B+