ICE ROAD, THE
(director/writer:Jonathan Hensleigh; cinematographer: Tom Stern; editor: Douglas Crise; music: Max Aruj; cast: Liam Neeson (Mike McCann),Marcus Thomas (Gurty), Amber Midthunder (Tantoo), Laurence Fishburne (Goldenrod), Benjamin Walker (Varnay), Holt McCallany (Lampard), Martin Sensmeier (Cody), Matt McCoy (GM Sickle), Brian Sawatzky (VP operations Tager); Runtime: 109; MPAA Rating: PG-13; producers; Al Corley/Bart Rosenblatt/Eugene Musso/Lee Nelson/Shiwani Rawat/David Tish: Netflix; 2021)
"The thriller might be watchable but the outcome is slippery."
Reviewed by Dennis Schwartz

Filmmaker Jonathan Hensleigh ("Kill the Irishman"/"The Punisher") gives us this cliched thriller that's set in Northern Canada. Liam Neeson goes for the same hero role he's been lucratively playing for over a decade and takes on the role sleepwalking his way through it.

The 69-year-old Liam Neeson plays the gruff Mike McCann, a big-rig ice road driver, who goes for the danger and $200,000 payday, as he rides with his PTSD suffering mechanic brother Gurty (Marcus Thomas) and teams up with the tough-guy trucker, Goldenrod (Laurence Fishburne), driving a second big-rig, while the gritty Native American Tantoo (Amber Midthunder) takes a third rig, as they bring in heavy equipment and try to rescue diamond miners in Manitoba trapped inside the remote mine, after a methane explosion.

It's a ticking-clock thriller, as the truck convoy, with each rig weighing about 65,000 lbs, must pass through thawing terrain, frozen lakes, a long stretch of ice road and over an aging and run down bridge. There's also an upcoming winter storm on the way to be concerned about. The rescuers have only a 30- hour window for the rescue. When one rig goes down, it looks bad. At the last minute, the mining company sends over the brooding rep Varnay (Benjamin Walker).

It follows the Clouzot "Wages of Fear" (1953) plot, but this is a contrived film without its characters having much depth and that film was one of the great action pics of all time. There are no surprises here, and the thriller might be watchable but the outcome is slippery.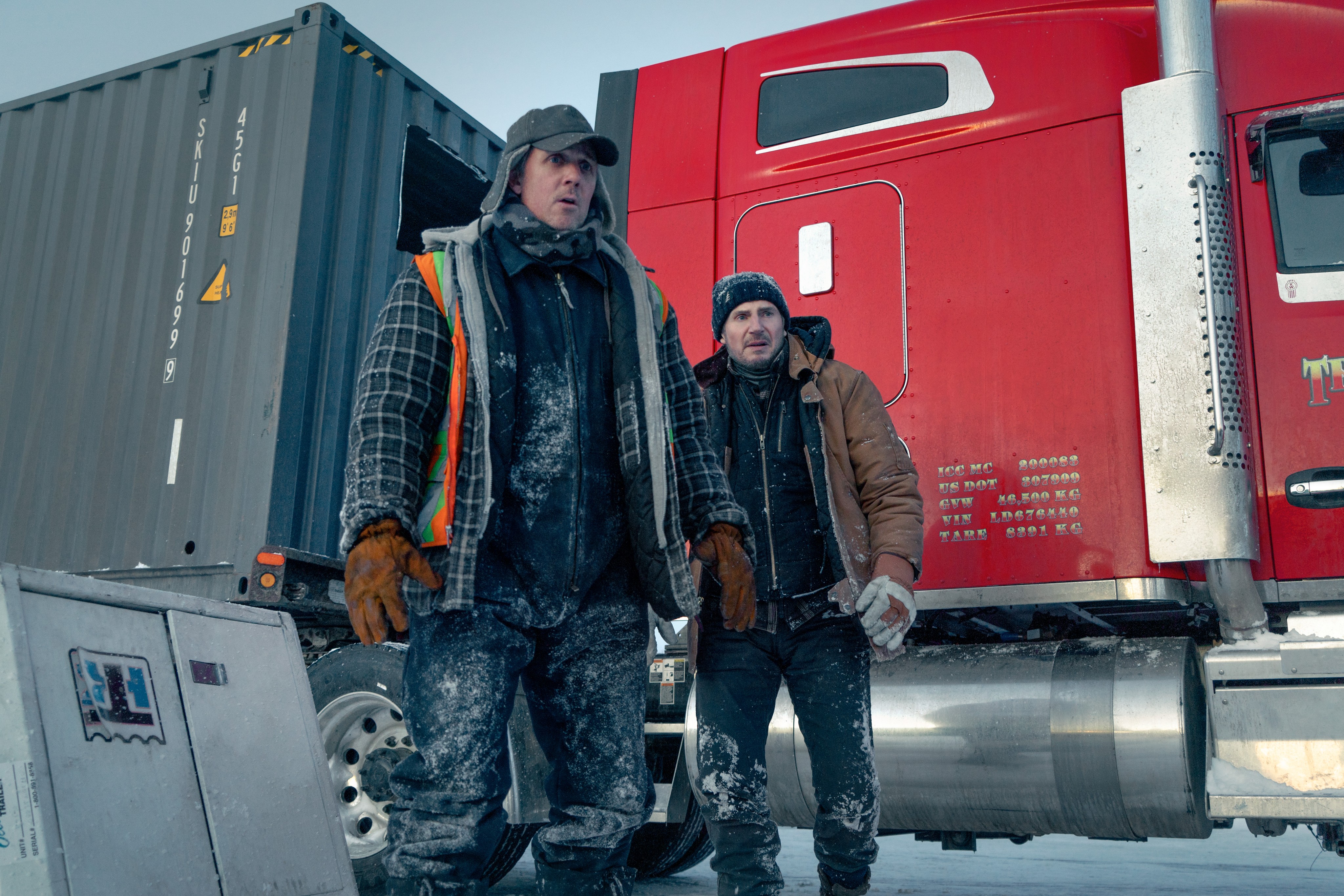 REVIEWED ON 7/8/2021 GRADE: C