HITMAN
(director:Xavier Gens; screenwriter: Skip Woods/ based on the Eidos Computer Game "Hitman"; cinematographer: Laurent Bares; editors: Carlo Rizzo/Antoine Vareille; music:Geoff Zanelli; cast: Timothy Olyphant (Agent 47), Dougray Scott (Mike Whittier), Olga Kurylenko (Nika Boronina), Robert Knepper (Yuri Marklov), Christian Erickson (Gen. Kormarov), Ulrich Thomsen (Mikhail Belicoff), Eriq Ebouaney (Bwana Ovie), Michael Offei (Jenkins), Joe Sheridan (Capt. Gudnayev), James Faulkner (Smith Jamison), Henry Ian Cusack (Udre Belicoff); Runtime: 93; MPAA Rating: R; producer; Charles Gordon, Adrian Askarieh, Pierre-Ange Le Pogam: 20th Century Fox; 2007-France/USA-in English, with subtitles for Russian dialogue)
"Underwhelming Eurotrash trashy video game film."
Reviewed by Dennis Schwartz

French director Xavier Gens ("Frontere(s)"/"The Divide") energetically directs this underwhelming Eurotrash trashy video game adaptation to film. It's weakly written with a pedestrian plot by Skip Woods, and its globetrotting (London, South Africa, St. Petersburg and Istanbul-shot mostly in Bulgaria) contract killing story is outrageous and implausible. The action scenes (with high-powered guns and swords) are cartoonish.

The titled amoral antihero hitman is Agent 47 (Timothy Olyphant), a genetically engineered assassin, trained by a religious group from birth to be a ruthless killer, as he's employed by a shadowy international organization.

When the contract killing of Russia's leader Belicoff (Ulrich Thomsen) in St. Petersburg, goes wrong, the charmless bald operative Agent 47 finds he's been double-crossed by the Organization. An obsessed Interpol commander, Mike Whittier (Dougray Scott), on the side of the good guys, is trying to catch him, with his loyal partner Jenkins (Michael Offei) by his side.

The president's sex-slave Nika (Olga Kurylenko) is thought to be a witness, as the saucy gal is snatched by the robot and accompanies him in his pursuit of the baddies.

When Belicoff emerges alive, Agent 47 goes after the president's brother (Henry Ian Cusack), who is in Istabul. Also involved in the chase is the shifty KGB boss Yuri (Robert Knepper).

If you have low-expectations they will be met. It should have been more entertaining.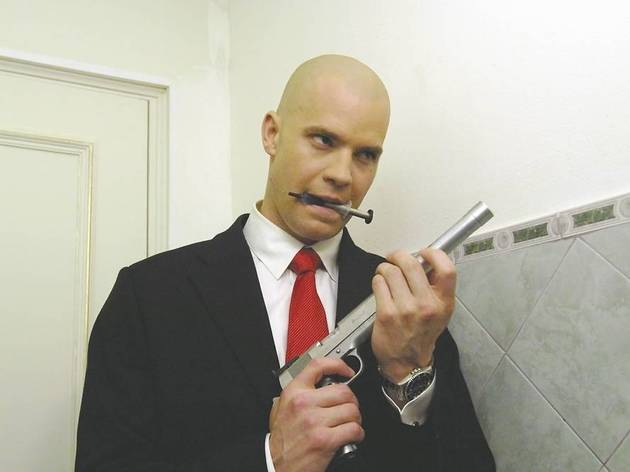 REVIEWED ON 9/22/2021 GRADE: C