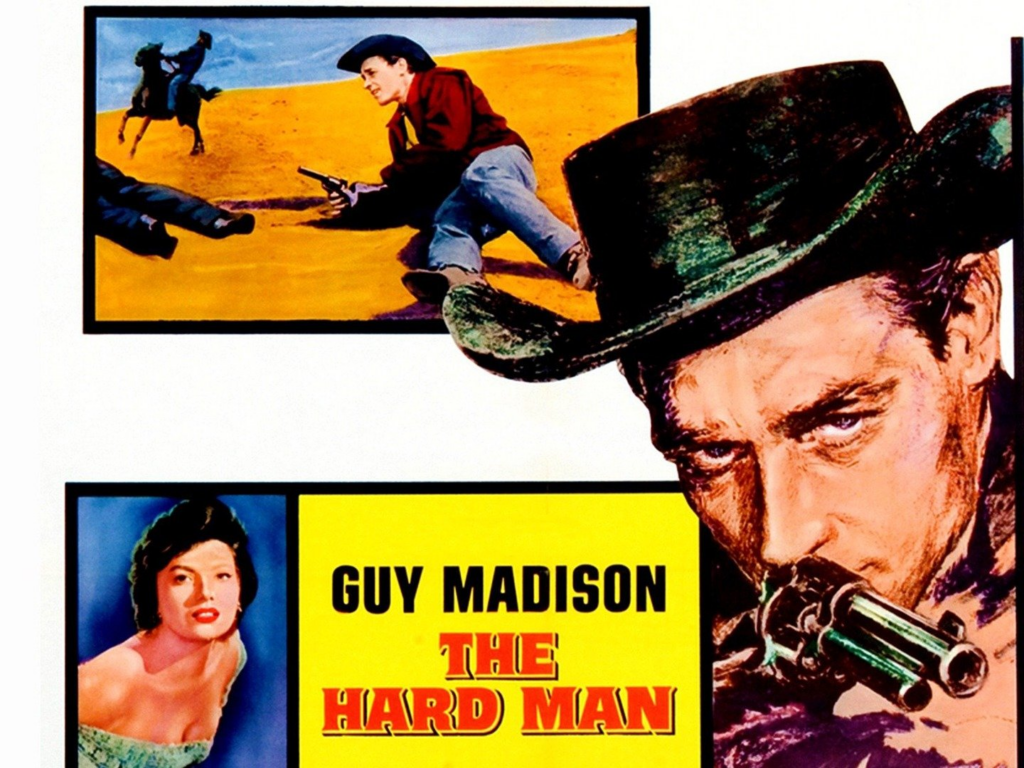 THE HARD MAN
(director: George Sherman; screenwriter: from the novel by Leo Katcher/Leo Katcher; cinematographer: Henry Freulich; editor: William Lyon; music: Mischa Bakaleinikoff ; cast: Guy Madison (Steve Burden), Valerie French (Fern Martin), Lorne Greene (Rice Martin), Barry Atwater (George Dennison), Robert Burton(Sam Hacker), Francis De Sales (Captain Peters), Robet B. Williams (Herb Thompson), Rickie Sorensen (Larry Thompson), Rudy Bond (John Rodman), Myron Healey (Ray Hendry), Frank Richards (Kane), Trevor Bardette(Mitch Willis), Renata Vanni (Juanita); Runtime: 80; MPAA Rating: NR; producer: Helen Ainsworth; Sony Pictures Entertainment/Columbia Pictures; 1957)

"Listless B western."
Reviewed by Dennis Schwartz
The tagline was "The Hard Man will excite you." It didn't do anything for me in a sexual or cinematic way. George Sherman("War Arrow"/"The Comancheros") helms this listless B western, whose cliche ridden and predictable screenplay is adapted from the author of the novel Leo Katcher.
Texas Ranger Steve Burden (Guy Madison) is forced to gun down his ex-partner Hendry (Myron Healey), who was framed for murder by the ruthless cattle baron Rice Martin (Lorne Greene), when he draws on him rather than take his chances at a trial. In the Texas border town of El Celita, Captain Peters (Francis De Sales) reprimands the ranger for so often killing those outlaws he arrests. This angers Steve, whose father was an outlaw, and he quits. The local weakling sheriff Sam Hacker (Robert Burton), not up to the job, hires the reluctant Steve as a deputy to do the necessary strong-arm work. The sheriff wants the deputy to get proof Rice is a rustler and a killer, and to then arrest him. Thereby Steve has to deal with Rice's unfaithful and hateful ex-showgirl wife Fern (Valerie French), who comes on to him, and his gunslinger henchmen Kane (Frank Richards) and Rodman (Rudy Bond). There's also Rice's creepy attorney, Dennison (Barry Atwater), his wife's secret lover, who wishes that Rice is killed.
Steve is more than up for the task. This dull western revolves around the deputy taking care of the baddie unpleasant characters and being idolized by the kid Larry (Rickie Sorensen), whose rancher dad was killed by Rice's henchmen.
REVIEWED ON 5/10/2017 GRADE: C+