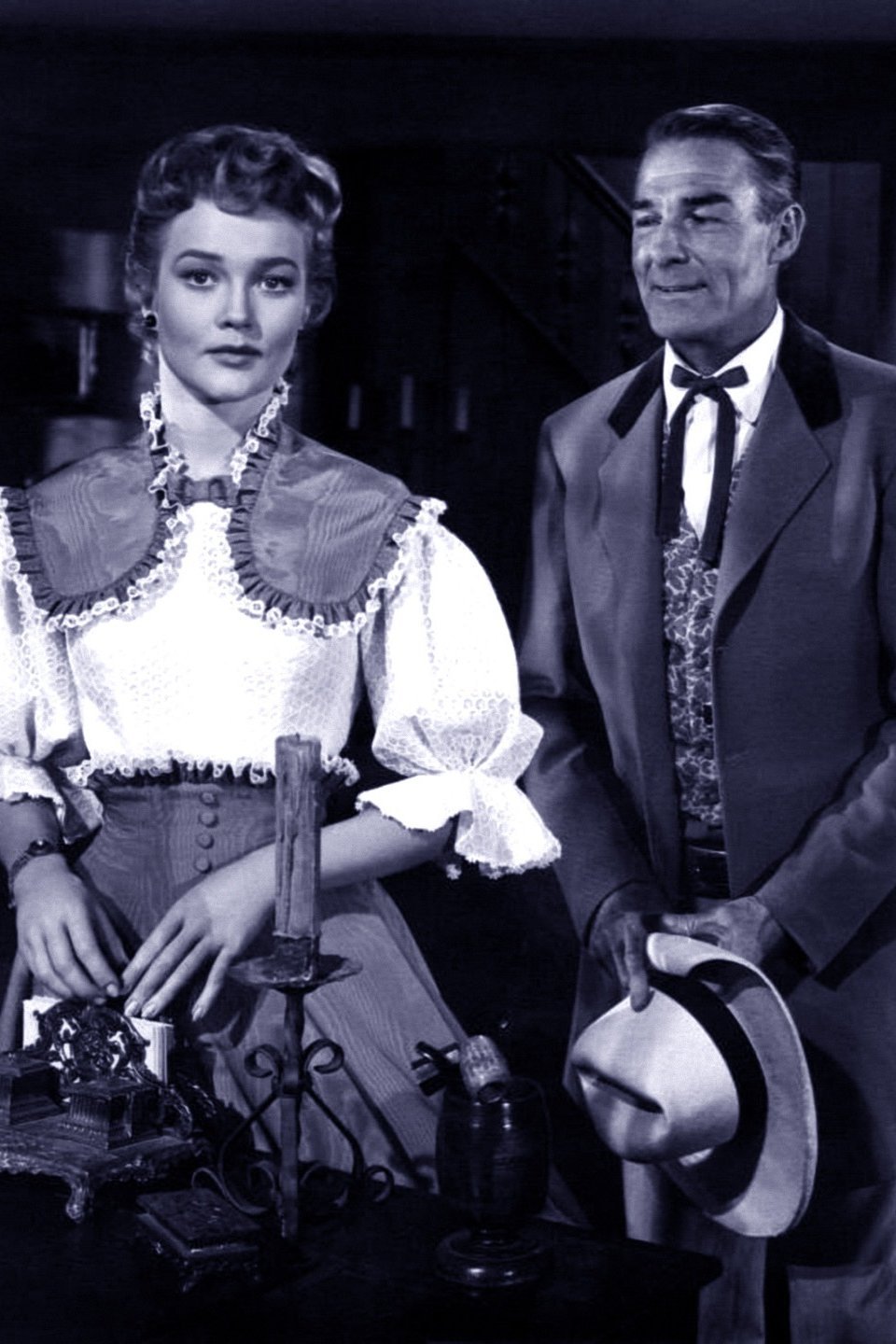 HANGMAN'S KNOT

(director/writer: Roy Huggins; cinematographer: Charles Lawton; editor: Gene Havlick; cast: Randolph Scott (Major Matt Stewart), Donna Reed (Molly Hull), Lee Marvin (Ralph Bainter), Claude Jarman Jr. (Jamie Groves), Guinn Williams (Smitty), Richard Denning (Lee Kemper), Ray Teal (Quincey), Frank Faylen (Cass Browne), Glenn Langan (Capt. Peterson), John Call (Egan), Jeanette Nolan (Mrs. Harris), Monte Blue (Maxwell); Runtime: 84; Columbia; 1952)
"This solid western was the only film Roy Huggins ever directed."
Reviewed by Dennis Schwartz
This solid western was the only film Roy Huggins ever directed, as he went on to do TV work creating the Maverick series and later on the Rockford Files.
Matt Stewart (Randolph Scott) is a Confederate major in charge of a small renegade band of stragglers who are told to rob a gold shipment from the Union forces in Nevada. Matt gets the gold by ambushing a wagon and kills all the troops in the process, but learns that the Civil War has been over for a month. The problem becomes what to do with the gold, as his men want to keep their share but the major decides that they should bring it back home and let their disbanded Confederate government make that decision. The problem is in getting back home alive to establish that they were just soldiers doing their duty. They fear the Union's reaction, as they don't expect justice if they surrender.
Outlaws intent on getting the gold, led by the vicious Quincey (Teal), spot the Rebel soldiers, but they escape by overtaking a stagecoach. Relentlessly pursued by the outlaws, the men seek safety in a remote stagecoach way station. But the outlaws take as hostages the old-time stationmaster (Monte Blue) and his daughter (Nolan), who just lost a son in that Reb ambush, and the passengers–a pretty former Union nurse, Molly (Reed), who is escorted by a wormy army beef salesman, Lee Kemper (Denning).
The tense film becomes a character study in bravery, cowardice, innocence, greed, and romance. The gold itself becomes a burden to the soldiers, as they know the outlaws will kill them whether they give them the gold or not. The soldier's feelings toward the gold changes so much, that the two Confederates who survive the gun battle are glad to leave the gold behind so that it can be returned to the Union. It was as if a weight were lifted from their shoulders.
The Confederates are Jamie (Jarman Jr.), a young man who has never killed before; Ralph (Marvin), a thug who is the only Reb resembling the bloodthirsty outlaws; Cass (Faylen), someone of a good nature who is heroic; Egan (Call), who is severely wounded and acts gallantly even though he knows he won't make it to see his family; Matt, who is a strong moral presence and an outstanding leader trying to find the right thing to do.
Hangman's Knot is made potent be Scott's austere presence and the dry wit that runs through the script. This results in a very lively and offbeat film.
REVIEWED ON 9/26/2001 GRADE: B