NIGHTMARE ALLEY
(director/writer: Guillermo del Toro; screenwriters: Kim Morgan/based on the novel (1946) by William Lindsay Gresham; cinematographer: Dan Laustsen; editor: Cam McLauchlin; music: Nathan Johnson; cast: Bradley Cooper(Stanton Carlisle), Toni Collette (Zeena), David Strathairn (Pete), Cate Blanchett (Lilith Ritter), Rooney Mara (Molly), Richard Jenkins (Ezra Grindle), Ron Perlman (Bruno), Willem Dafoe (Clem Hoately), Mary Steenburgen (Miss Harrington), Tim Blake Nelson (Carny Boss), Holt McCallany (Anderson), Jim Beaver (Sheriff Jedediah Judd); Runtime: 150; MPAA Rating: R; producers; Guillermo del Toro, J. Miles Dale: Searchlight Pictures; 2021-USA/Mexico/Canada)
"Revels in its strangeness."
Reviewed by Dennis Schwartz

The Mexican-born writer-director Guillermo del Toro("Beauty "/"The Shape of Water") does a masterful job with this lurid film noir taking place in the dark world of carnies, where the real world is viewed as one big carnival. I loved how it was sensationally done before in 1947 with Tyrone Power as star and directed with class by Edmund Goulding as a subversive underground film, and I feel the same passion for it in this updated stylish version. It's based on the 1946 novel by William Lindsay Gresham. Del Toro co-writes it with Kim Morgan, and is the first film by del Toro that has no supernatural elements and the monsters are of the human kind. He brings the viewer into a world that's always cloudy, seemingly every character has a cigarette dangling in their mouth, where Ferris wheels from the carnival glow in the night as if stars and nearly every character seems to have a freakish side.

It begins in 1939 when the mysterious loner Stan Carlisle (Bradley Cooper) walks away from a house he sets on fire and ends up at a carnival, cutting ties with trying to make it in the so-called normal world of respectability. At the carnival he gets a manual labor job and heeds the words of barker Clem Hoatley (Willem Dafoe), his mentor, who shows Stan the carnival ropes. Stan, on his own, works his way up to being part of an act, as he assists Zeena (Toni Collette), a fake "clairvoyant," doing a tarot card reading act, She deems the audience is filled with suckers. But Zeena and her older husband Pete (David Strathairn), a boozer, have limits on how far they are willing to go in bilking the public, as they will not do "spook shows" — that is, fooling the gullible mark that they can talk to their dead loved ones. Zeena once told a mark the truth — that it's all an act.

But Stan believes the suckers are meant to be taken and wants the con to go all the way. He tries to soften his hard view by saying at least you give them some hope to believe in what they're asking for. But Zeena and Pete have certain morals they won't violate no matter what. But they are no longer a top act and play only in the cheaper carnivals in the small towns.

Pete's part in the act has been reduced ever since he became a drunk, and he has become a loser– even if a sympathetic one.

The uncanny Stan, whose mind can't be read, falls supposedly in love with the innocent Molly (Rooney Mara), who acts as if she's been electrocuted every night in her electric-shock act. Tough guy Bruno (Ron Perlman) protects the virgin and insists Stan marry her if he really loves her or else leave.

Having stolen the act of Zeena and Pete, two years later, in 1941, Stan now has his own clairvoyant act and is with the misplaced Molly, the only really good person in the carnival, as his assistant. The ambitious Stan moves away from the seedy carnivals to do his well-received phony act in an upscale club in Buffalo with rich patrons and with him attired in a tux and tails.

In the film's second half, the better half, the femme fatale, the alluring psychiatrist Dr. Lilith Ritter (Cate Blanchett), meets up with Stan and the two baddies see each other as kindred souls and hook up an act where Stan does readings for her rich clients and receives big bucks for those bogus readings. Stan is now all-in telling his clients he can contact their dead loved ones, and does so thanks to the info the shrink provides him.

One of these so-called suckers is the wealthy Ezra Grindle (Richard Jenkins), who is backed by muscle (Holt McCallany), as he asks to be put in contact with a loved one from long ago. The confident Stan insists on giving him the reading, even when Lilith warns him he's dealing with a dangerous customer.

Though problems arise over poor pacing and that the con job with Ezra goes on for too long and grows weary, taking away some of its oomph, The film has lost some of its luster, and has fallen in love with Cate so much that when she's not on camera we might feel we're missing something.

But when the climax comes with its maddening violence and unexpected shocking twists, it becomes an unforgettable film — one that has a mesmerizing award-winning performance by Blanchett and a chilling one from Cooper (plus it gets outstanding performances from its star-studded ensemble cast). The film revels in its strangeness and in its cutting-edge story, whose darkness is so deep it can leave the viewer feeling hopelessly lost in its perversity and its anti-hero protagonist has lost his way by becoming so rotten and amoral..

Nightmare Alley pays homage to the noir films of the 1940s, and shows how being a part of the close-knit carny community means being looked after by their own kind, something straight society doesn't regularly do for its own.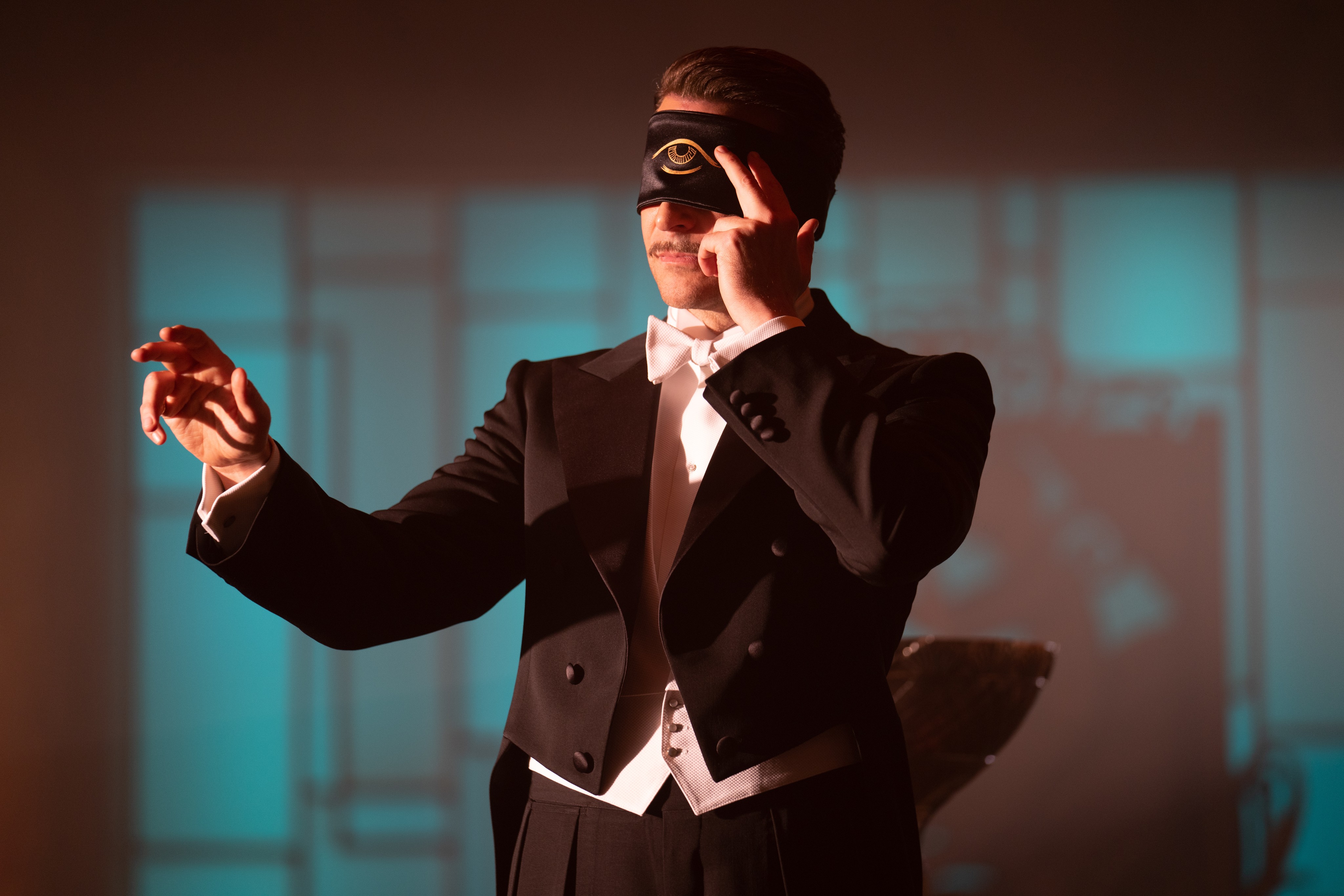 REVIEWED ON 12/4/2021 GRADE: A