THE GUILTY (DEN SKYLDIGE)
(director/writer: Gustav Möller; screenwriter: Emil Nygaard Albertsen; cinematographer: Jasper J. Spanning; editor: Carla Luffe; music: Carl Coleman, Caspar Hesselager; cast: Jakob Cedergren (Asger Holm), Jessica Dinnage (Iben (voice)), Omar Shargawi (Rashid (voice)), Johen Olsen (Michael), Jakob Ulrik Lohmann(Bo), Jeanette Lindbaek (Vagtleder Nordsjælland (voice)); Runtime: 85; MPAA Rating: R; producer: Lina Flint; Magnolia Pictures; 2018-Denmark-Danish with English subtitles)
"A satisfying inventive and gimmicky thriller."
Reviewed by Dennis Schwartz
The feature debut of Swedish filmmaker Gustav Möller is in this indie Danish film. It's a satisfying inventive and gimmicky thriller, one that's uniquely set in a single location.
Former patrol car cop Asger (Jakob Cedergren) is an arrogant guy, who is admittedly not a good cop because of his quick temper. He is assigned to a desk job at an emergency-services-dispatch post, taking 911 calls, after recalled from the field for doing something wrong while on duty and is awaiting a misconduct hearing. One evening Asger receives a call from a woman (the voice of Jessica Dinnage) who doesn't want the party with her to know she's called the police and he has the wits to play along with her. He learns the driver thinks she's talking to her child, as he makes the connection that she's been abducted and is led to believe it's by her estranged husband. Thereby he gets a full description and make of her car. But she suddenly hangs up, and he races against time to save the crying woman knowing he can't leave the station to play detective.
We never leave his side, as we listen in on his head-set to a number of voices. The feeling is we are grappling in real time with the same situation as Asger, as the tension builds. The dispatcher manages to contact his former partner (the voice of Omar Shargawi), operating a patrol car, and he searches for her.
The director and his co-writer Emil Nygaard Albertson manage to fill in the narrative with a few surprises. There's also a major twist that leads to a backstory and a different way for us to see the unfolding drama, as the sweating cop realizes he might have misread the incident.
It seems as if it could have worked equally as well on radio as a play. All the actors with just voice parts do a good job of keeping things mysterious (working just as effectively as a character study as it does as a crime procedure drama). But in this lean film, where all the attention was on Cedergren, who moves only from his cubicle to a large room in the dispatch office, he carries this claustrophobic film almost entirely on his back with a pitch-perfect performance. The change of pace thriller worked for me despite its limitations. It reminded me of Steven Knight's "Locke," which had Thomas Hardy also in a quality one-man stint.
"The Guilty" is Denmark's Oscar entry for best foreign-language film.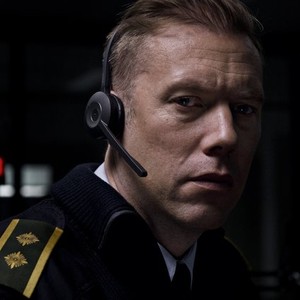 REVIEWED ON 10/23/2018 GRADE: B+    https://dennisschwartzreviews.com/