GOD'S CREATURES
(director/writer: Saela Davis, Anna Rose Holmer; screenwriter: Shane Crowley/story by Shane Crowley/story by Davis & Rose/story by Fodhla Cronin O'Reilly; cinematographer: Chayse Irvin; editors: Jeanne Applegate, Julia Bloch; music:Danny Bensi, Saunder Jurriaans; cast:  Emily Watson (Aileen O'Hara), Paul Mescal (Brian O'Hara), Aisling Franciosi (Sarah), Declan Conlon (Con O'Hara), Toni O'Rourke (Erin), Lalor Roddy (Paddy), Brendan McCormack (Francie D'Arcey); Runtime: 96; MPAA Rating: NR; producer; Fodhla Cronin O'Reilly: A24; 2022-Ireland/UK/USA)
"Well-made gloomy arthouse drama about love, guilt-feelings and family obligations."
Reviewed by Dennis Schwartz

Both American co-directors Saela Davis and Anna Rose Holmer previously directed ("The Fits") now present this well-made but gloomy arthouse drama about love, guilt-feelings and family obligations. It's set in a small, windswept and modern Irish fishing village.

The return of Brian O'Hara (Paul Mescal), the charming but untrustworthy roughly hewn prodigal son of Aileen (Emily Watson) and Con (Declan Conlon), comes as a surprise to the family. Brian has been gone so long without contact he doesn't realize his sister Erin (Toni O'Rourke) had a child and his toothless grandfather Paddy (Lalor Roddy) Alzheimer's has become more serious. While the family believes Brian has been off somewhere in Australia, he can't seem to provide any vital information on what he was doing. But now he seems committed to preparing his grandfather's oyster beds for harvest.

Aileen, a shift supervisor at the local seafood packing plant, steals some oyster seedlings from work to help her son get the oyster business off the ground. She's overjoyed to have her son back at home after a rift between father and son initially drove him away.

While Alieen one night is at the local pub with her son, they run into Sarah (Aisling Franciosi), an employee of Aileen's who also used to date Brian years ago but is now married to the local strongman Francie (Brendan McCormack). Brian's relationship was altered with her one night after she filed sexual assault charges against him. Aileen when questioned by the police under oath lies that she was home with her son that night. Her lie doesn't sit well with either the community or her fractured family, and sets off a chain of events that brings about despair to all parties concerned.

The film slowly swims along to the third act and we feel mom's agony, her loneliness and disappointment as she aches for a wayward son who she knows has done bad things and can only help him she thinks by trying to cover-up for his misdeeds.

Emily Watson gives a masterful performance as the mom who can't help herself from trying to help her troubled son.
The title is an ironical one, as the main characters do not live in fear of God.

It played at the Cannes Film Festival.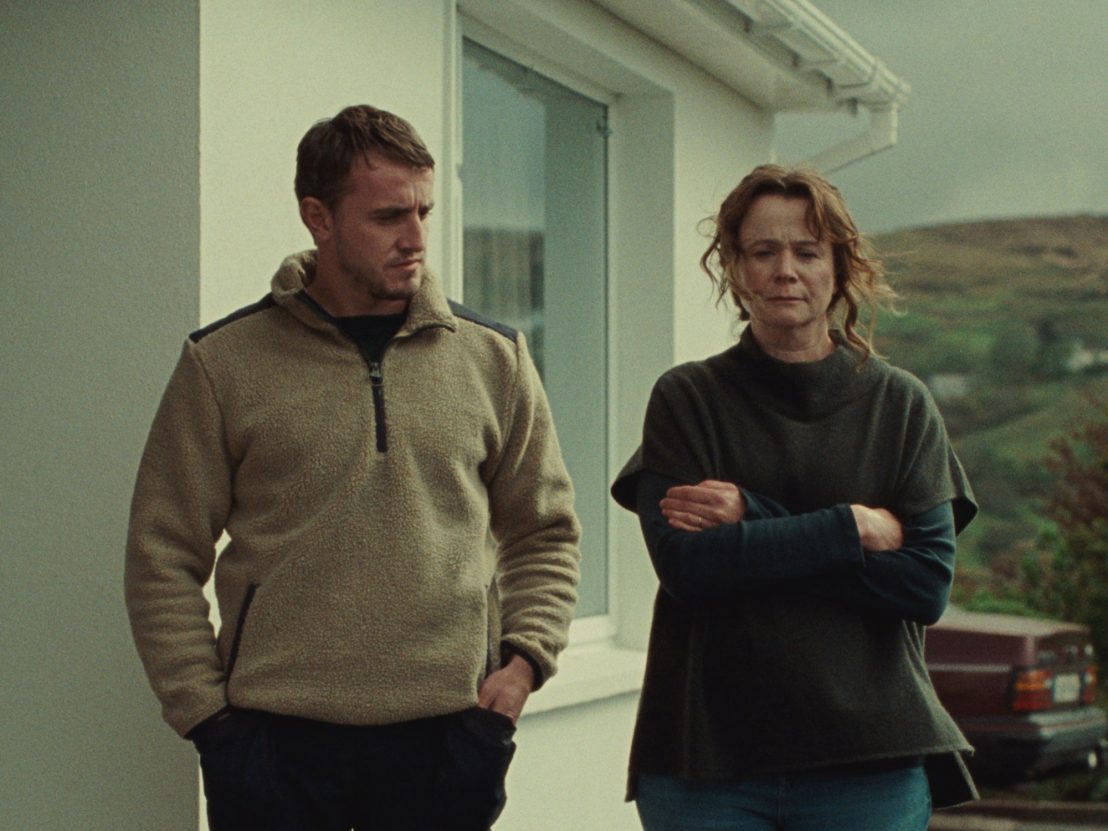 REVIEWED ON 5/27/2022 GRADE: B