GO WEST 
(director/writer: Jeremy Warner/Stephen Meek; screenwriters: Adam Berg, Whitney Call, Mallory Everton, Jason Gray, Stacey Harkey, Natalie Madsen, Matt Meese, James Perry; cinematographer: Brenna Empey; cast: Sean Astin (Narrator), Mallory Everton (Cora), Natalie Madsen (Aveline), Adam Berg (Polio Joe), Stacey Harkey (Clarence), Whitney Call (Gladstone), Jason Gray (Chesterton), Fiona Baker (Traveller), Stephen Meek (Elijah), Matthew Meese (Captain Evander Lillianquist); Runtime: 90; MPAA Rating: NR; producers: Adam Montierth, Donovan Montierth, Stephen Meek; Purdie Distribution/JK Studios; 2023)
"Could please a certain audience."
Reviewed by Dennis Schwartz

Stephen Meek ("Stop and Go") and first-time feature film director Jeremy Warner co-direct and co-write this low-budget indie comical Western. It features the original cast of Studio C, a TV comedy show from BYU. Go West was shot in 15 1/2 days in various locations in Utah.

In the 1800s, two sisters, the widow Aveline (Natalie Madsen) and her gentler sister Cora (Mallory Everton), pick up the Oregon Trail after starting out from Independence, Missouri, looking to find the outlaw (Matthew Meese) before he marries the teenage daughter of one of the sisters.

One of the many screenwriters, Sean Astin, acts as the narrator. The other writers include Adam Berg, Whitney Call, Mallory Everton, Jason Gray, Stacey Harkey, Natalie Madsen, Matt Meese and James Perry.

It depicts a tough journey for the travelers looking to find a permanent home out West, with many of the pioneers being eccentrics. The film gleefully mixes comedy with a fight for survival scenario. Its colorful but slight pioneering story could please a certain audience. As for me, I couldn't handle all the poop jokes.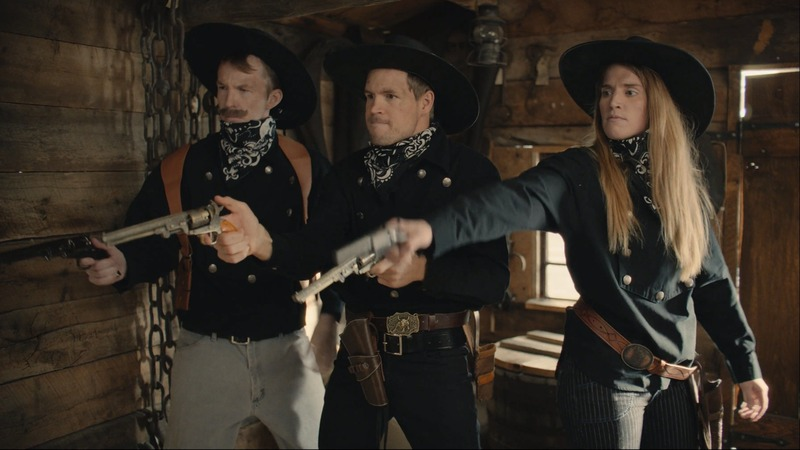 REVIEWED ON 8/10/2023  GRADE: C+