FREMONT
(director/writer: Babak Jalai; screenwriter: Carolina Cavalli; cinematographer: Laura Valladao; editor: Babak Jalai; music: Mahmood Schricker; cast: Jeremy Allen White (Daniel), Anaita Wali Zada (Donya), Eddie Tang (Ricki), Gregg Turkington (Dr. Anthony), Hilda Schmelling (Joanne), Taban Ibraz (Mina), Siddique Ahmed (Salim), Avis See-tho (Fan), Timur Nusratty (Suleyman); Runtime: 88; MPAA Rating: NR; producers: Sudnya Shroff, Rachael Fung, George Rush, Chris Martin, Laura Wagner; Music Box Films;  2023-B/W, USA-in English, Dari, Cantonese with English subtitles)
"A provocative but slight immigrant drama that's made with soul."
Reviewed by Dennis Schwartz

A provocative but slight immigrant drama that's made with soul, as directed by the London-based Iranian filmmaker Babak Jalai ("Land"/"Radio Dreams") and co-written by him and Carolina Cavalli.

It's beautifully shot by the DP Laura Valladao in black-and-white, and tells an endearing story.

It follows an engaging young Afghan refugee named Donya (Anaita Wali Zada, a refugee), who was a translator for the U.S. military in Kabul and is now living alone in the San Francisco Bay area, in the suburbs of Fremont, where she suffers from the traumatic effects of oppression in the form of sleep deprivation that still linger from her time in war-torn Kabul. She tries to make some human connections in her new home, in a neighborhood of apartment blocks that attracted many other Afghan immigrants. They include the young insomniac Salim (Siddique Ahmed), his insecure mom Mina (Taban Ibraz) and her husband Suleyman (Timur Nusratty) who resents Donya for helping the U.S. military in Kabul.


Donya receives therapy for her insomnia from the psychologist Dr. Anthony (Gregg Turkington).
She works in a family-run Chinese fortune cookie factory in San Francisco. When promoted to write fortunes by the boss (Eddie Tang), in hopes of meeting a man, she puts her phone number in a cookie.

Following her co-worker friend Joanne's (Hilda Schmelling) advice to date, she will meet Daniel (Jeremy Allen White) under unusual circumstances and they will form a tender relationship. He's a shy mechanic, living somewhere in the Bakersfield area, and their relationship will strongly affect her recovery.

Fremont serves as a visually pleasing wry comedy, offering life lessons in dealing with heartbreak. It shows the unsmiling Donya emotionally trying to move on from a troubling past while finding her bearings as an immigrant.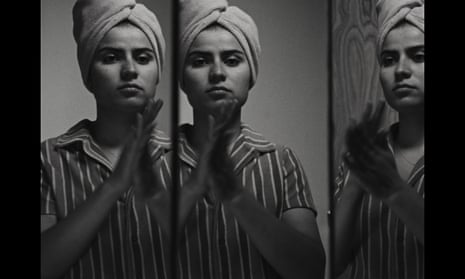 REVIEWED ON 9/29/2023 GRADE: B+