FOURTH OF JULY
(director/writer: Louis C.K.; screenwriter: Joe List; cinematographer: Christopher Raymond; editor: Louis C.K.; music: Matt Kilmer/ Sweetpro; cast: Louis C.K. (therapist), Joe List (Jeff), Robert Kelly (Bobby Shelton), Lea Cohen (Waitress), Sarah Tollemache (Beth), Paula Plum (Mom), Robert Walsh (Dad), Richard O'Rourke (Grandpa), Tara Pacheco (Naomi), Rodney 'Godfather Don" Chapman (Godfried), Jason Clotter (Coleman), Allan Havey (self), Dorothy Dwyer (Darlene), Nick Di Paolo (Uncle Kevin), Chris Walsh (Uncle Mark), Louis C.K, Courtland Jones (Brenda), Bill Scheft (Bill), Lynne Koplitz (Tricia); Runtime: 90; MPAA Rating: NR; producers: Lea Cohen, Brady Nasfell, Louis C.K., Joe List; Abramorama; 2022)
"Weak family dramedy."
Reviewed by Dennis Schwartz

Louis C.K. ("Pootie Tang"/"I Love You, Daddy"–unreleased because of his 2017 sex scandal) in his comeback attempt is director and co-writer and bit player in this weak family dramedy. It marks the controversial comedian's return to filmmaking after his successful comebacks on tour, on TV specials and with a Grammy-winning comedy album. The comedian might have saved his career after attacked for his well-publicized "sexual misconduct scandal," where he masturbated in front of actresses who worked with him.

C.K.'s co-writer Joe List has a starring role, but doesn't have the charisma to carry the film.

It will soon be released in limited markets in a small amount of theaters.

Jeff (Joe List) is a recovering alcoholic and a NYC anxiety-ridden jazz pianist, who sees a therapist (Louis C.K.). List uses incidents from his own life to shape his character. One remaining problem is that his girlfriend Beth (Sarah Tollemache-his real wife) desperately wants a child, which puts a strain on their relationship.

Though far from recovered, Jeff is recruited by his AA sponsor (Bill Scheft) to sponsor his unhinged musical pal Bobby (Robert Kelly).

The therapist also wants him to confront his unresolved personal issues with his toxic parents, so Jeff leaves the city alone to attend the annual Fourth of July celebration at his reactionary family's Maine lake house. There he greets numerous extended family members he is estranged from.

The insecure Jeff tells his insulting mom (Paula Plum) and bullying dad (Robert Walsh)–in a moment of honesty, that he felt unloved growing up and that they're the cause of his problems. As a result, mom humiliates him by mocking his neediness in front of the entire family.

The jokes revolve around the crassness of the dysfunctional family at the gathering, which gives the "Fourth of July" a familiar comedic ring. The dialogue is mostly unfunny and the family bickering scenes are a drag.

The relatives include the obnoxious prankster Uncle Kevin (Nick Di Paolo) and Jeff's favorite, Uncle Mark (Chris Walsh). Though Jeff takes a liking to the sexy Naomi (Tara Pacheco), the only Black person at the gathering, who is a recently widowed co-worker of one of his cousins, nothing much transpires between them.

After one vulgarian scene too many goes awry, despite the director's comedian friends pitching in with their comedy, it becomes tiresome. In the end it turns out as bland a pic as are most amateur family home videos.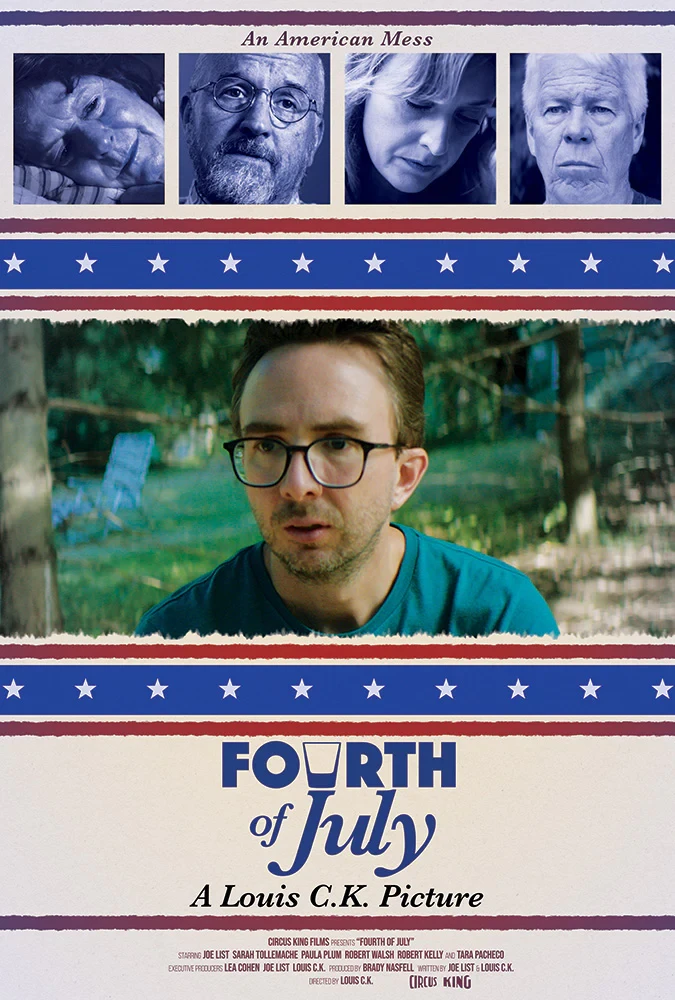 REVIEWED ON 7/4/2022 GRADE: C+