FOOL'S PARADISE
(director/writer: Charlie Day; cinematographer: Nico Aguilar; editors: Leslie Jones/Tim Roche; music: Jon Brion; cast: Charlie Day (Latte Pronto), Ken Jeong (Lenny the publicist), Adrian Brody (Chad Luxt), Kate Beckinsale (Christiana Dior), Common (The Dagger), Ray Liotta (The Producer),  Jason Bateman (SPFX Tech), Steve Coulter (Tony London), Edie Falco (The Agent), John Malkovich (cameo), Dean Norris (Studio Head), Jillian Bell (Shaman), Jason Sudeikas (Lex Tanner); Runtime: 97; MPAA Rating: R; producers: John Rickard, Christopher Lemole, Tim Zajaros, Alex Saks; Lionsgate/Roaedside Attraction; 2023)
""
Reviewed by Dennis Schwartz

A fun movie for the cast is not necessarily a fun one for the moviegoer. Charlie Day is actor, writer and producer, who flubs trying his hand for the first time as director (Charlie for 16 seasons starred in the TV sitcom "It's Always Sunny in Philadelphia"). It's merely a dumb satire on Hollywood.

Charlie Day plays a mental patient released from an institution in Los Angeles. While on the street, the producer (Ray Liotta) discovers him and brings him to the set of Billy the Kid to replace the star, who takes the name Latte Pronto for the silent. Latte gets an agent (Edie Falco) and a publicist named Lenny (Ken Jeong), and he also promptly marries his co-star, Christiana Dior (Kate Beckinsale, who has no gift for comedy).

The norm is for every character to act over-the-top, for the jokes to be juvenile and for the absurd plot not to be zany enough for it not to be awkward. Also, the physical comedy is a let down. It might try hard to be funny but isn't.

It loads up with a powerhouse ensemble cast, who get off some snappy jokes.

The film would have greatly improved if Jullian Bell, Edie Falco and Adrien Brody would have been given greater roles and the film had a better director and a better star than the bland Charlie Day.

It views its skewering of Hollywood through its silent star Day, who while set on the mute button throughout reflects on celebrity arrogance, impulsive yes men, and desperate hangers-on.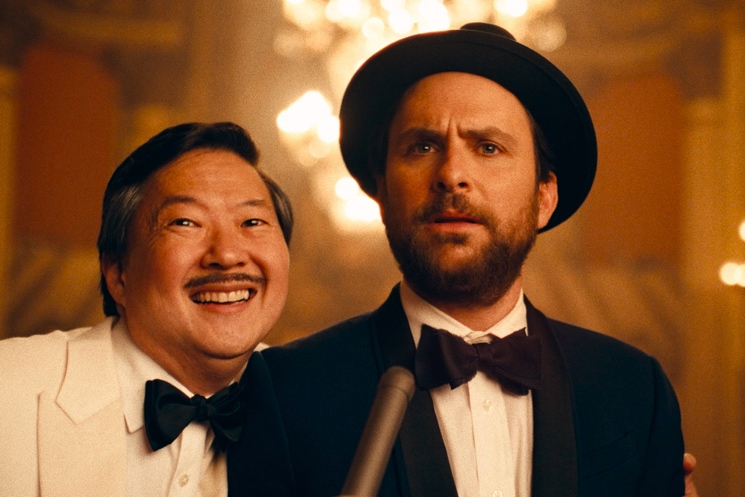 REVIEWED ON 6/10/2023  GRADE: C-