FISHERMAN'S FRIENDS
(director/writer: Chris Foggin; screenwriters: Piers Ashworth, Meg Leonard, Nick Moorcroft; cinematographer: Simon Tindall; editor: Johnny Daukes; music: Rupert Christie; cast: Tuppence Middleton (Alwyn), James Purefoy (Jim), Daniel Mays (Danny), David Hayman (Jago), Christian Brassington (Henry), Noel Clarke (Troy), Sarah Winter (Sian Thompson), Christopher Villiers (Charles Montegue), Maggie Steed (Maggie), Jade Anouka (Leah Jordon), Dave Johns (Leadville), Jo Hart (Journalist), Sam Swainsbury (Rowan), Ken Drury (Solicitor), Julian Seager (Quiz Team Captain); Runtime: 112; MPAA Rating: NR; producers: Meg Leonard/Nick Moorcroft; Fred Films/Powderkeg Pictures; 2019-UK)
"It never reaches greater heights than the level of a television sitcom."
Reviewed by Dennis Schwartz
Chris Foggin ("Kids in Love"/"Effie Grey") helms this harmless feel-good comedy/drama based on a true story (with added fictional flourishes) about the warm community spirit in Cornwall that cheers on a local fishermen amateur singing group. It's filled with cliches and underdog sports metaphors, as it plods on hoping to say something relevant about decent folks getting a break, but it never reaches greater heights than the level of a television sitcom. The film's screenwriters, Nick Moorcroft, Meg Leonard and Piers Ashworth, come up with a bloody cheery tale for the large ensemble cast but never develop any of the characters to make them interesting.

Some fishermen in a Cornish village in 1995 put on outdoor concerts for the locals of Port Isaac (located on the north Cornish coast). Meanwhile a London record company talent manager, Danny (Daniel Mays), is visiting the area for the weekend with a party of yuppie executives from a London record label. He's falsely led to believe by his record company friends that the fishermen group will be signed by the London company, as his wise-guy boss Troy (Noel Clarke) orders him to give them a contract. When he realizes they were playing with him, he decides to try and help them anyway. When his friends return to London he stays over. Danny likes the fishermen and he's become fond of the single-mother Alwyn (Tuppence Middleton). She's the daughter of Jim (James Purefoy), the lead singer, who opposes any record deal.

We encounter the usual number of village eccentrics who always seem to pop up for these Ealing Studio-like comedies, as we catch the social scene built around the pubs and listen to a number of pleasant sea shanties and traditional folk songs.
We learn that in 2010 they signed a big contract with Island Records and they have since performed at such hot spots as Glastonbury and the Queen's Diamond Jubilee. Publicists have too cutely labelled them a "buoy band."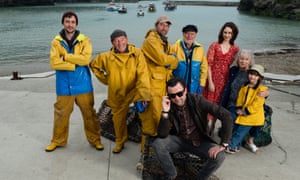 REVIEWED ON 12/19/2019 GRADE: C+ https://dennisschwartzreviews.com/