FALLING FOR CHRISTMAS
(director/writer: Janeen Damian; screenwriters: story and screenplay by Jeff Bonnett/Ron Oliver; cinematographer: Graham Robbins; editor: Kristi Shimek; music: Nathan Lanier ; cast: Lindsay Lohan (Sierra Belmont), Chord Overstreet (Jake Russell), George Young (Tad Fairchild), Sean Dillingham (Ralph), Alejandra Flores (Alejandra Carlisle), Ali Lohan (Bianca), Jack Wagner (Beauregard Belmont), Chase Ramsey (Terry Carver), Bus Riley (Chestnut Vendor), Olivia Perez (Avy); Runtime: 93; MPAA Rating: NR; producer: Michael Damian/Brad Krevoy; Netflix; 2022)
"I'd probably rather have a losing day at the Belmont racetrack than watch again this loser Christmas film."
Reviewed by Dennis Schwartz

I'd probably rather have a losing day at the Belmont racetrack than watch again this loser Christmas film from first time feature film director Janeen Damian. It's based on a  vacuous Christmas story by Jeff Bonnett, and is shamelessy co-written by Bonnett, the director, and Ron Oliver.

It stars the annoying social media attention getting and failed actress Lindsay Lohan, who so far couldn't make the transition from teen actress star in films like "Freaky Friday" to adult actress without crashing. This, her first film in nearly a decade, is a syrupy "Hallmark" type of Christmas rom-com, by way of Netflix. It's about as authentic as a fake Christmas tree, and as believable as a department store Santa.

Check this schmaltzy plot out: Sierra Belmont (Lindsay Lohan) is the runaround, idler, wealthy daughter of a hotel magnate (Jack Wagner), who is driving to dad's fancy mountain-top ski resort to be engaged to the lightweight social media influencer Tad (George Young) when she goes speeding off the road to hit a tree and as a result gets amnesia. She wakes up in a small mom-and-pop resort run by the handsome Jake Russell (Chord Overstreet).

He's conveniently a widower she is attracted to, with a young daughter named Avy (Olivia Perez). While not aware of who she is, she finds how exciting it is to do the laundry and flip pancakes. Never mind it never occurs to anyone to file a police report and check for her identity (as that might ruin the plot points).

From hereon, everything is predictable. It's a simplistic Christmas film that won't bog you down with thinking about the meaning of the holiday as much as enjoying the empty-headed but pretty Lohan character, in an adequate performance, go for romance with the steady as a rock Overstreet character.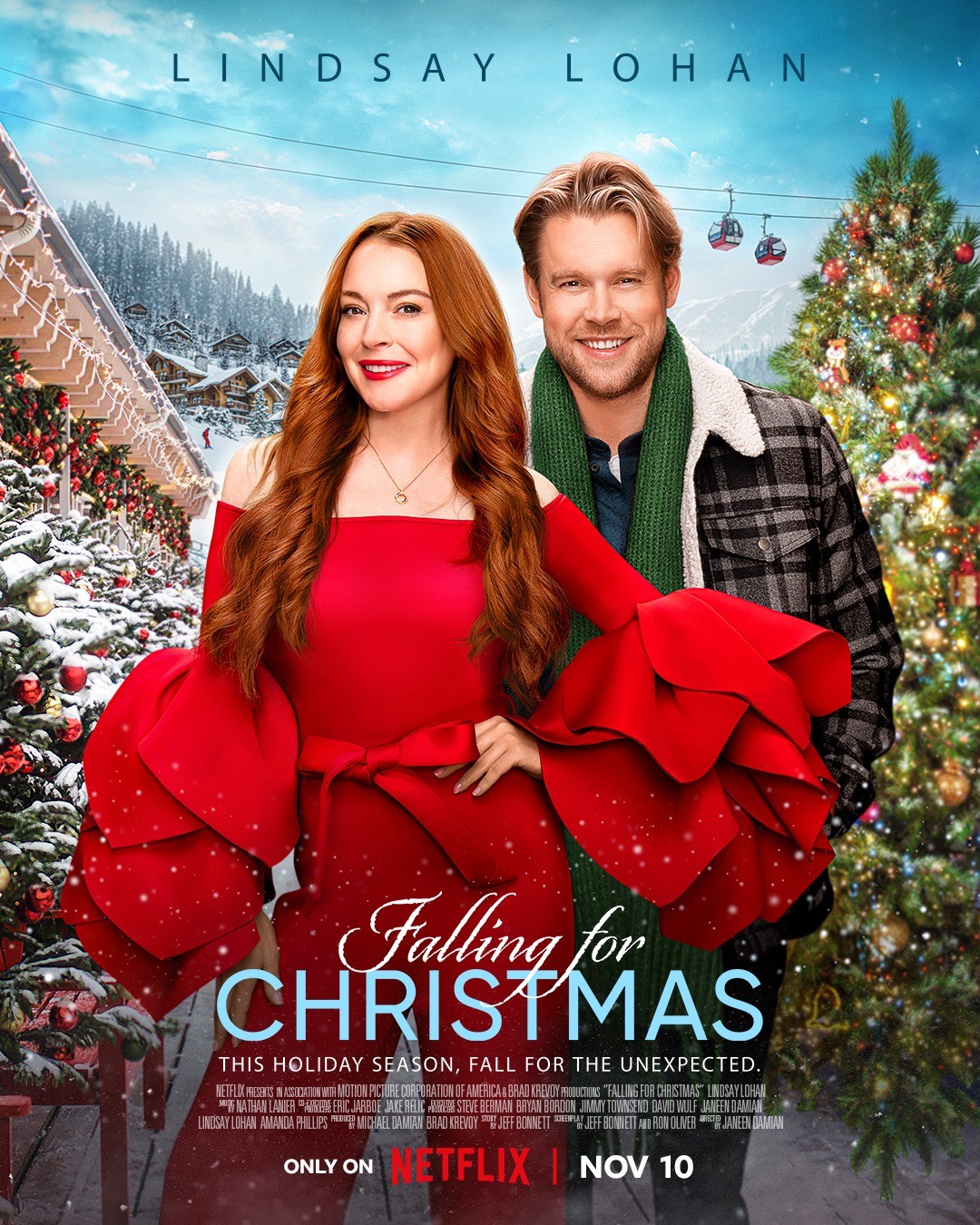 REVIEWED ON 12/24/2022 GRADE: C