ELVIS
(director/writer: Baz Luhrman; screenwriters: story by Luhrmann & Doner/Sam Bromell/Craig Pearce/Jeremy Doner; cinematographer: Mandy Walker; editors: Matt Villa/Jonathan Redmond; music: Elliott Wheeler; cast: Austin Butler (Elvis Presley), Tom Hanks (Colonel Tom Parker), Olivia DeJonge (Priscilla Presley), Helen Thompson (Gladys), Uke Bracey (Jerry Schilling), Richard Roxburgh (Vernon Presley), David Wenham (Hank Snow), Kodi Smit-McPhee (Jimmie Rodgers), Dacre Montgomery (Steve Binder), Xavier Samuel (Scotty Moore), Kelvin Harrison Jr. (B. B. King), Natasha Bassett (Dixie Locke); Runtime: 139; MPAA Rating: PG-13; producers; Gail Berman, Baz Luhrmann, Catherine Martin, Patrick McCormick, Schuyler Weiss, Andrew Mittman: Warner Bros. Pictures; 2022)
"A splashy biopic that's all sizzle and no fire."
Reviewed by Dennis Schwartz

Arguably Elvis (1935-1977) is the most iconic mythological singer in rock history, who deserves a more substantial biopic. Veteran filmmaker Baz Luhrman ("Moulin Rouge"/"Australia") was plagued with a succession of failed films after his success with the splashy Moulin Rouge in 2001, finally gets somewhat back on track with another stylishly smashing pic that's enjoyable but pointless. It's based on a story making Elvis a squeaky-clean innocent, which is simply not true. The off-key story is by Luhrmann & Jeremy Doner, that's uncritically written by Luhrman, Doner, Sam Bromell and Craig Pearce.

What you also get is an uninspired performance from Austin Butler playing the King and doing nothing more than an adequate hip-shaking Elvis impersonation to remind you how sexual was his music, how influenced he was by Black music and how gyrations made his enormous teenager female fan base quiver with delight at his thrusting moves on stage.

The slimy exploitative Elvis manager Colonel Tom Parker is played by Tom Hanks as a money-grubbing, anti-art figure, who turned his obedient client into a cash-making machine by forcing him to make popcorn films and allowing him to go fatso and addicted to prescription drugs in his last act as a gilded rhinestone performer in the phony showbiz environment of Las Vegas.

There's no attempt to study the dysfunctional relationship between the Colonel and Elvis, as it veers away from fully disclosing what a wretched creature the Colonel was and fails to show with any urgency the Colonel's decline in his post-Elvis days. What you get is a crowd-pleasing movie about Elvis's career moves (that include his two years army draft stint in Germany (in 1958); his marriage to Priscilla (Olivia DeJonge) when she's 21 after dating her when she was 14 on a military base with her dad in Germany; his 1968 comeback to singing on stage that was televised and his last days singing in gaudy sequin costumes in Vegas). But you can get that info on any search engine and don't need this overlong biopic for that laundry list of his accomplishments.

In its attempt to make the King look like one of us, it fails to show us such negatives as his love affair with the corrupt Nixon, his obsessive hatred for lefties, his backing of the Republican right-wing agenda and his affair for a year with Ann-Margret though promising to wed Priscilla.

Austin's Elvis trips over his blue suede shoes, in a splashy biopic that's all sizzle and no fire. For me, it's just another Elvis impersonation performance–a thin film that means more as nostalgia to Elvis fans than it means to me, someone who was no fan of his music or of this slight but watchable film.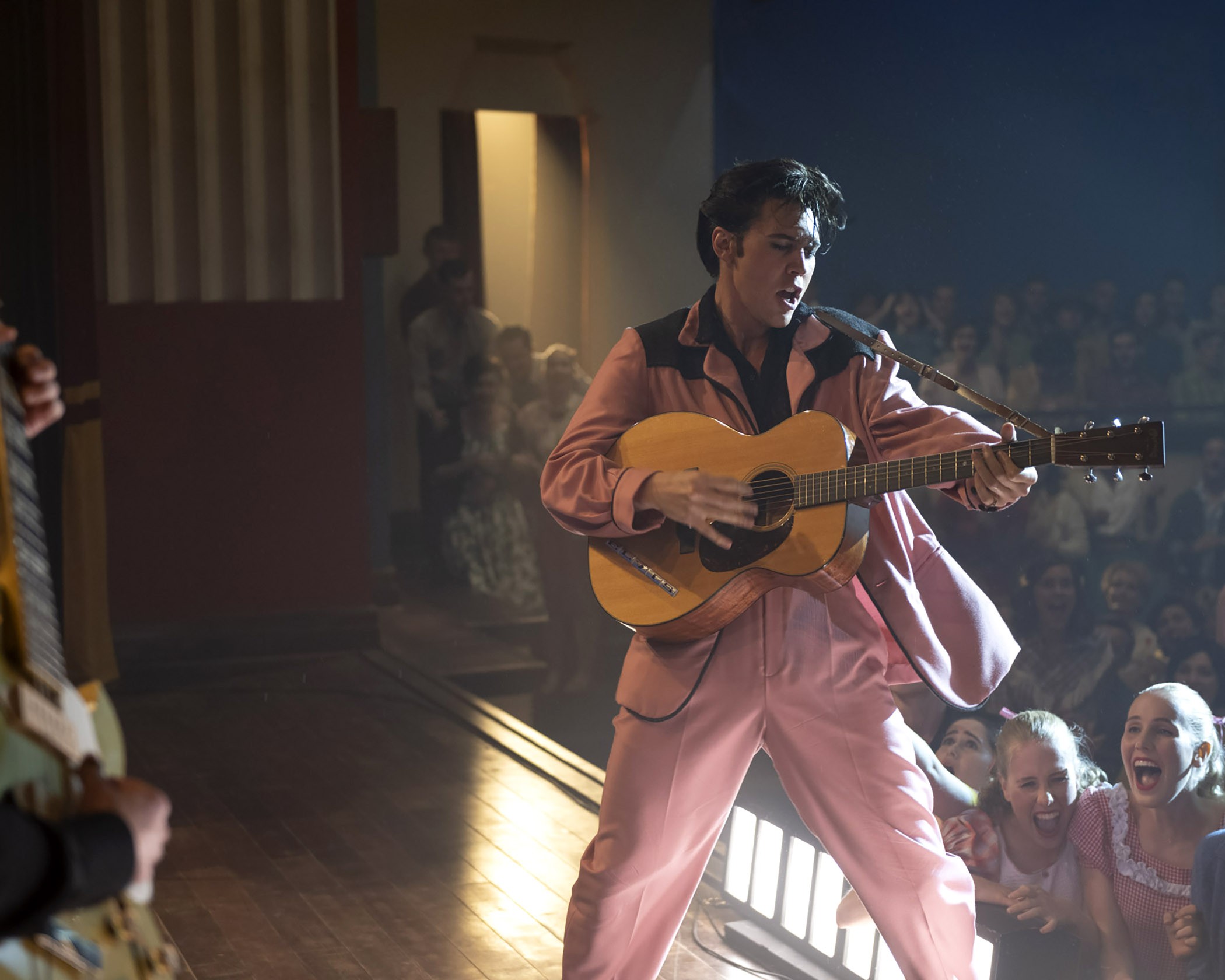 REVIEWED ON 5/30/2022 GRADE: C+