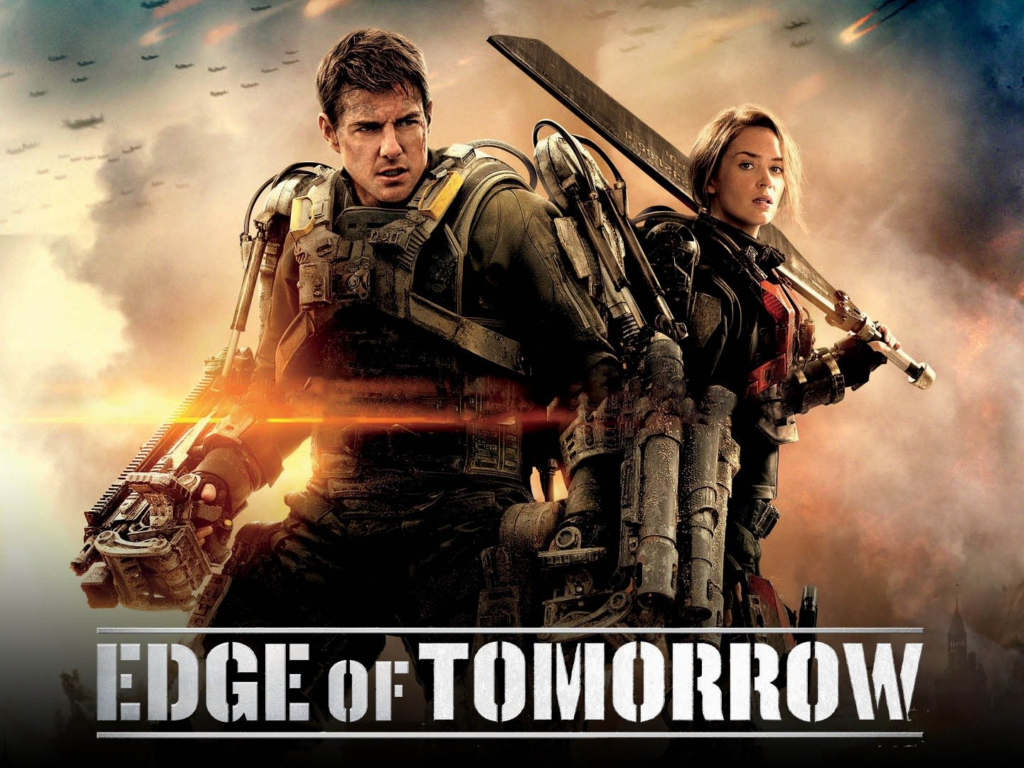 EDGE OF TOMORROW
(director: Doug Liman; screenwriters: Christopher McQuarrie/Jez/ John-Henry Butterworth/based on the novel "All You Need Is Kill," by Hiroshi Sakurazaka; cinematographer: Dion Beebe; editor: James Herbert; music: Christophe Beck; cast: Tom Cruise (Cage), Emily Blunt (Rita), Bill Paxton (Master Sgt. Farell), Brendan Gleeson (General Brigham), Jonas Armstrong (Skinner), Tony Way (Kimmel), Kick Gurry (Griff), Franz Drameh (Ford), Dragomir Mrsic (Kuntz), Charlotte Riley (Nance); Runtime: 113; MPAA Rating: PG-13; producers: Erwin Stoff/Tom Lassally/Jeffrey Silver/Gregory Jacobs/Jason Hoffs; Warner Bros. Pictures; 2014)
"Never left me jumping out of my seat for joy."
Reviewed by Dennis Schwartz
Doug Liman ("Swingers"/"Go"/"The Bourne Identity") directs a sci-fi take on "Groundhog Day." The derivative film is based on the illustrated Japanese novella "All You Need Is Kill" by Hiroshi Sakurazaka, and is cleverly written by Christopher McQuarrie, Jez and John-Henry Butterworth. It's "Groundhog Day" except it features Tom Cruise instead of Bill Murray, which can't make it better. The story is about CGI created gigantic spidery alien invaders trying to destroy Europe (it wistfully turns D-Day into a futuristic high-tech aerial assault on Normandy).
In the near future, the wormy, cowardly and unprincipled American Major William Cage (Tom Cruise) is a military PR officer who is unwillingly recruited by a European commander, General Brigham (Brendan Gleeson), into a doomed combat beach mission in France against giant marauders. The reluctant Cage is arrested for desertion and assigned to the combat unit of the no-nonsense Master Sgt. Farell (Bill Paxton) at Forward Operating Base Heathrow in London, where he's outfitted with a computerized exoskeleton that if properly operated turns the combatant into a fighting robot. When killed instantly on the beach landing, wearing his combat armor, which he cannot operate, Cage is tossed into a time loop whereby he repeatedly relives that moment as he gets thrown into the same attack and keeps getting killed except each time he lasts a bit longer. The trick is finding a way to finally exit the time travel loop, which Liman manages to do via movie magic hokum and leaves us with a conclusion that left me more frustrated than sated.
All the recurring time loops gave me a headache, a self-defacing Cruise, for me, is still annoying despite tamping down his usual action-picture MO. Co-star Emily Blunt is fine as an international warrior commando legend fighting the alien race called Mimics, who will become the teacher of Cage on how to become a master combatant. But their developing love story, a major part of the summer blockbuster action movie, never left me jumping out of my skin for joy.
REVIEWED ON 6/6/2014 GRADE: C+
Dennis Schwartz: "Ozus' World Movie Reviews"
© ALL RIGHTS RESERVED DENNIS SCHWARTZ