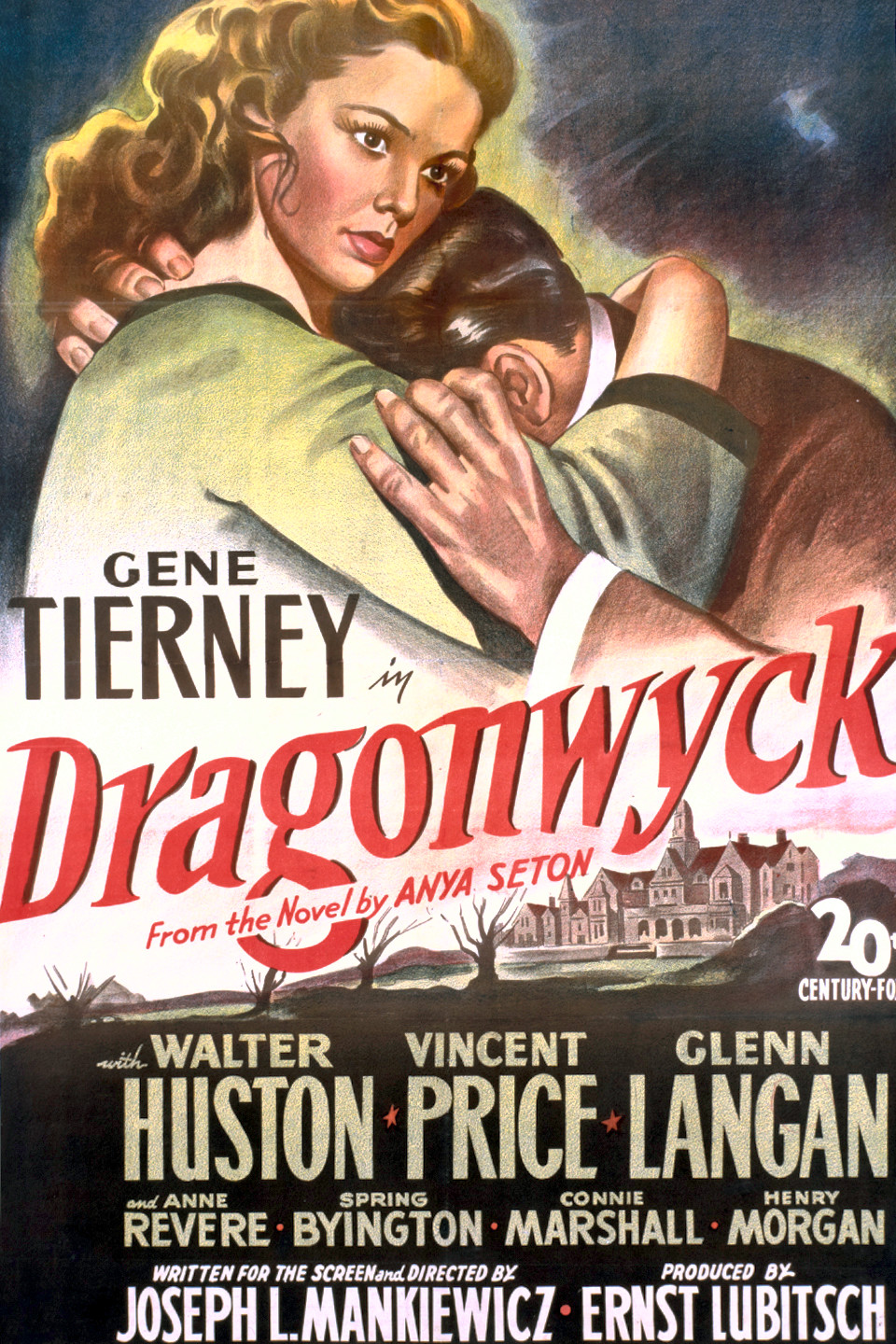 DRAGONWYCK

(director/writer: Joseph L. Mankiewicz; screenwriter: based on a novel by Anya Seton; cinematographer: Arthur Miller; editor: Dorothy Spencer; music: Alfred Newman; cast: Gene Tierney (Miranda Wells), Walter Huston (Ephraim Wells), Vincent Price (Nicholas Van Ryn), Glenn Langan (Dr. Jeff Turner), Anne Revere (Abigail Wells), Spring Byington (Magda), Connie Marshall (Katrine Van Ryn), Henry Morgan (Klaus Bleecker), Vivienne Osborne (Johanna Van Ryn), Jessica Tandy (Peggy O'Malley), Trudy Marshall (Elizabeth Van Borden), Jane Nigh (Tabitha Wells); Runtime: 103; MPAA Rating: NR; producer: Darryl F. Zanuck/Ernst Lubitsch; Twentieth–Century Fox; 1946)

"Eerie Gothic thriller."
Reviewed by Dennis Schwartz
The directorial debut of screenwriter and producer Joseph L. Mankiewicz ("A Letter to Three Wives"/"All About Eve"/"The Ghost and Mrs. Muir") is far from his best work. Dragonwyck is an eerie Gothic thriller that follows along the lines of Hitchcock's Rebecca (1940). It's based on the bestseller novel by Anya Seton.
In 1844, in rural Greenwich, Connecticut, unsophisticated 18-year-old farm girl Miranda Wells (Gene Tierney)implores her stern, Bible-thumping, poor but proud dadEphraim Wells (Walter Huston)and her obedient family-minded mother Abigail (Anne Revere), to accept for her the invitation of mom's distant cousin the wealthy patroon feudal landowner Nicholas Van Ryn's (Vincent Price) that one of her two daughters will be a governess for his 8-year-old daughter Katrine (Connie Marshall) at his vast isolated estate in the Hudson Valley called Dragonwyck.The innocent, dreamy and ambitious Miranda wants to leave her home and her no-fun strict father and begs for this opportunity, while her plain sis (Jane Nigh) wants to stay home to marry a local farmer.
At the comfy estatethe godless Nicholas carries himself as an arrogant, imperious and snobbish descendant from a long line of Dutch patroons, who is oppressive to the 200 tenant farmers that work his land. While his self-absorbed gluttonous wife, Johanna (Vivienne Osborne), is a spiteful woman who makes just as bad a mother as her hubby makes a bad father. Meanwhile their loveless daughter Katrine mystically hears the presence of long-dead ghosts of the Van Ryns in the spiritually stifling ornate house and worries about living such a dreary life.
When Nicholas's wife suddenly dies, the naive materialistic romantic Miranda marries him, not aware that he poisoned his wife because she couldn't bear him a son to carry on the patroon tradition. Miranda when pregnant is treated by the handsome tenant farmer's doctor, Dr. Jeff Turner (Glenn Langan), someone who despises Nicholas for his cruelty to his tenant farmers. When their newborn son dies because of a defective heart, Jeff fears for Miranda's life while falling in love with her and getting Nicholas to admit he poisoned his wife with oleander.
The period atmosphere for the black-and-white film is well-executed, but it becomes predicable and lacking in charm after the Price character becomes a lunatic druggie withdrawing from Miranda to live in the attic and looms as so sinister a figure that wifey number 2 becomes the damsel in distress. It results in a gloomy pic whose accolades come more from the solid villainous performance by Price and the chilling look of the pic, rather than from its tedious dramatics.
REVIEWED ON 8/14/2010 GRADE: B-