DUNE
(director/writer: Denis Villeneuve; screenwriters: Eric Roth/Jon Spaihts/based on the novel written by Frank Herbert; cinematographer: Grieg Fraser; editor: Joe Walker; music: Hans Zimmer; cast: Timothée Chalamet (Paul Atreides ), Rebecca Ferguson (Lady Jessica Atreides), Oscar Isaac (Duke Leto Atreides), Josh Brolin (Gurney Halleck),  Stellan Skarsgård (Baron Vladimir Harkonnen), Zendaya (Chani), Jason Momoa (Duncan Idaho), Sharon
Duncan-Brewster (Liet Kynes), Chen Chang (Dr. Yueh), Javier Bardem (Stulgar), Charlotte Rampling (Reverend Mother Gaius Helen Mohiam), Dave Bautista (Beast Rabban Harkonnen), Stephen McKinley Henderson (Thufir Hawat),  David Dastmalchian (Piter De Vries), Benjamin Clementine (Herald of the Change); Runtime: 155; MPAA Rating: PG-13; producers; Joseph M. Caracciolo Jr./Cale Boyter/Abu Dhabi/Mary Parent/ Denis Villeneuve: Warner Bros.; 2021)
"It tells in a stunning way a mythical sci-fi tale of the desert planet Arrakis and its feuding clans."
Reviewed by Dennis Schwartz

Canadian filmmaker Denis Villeneuve ("Arrival"/"Siccario") bravely directs Frank Herbert's so-called "unfilmable" sci-fi novel classic, a remake of David Lymch's 1984 film (receiving mixed reviews and a miss at the box office) and a follow-up to the documentary on it by Alejandro Jodorowksy. This version gets it right, as it films it in a dream-like version. It's co-written by the director, Eric Roth and Jon Spaihts.

It tells in a stunning way a mythical sci-fi tale of the desert planet Arrakis and the clan it must fight to survive.

In the year 10191, the supreme ruler of the Imperium is Padisha Emperor Shaddam IV. Under him are several conflicting Houses, each having their own ruling family. We are kept informed of developments by the narration of a blue-eyed female warrior native Fremen, Chani (Zendaya), as the hostile desert planet of Arrakis (Dune) is under the rule of the evil House Harkonnen and its ruthless and corrupt leader Baron Vladimir (Stellan Skarsgård). The desert planet is the only place in the world that produces an invaluable "spice," a healing product with hallucinogenic powers, that also is used as a rocket fuel, the only kind in existence, needed for interstellar travel. But the Harkkonens are venal and destroyers of the land, and are at war with the Fremen, the native population, who for safety flee to live in caverns under the sand.

Other problems on the desert planet is that it's extremely hot (almost unlivable) and the place's vibrations bring out dangerous sandworms that impede the spice production, which results in the employment of a complex system of harvesting.

Because Dune is mismanaged and floundering, the Emperor appoints from the ocean planet Caladan the compassionate Duke Leto Atreides (Oscar Isaac) to replace the House Harkonnen as rulers. Duke Leto ties to get a peace between the former rulers and the natives, but gets instead a civil war which probably means his House of Atreides will fall to the House of Harkonnen unless it can figure a way to beat them in battle.

Paul Atreides (Timothée Chalamet), Duke Leto's brilliant son and heir, who possesses superhuman mental powers inherited from his mother, Lady Jessica (Rebecca Ferguson), and is also a martial arts and swordplay expert, arrives on the Dune hoping to be the heroic messiah-like figure needed to save his people and the world.

The film ends on an inconclusive note as the House Harkonnen battle to take back the planet and its profitable "spice" harvesting business.
Billed as "Part One," it seems to be a set-up for a franchise with many chapters to follow.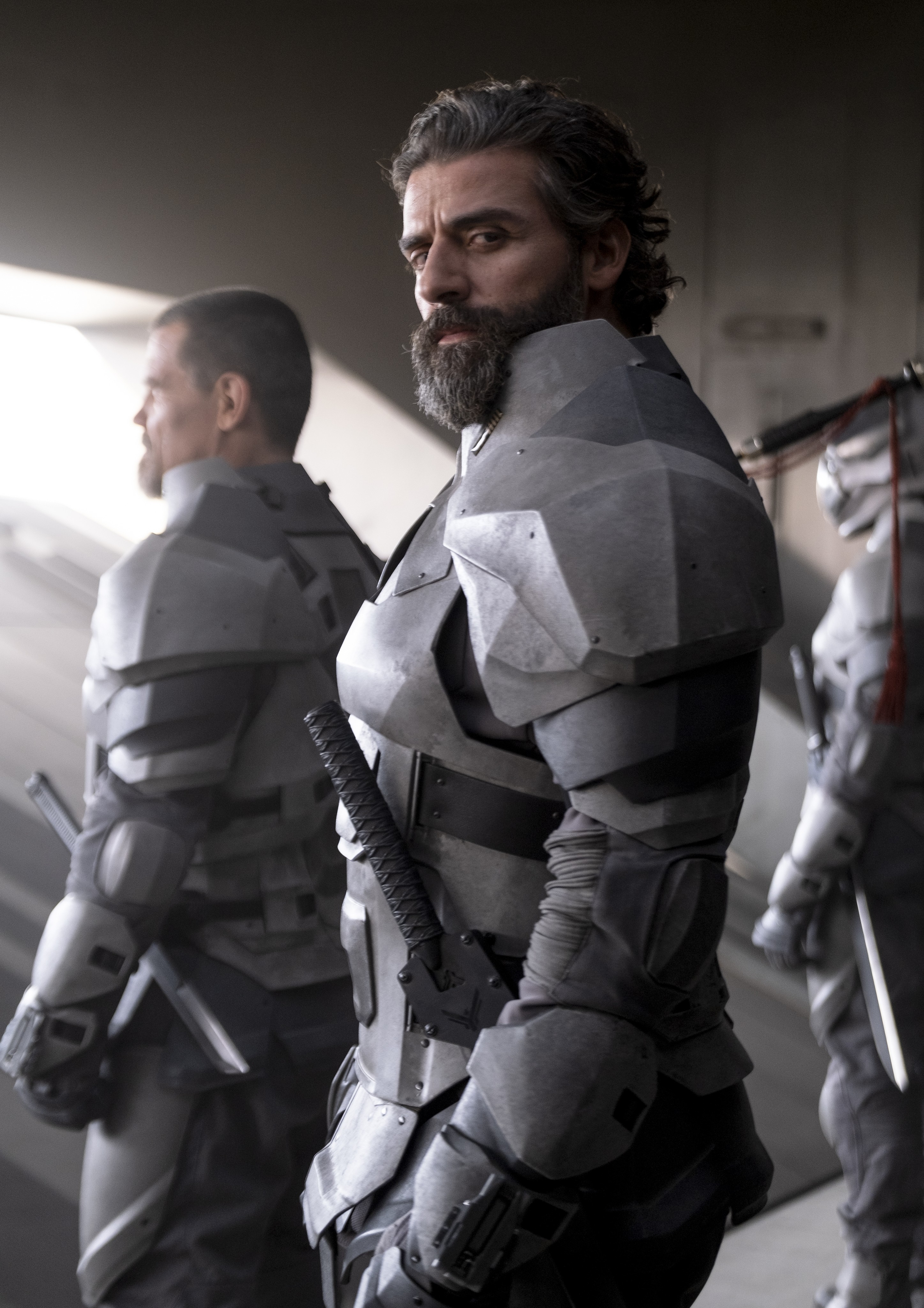 REVIEWED ON 10/1/2021 GRADE: B+