DRIVE MY CAR
(director/writer:Ryûsuke Hamaguchi; screenwriters: Takamasa Oe/short story by Haruki Murakami.; cinematographer: Hidetoshi Shinomiya; editor: Azusa Yamazaki; music: Eiko Ishibashi; cast: Hidetoshi Nishijima (Yusuke Kafuku), Masaki Okada (Kôji Takatsuki), Toko Miura (Misaki), Reika Kirishima (Oto), Park Yurim (Lee Yoon-a), Jin Daeyeon (Kon Yoon-su); Runtime: 180; MPAA Rating: NR; producers;Tsuyoshi Gorô, Misaki Kawamura, Osamu Kubota, Sachio Matsushita, Yoshito Nakabe, Keiji Okumura, Jin Suzuki, Akihisa Yamamoto: C & I Entertainment ; 2021-Japan-in Japanese with English subtitles)
"Hamaguchi has imposed his own will on the Murakami story without complete justification, taking it much further than the short story cared to go."
Reviewed by Dennis Schwartz

The talented emerging Japanese filmmaker Ryûsuke Hamaguchi ("Touching the Skin of Eeriness"/"Happy Hour") bases his three-hour mysterious and slowly unfolding sensuous film on Haruki Murakami's compelling short story of the same name. Hamaguchi co-writes it with Takamasa Oe. The curious and obtuse film was selected for the competition at the 74th Cannes Film Festival. It's a romance film about identity and the secrets others have about their lives.

It opens with a 40-minute prologue telling Murakami's story. The narrative focuses on a playful, successful, middle-age, loving cosmopolitan couple, Oto (Kirishima Reika), a screenwriter, and Kafuku (Nishijima Hidetoshi), a stage actor and director of experimental plays. The couple years ago lost a child. Now they spend long hours listening to classical music on vinyl, making love at all hours and each supporting the creative life of the other by brainstorming ideas with each other.

She records the lines of Anton Chekhov's play Uncle Vanya on tape for him to listen to on his commutes to work so that he can fully focus on the play he's reviving.
 
The couple live a posh life in Tokyo, doing whatever they can to make both their lives a blast.

Grief comes into their joyous life when Yûsuke is in danger of losing the sight in one eye due to glaucoma. He realizes he will need a driver for his Saab 900 to take him to the theater.

Things get cloudy when Yûsuke finds his wife one day in their living room screwing a handsome and disreputable young actor and celebrity named Kôji (Masaki Okada), and says nothing. Later her dead body is found on the living room floor, where the cause of her death is a cerebral hemorrhage from a aneurism.

The film picks up after the prologue. It's two years after Oto's death. Kafuku directs Chekhov's Uncle Vanya in an artist-in-residence project in Hiroshima, where each actor speaks a different language and comes from a different country. For reasons only known to him, Yûsuke casts this same Kôji in the lead role of Uncle Vanya, but refuses to meet with him after rehearsals for a drink or to talk to him about the play.

This strange relationship between the two men is happening at the same time of Yûsuke's growing relationship with his mysterious, scar-faced, reticent female driver Misaki (Tôko Miura), whom he starts confessing his anguish to and plays his wife's cassette in the car for the Uncle Vanya play during the theater commute.

The driver, whose part refers to how the film got its title, takes over the story in the melodramatic final act.
This odd aesthetic film needs to show us how complex our lives can be and that we would be greatly mistaken if we thought we completely knew another, no matter how close we are to them. It stresses that to live in harmony we must learn to trust each other and not repress our emotions.

 Hamaguchi has imposed his own will on the Murakami story without complete justification, taking it much further than the short story cared to go.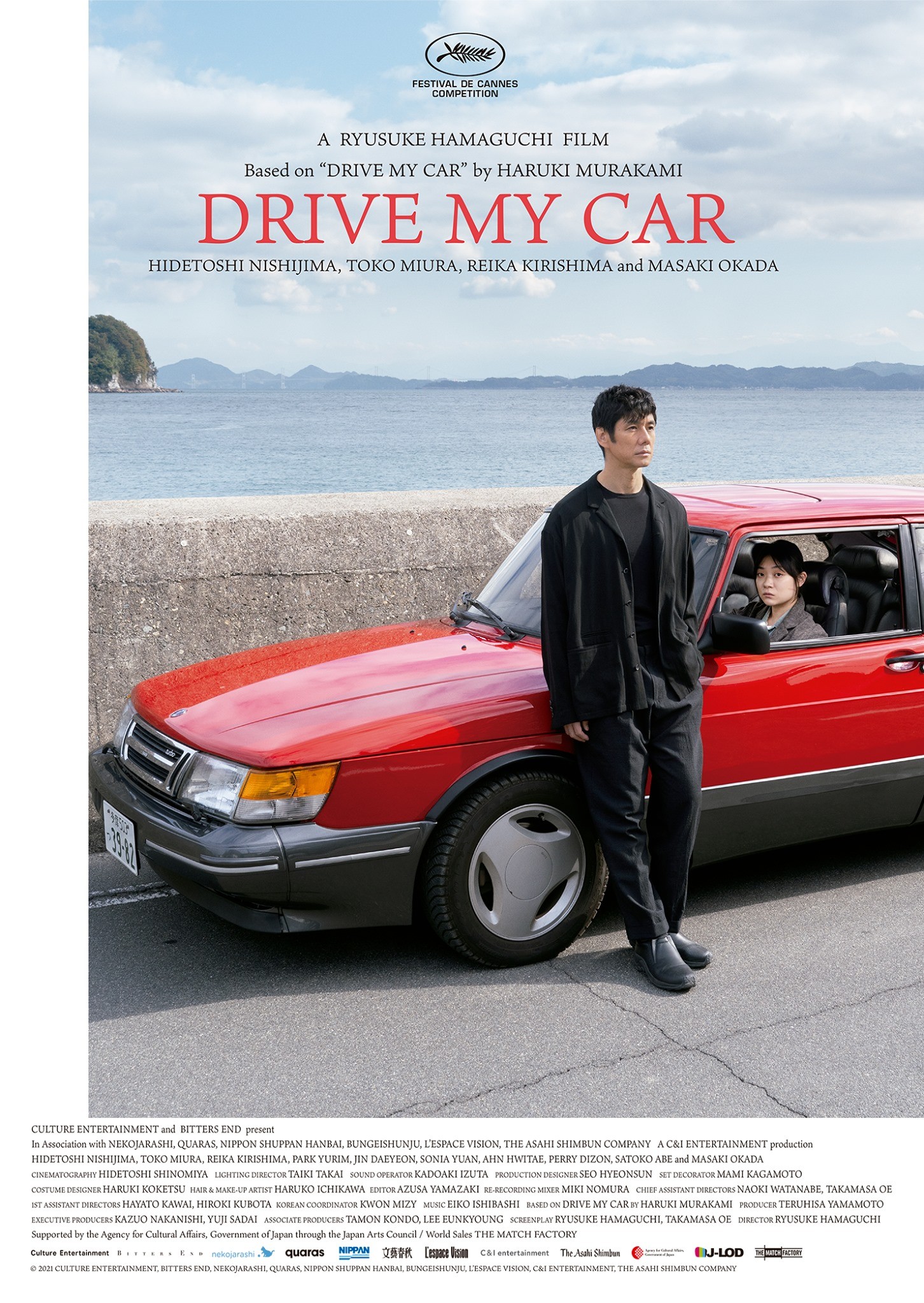 REVIEWED ON 7/22/2021 GRADE: B