AMBULANCE
(director: Michael Bay; screenwriters: Chris Fedak, based on the original story and screenplay for the 2005 Danish film Ambulancen by Laurits Munch-Petersen and Lars Andreas Pedersen; cinematographer: Roberto De Angelis; editor: Pietro Scalia; music: Lorne Balfy; cast:  Jake Gyllenhaal (Danny Sharp), Yahya Abdul -Mateen II (Will Sharp), Eiza Gonzalez (Cam Thompson), Moses Ingram (Amy Sharp), Jackson White (Officer Zach), Cedrick Sanders (Officer Mark), Garrett Dillahunt (Captain Monroe), Keir O'Donnell (FBI Agent Anson Clark), A Martinez (Papi); Runtime: 136; MPAA Rating: R; producers; Michael Bay, Bradley J. Fischer, James Vanderbilt, William Sherak, Ian Bryce: Universal Pictures; 2022)
"Delivers the mindless action the fans of this genre seem to crave."
Reviewed by Dennis Schwartz

Michael Bay ("Pearl Harbor"/"Transformers") directs this noisy and dumb action thriller about two robbers that steal an ambulance when their heist goes afoul to flee the cops. It's written by Chris Fedak, and is based on the low-budget 2005 Danish film Ambulancen by Laurits Munch-Petersen and Lars Andreas Pedersen. The high budget film is set in Los Angeles during one drawn out day.

Decorated Marine war veteran Will Sharp (Yahya Abdul-Mateen II), from the Afghanistan War, is desperate for money to cover his wife's (Moses Ingram) medical bills, and asks for help from his no-good adopted brother Danny (Jake Gyllenhaal). Which leads to them robbing a bank of $32 million in downtown Los Angeles, with other crooks. But the robbery goes awry. During the ensuing gunfight the brothers escape in an ambulance they steal and take with them the rookie cop (Jackson White) they shot and have the EMT paramedic Cam Thompson (Eiza González) aboard as a hostage and to keep the cop alive. She performs, without an anaesthetic, a splenectomy by her ex-boyfriend doctor advising her on their smartphones while he's on the golf course.The LAPD launches a massive city-wide pursuit of the thieves (O.J. like). There's explosions, non-stop action, a chase that takes us all over the city streets and trite dialogue. Many set-pieces are put in motion, and a few actually work. Danny throughout raves like a psychopath, and the hyper action pic by Bay, his best film in ages (which is not saying much), delivers the mindless action the fans of this genre seem to crave.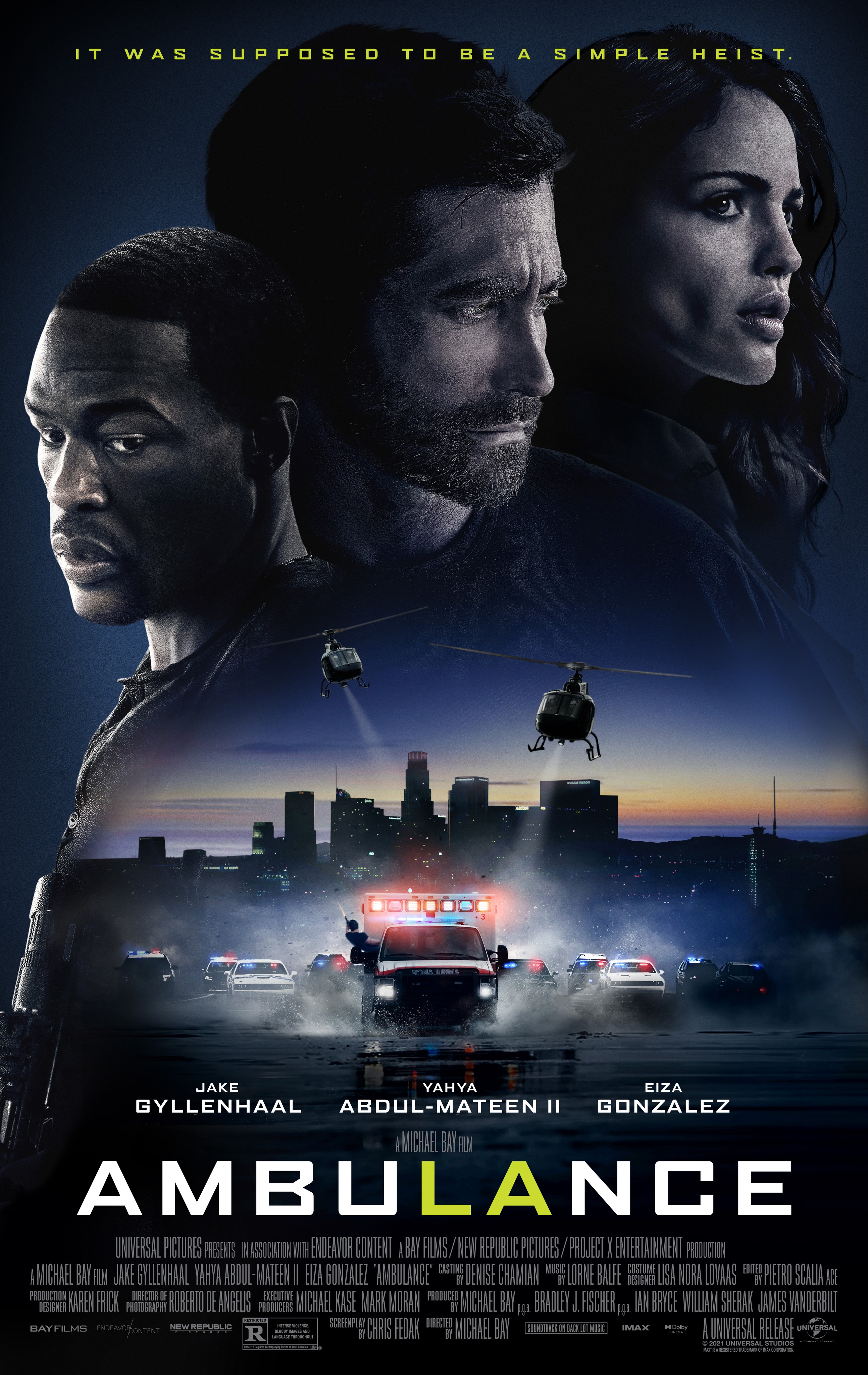 REVIEWED ON 4/4/2022 GRADE: C+