DON'T LOOK UP
(director/writer: Adam McKay; screenwriter: story by Mckay and David Sirota; cinematographer: Linus Sandgren; editor: Hank Corwin; music:Nicholas Britell; cast: Leonardo DiCaprio (Dr. Randall Mindy), Rob Morgan (Dr. Clayton Oglethorpe), Jennifer Lawrence (Dr. Kate Dibiasky), Meryl Streep (President Janie Orlean), Cate Blanchett (Brie Evantee), Tyler Perry (Jack Bremmer.), Jonah Hill (Jason Orlean), Mark Rylance (Peter Isherwell ), Ron Perlman (Colonel Ben Drask), Timothée Chalamet (Quentin Yule), Ariana Grande (Riley Bina), Scott Mescudi aka Kid Cudi (Dj Chello), Himesh Patel (), Melanie Lynskey (June Mindy), Michael Chiklis (Dan), Tomer Sisley (Gremio); Runtime: 145; MPAA Rating: R; producers; dam Mckay, Kevin Messick, Scott Stuber, Besty Koch, Todd Schulman: Netflix; 2021)
"The comedy is lazy, sanctimonious and too obvious to look up to."
Reviewed by Dennis Schwartz

A sci-fi black comedy directed by Adam McKay ("Anchorman"/"The Big Short") with dumb broad comedy. It's co-written by McKay and David Sirota as a tongue in cheek satire on a global disaster. The too many targets explored include America's sluggish response in dealing with climate change, celebrity culture, social-media as a time killer, the out-of-control tech leaders and the politicization of science.
Kate Dibiasky (Jennifer Lawrence), an astronomy grad student and Ph.D candidate, with a nose ring, and her Michigan State professor, Dr. Randall Mindy (Leonardo di Caprio), her mentor, discover a comet orbiting within the solar system. They are worried that this Comet can directly collide with the Earth and do great damage, but no one seems to care (as it takes a shot at the clueless public). So they go on a media tour to inform the public.

The Trump-like egotistical air-head prez (Meryl Streep) and her arrogant idiot chief-of-staff son Jason (Jonah Hill) ignore the comet incident and busy themselves pushing through anti-abortion Supreme Court nominees.

Comedy is milked from sketches like this one on thie media tour: Randall and Kate do a controversial talk show hosted by an obsequious Tyler Perry and a Mika Brzezinski type played by Cate Blanchett. When Kate has an on- the – air breakdown over the approaching comet—screaming "we're all gonna die!"— Blanchett comments that "The handsome astronomer can come back anytime, but the yelling lady, not so much."

The film hits a number of targets, but it's like shooting sitting ducks in a barrel. Trump and his sycophants are ridiculous figures even if behaving normally, thereby the absurd parodies of these boobs and criminals seem more childish than mature funny. The comedy is lazy, sanctimonious and too obvious to look up to.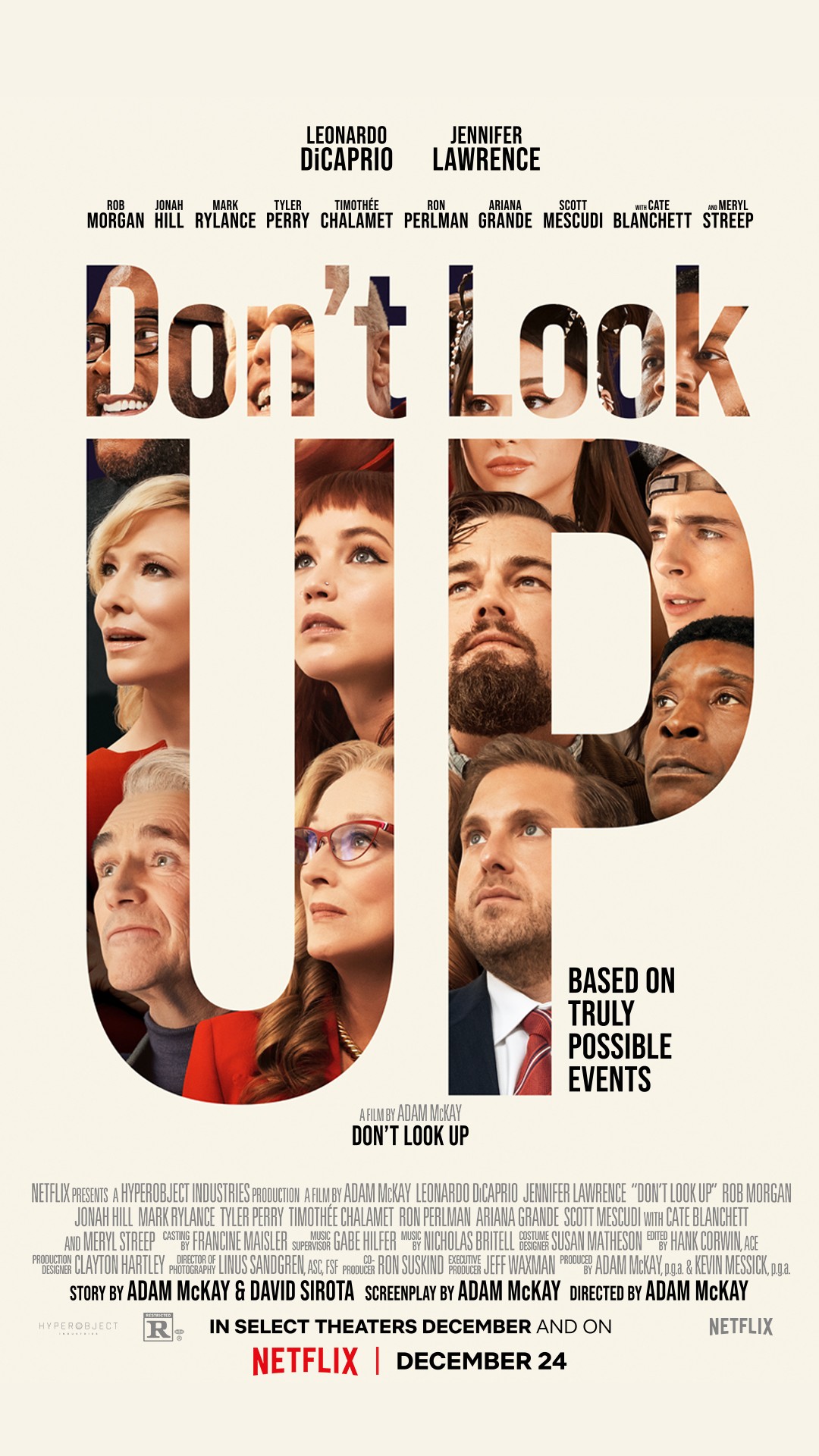 REVIEWED ON 12/11/2021 GRADE: C