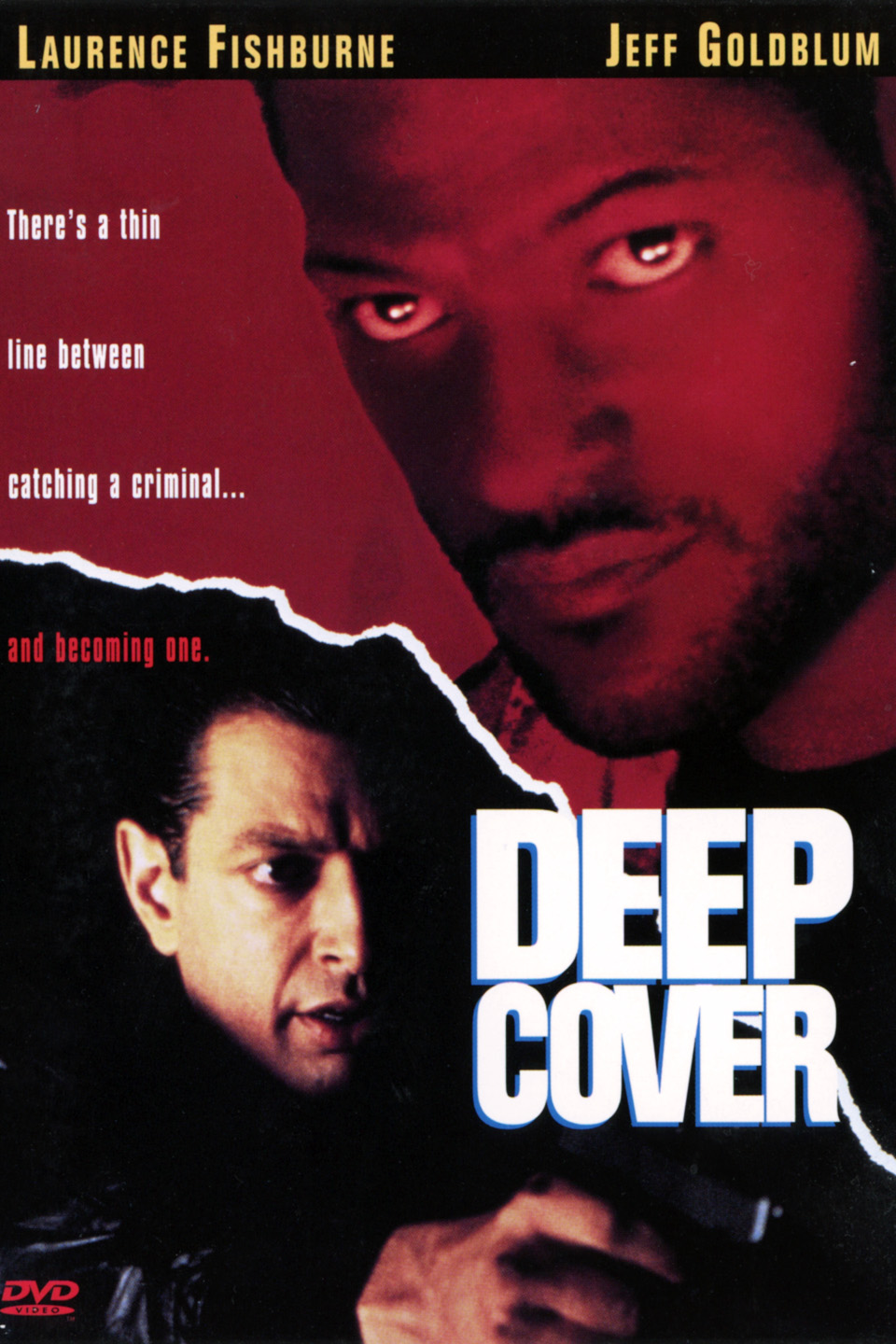 DEEP COVER
(director: Bill Duke; screenwriters: Michael Tolkin/Henry Bean; cinematographer: Bojan Bazelli; editor: John Carter; music: Michel Colombier; cast: Larry Fishburne (Russell Stevens Jr. /John Hull), Jeff Goldblum (David Jason), Victoria Dillard (Betty McCutcheon), Charles Martin Smith (Jerry Carver), Sydney Lassick (Gopher), Clarence Williams III (Taft), Gregory Sierra (Felix Barbosa), Roger Guenveur Smith (Eddie), René Assa (Guzman), James T. Morris (Ivy), Julio Oscar Mechoso (Hernandez), Arthur Mendoza (Gallegos), Russell Stevens Jr. (Hull as a ten-year-old), Glynn Turman (Hull's junkie father); Runtime: 112; MPAA Rating: R; producer: Pierre David; New Line Cinema; 1992)
"Cynical police thriller that veers between a standard issue genre action pic and something more meaningful and original."
Reviewed by Dennis Schwartz
Cynical police thriller that veers between a standard issue genre action pic and something more meaningful and original. African-American director Bill Duke ("A Rage in Harlem"/"The Killing Floor"/"Sister Act 2: Back in the Habit") makes things disturbingly violent and looking at times no different than most blaxploitation pics, yet it always seems to be on a higher level than most police thrillers. Writers Michael Tolkin and Henry Bean deliver all the expected overboiled action sequences fans of the crime story genre demand, but are also ambitious to make a statement about the hypocrisy of the government's War on Drugs. Larry Fishburne is dynamic in his first starring role (it's through his eyes that the story unfolds), while Jeff Goldblum is terrific in his nuanced performance as the sleazy corrupt nerdy yuppie Jewish mob lawyer. When the two stars are on onscreen together, things always sizzle.
Though the subject matter is familiar to most recent crime films, the pic nevertheless ponders thought-provoking moral quandaries about the undercover cop operation by the feeling used undercover cop, after learning that the U.S. State Department has another agenda than the one it professes. The narc asks aloud: "Am I a cop pretending to be a drug dealer, or a drug dealer pretending to be a cop?" After witnessing crackheads, drug gang rubouts, a decayed urban scene, corrupt cops, phony politicians, a drug ring protected by diplomatic immunity and many other unpleasantness associated with the drug world, Duke reserves his greatest anger for those hypocrites who go after the drug dealers while still tied in with the two-faced political agenda that has the government willing to make dubious unethical deals with the powerful drug lords over politics (that's supposedly in America's best interest).
The film's powerful opening takes place in Cleveland in 1972 during the Christmas season, when future cop John Hull's junkie father is killed on the snowy street after robbing a liquor store while the ten year old watched from the car. Hull (Larry Fishburne) is a straight-arrow cop in Cincinnati in 1992, who has never touched drugs or alcohol, when he's recruited by wormy DEA operative Jerry Carver (Charles Martin Smith) to reside in LA as an undercover narc and infiltrate powerful drug dealers Felix Barbosa (Gregory Sierra), Gallegos (Arthur Mendoza) and Guzman (René Assa). All the drug lords have important Latin American connections that keep them in business in LA. Guzman is the major drug supplier who has diplomatic immunity, and is the one who frustrates Hull the most as he becomes untouchable even when caught in the act of making a drug deal.
Hull rises up the ladder through a series of brutal incidents that include a small time blabbermouth dealer (Roger Guenveur Smith) getting rubbed out on a pool hall table with a pool cue. His death allows Hull to take his place to push crack in the streets to children and pregnant women in order to cozy up to the wise cracking suburban lawyer and dealer David Jason (Jeff Goldblum) which enables him to get an opening to work his way up the food chain. Hull also finds time to romance sensitive African-American arty African mask dealer and money-launderer (Victoria Dillard), kill someone in cold blood like any common hood, become filthy rich as he and Jason start a designer drug empire of their own and, the undercover cop, before the third reel concludes figures a way to get to the three big Latin American wheeler dealers but will find himself a radically changed man.
It's spirited, bloody and though filled with the usual street tough urban cliches, it nevertheless offers a lucid and intelligent political and social commentary–something action pics of this type rarely do.
REVIEWED ON 10/28/2009 GRADE: A-  https://dennisschwartzreviews.com/