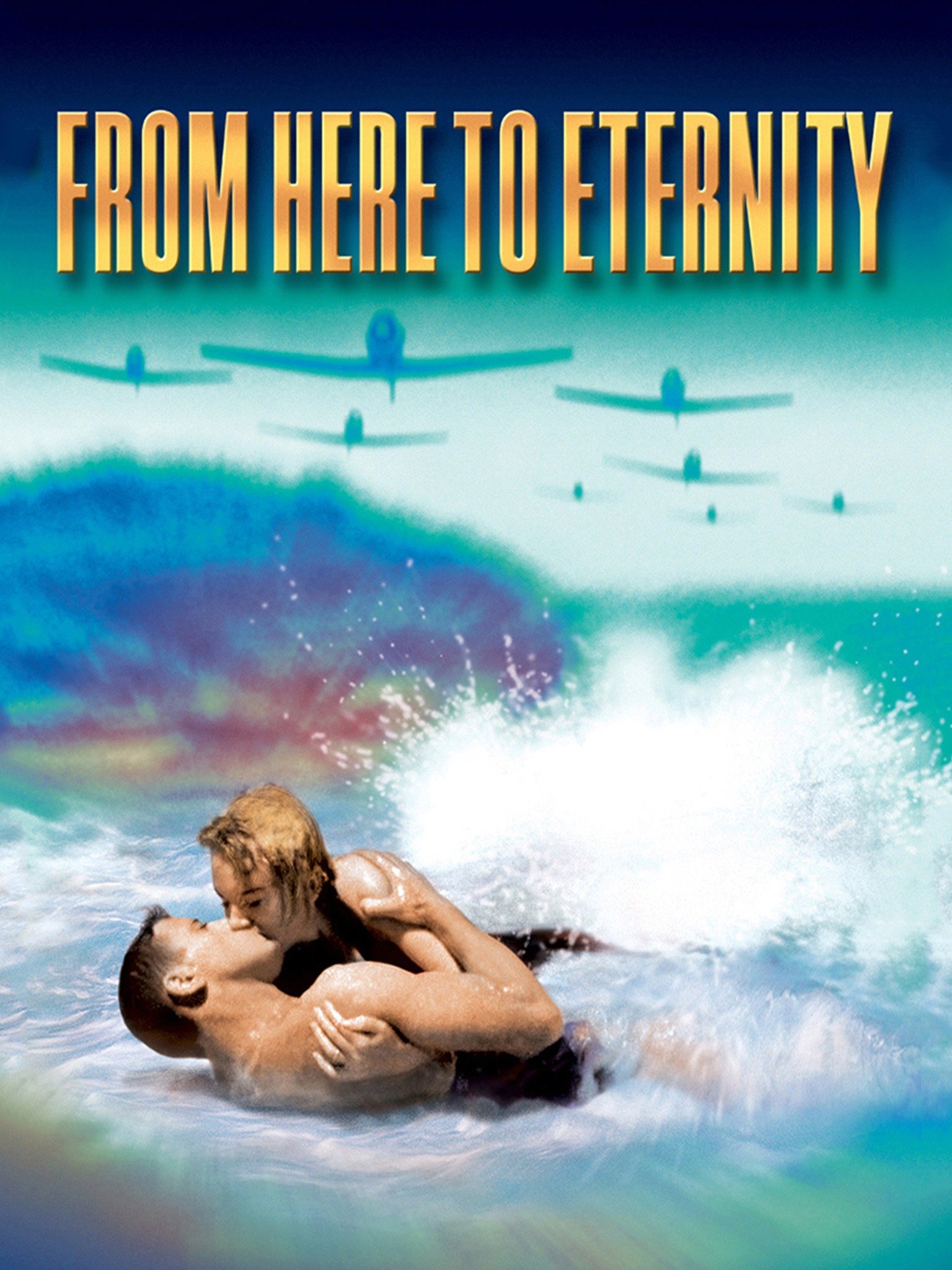 FROM HERE TO ETERNITY
(director: Fred Zinnemann; screenwriters: from the book From Here to Eternity by James Jones/Daniel Taradash; cinematographer: Burnett Guffey; editor: William Lyon; music: George Duning; cast: Burt Lancaster (Sgt. Milton Warden), Deborah Kerr (Karen Holmes), Frank Sinatra (Angelo Maggio), Montgomery Clift (Robert E. Lee Prewitt), Donna Reed (Alma Lorene), Ernest Borgnine (Sgt. "Fatso" Judson), Mickey Shaughnessy (Sgt. Leva), Philip Ober (Captain Dana Holmes), George Reeves (Sgt. Maylon Stark); Runtime: 118; MPAA Rating: NR; producer: Buddy Adler; Columbia Pictures; 1953)
"The film will always be remembered for the nocturnal romp on the surf between Kerr and Lancaster."
Reviewed by Dennis Schwartz
Fred Zinnemann ("The Nun's Story"/"The Day of the Jackal") flatly directs with workmanlike efficiency a tragic-romantic melodrama based on military life that is set on an Oahu army base in late 1941, and climaxes with the attack on Pearl Harbor and start of WW11. It's based on James Jones's popular shocking novel, and features an all-star cast that jells together. Frank Sinatra made his successful acting comeback as the explosive Private Maggio (he won the part from Eli Wallach or as some rumors went had his mob friends persuade the studio). Sinatra earned an Oscar for his winning performance. Deborah Kerr and Donna Reed are cast against type as sexually liberated women. Burt Lancaster turns in his usual solid performance as the rugged first sergeant. Montgomery Clift is convincing as the problematic Southern company misfit. It remains a startling film even though it is greatly simplified from its source's bolder treatment of passion and emotional issues and multiple romances and anti-Semitism. For the early 1950s, an extra-marital steamy affair on the beach was as daring as films got in those more puritanical days. The film will always be remembered for the nocturnal romp on the surf between Kerr and Lancaster.
At Schofield Army Barracks in Honolulu, the story zeroes in on the life and frustrations of several people living on the base. Robert E. Lee "Prew" Prewitt (Montgomery Clift) gets busted from corporal to private when he transfers from the bugle corps to the infantry. A former champion boxer, Prew now refuses to box for his new company as he is haunted by a bad boxing experience from the past of blinding an opponent. His company commander, Captain Dana Holmes (Philip Ober), is big on boxing thinking a champ from his outfit will earn him a promotion. Because of Prew's refusal to fight, he's treated like a leper by Holmes and his flunkies. The company is run to perfection by the top sergeant, Milt Warden (Burt Lancaster), who in his spare time enters into an affair with Karen (Deborah Kerr), the bored trampy wife of his neglectful commanding officer. Meanwhile loner Prew's only friend Angelo Maggio (Frank Sinatra) is on a collision course with the sadistic bully sergeant of the stockade, "Fatso" Judson (Ernest Borgnine), because of his rotten attitude and drinking problem and lack of common sense in insulting him in the first place. Prew will fight only after his friend is tragically beaten by the vicious sergeant. Prew also falls for Alma Lorene (Donna Reed) a "hostess" at the gentleman's whorehouse called The New Congress Club. Not thinking logically, Prew snaps when his prostitute gal is seeing other men. Everything changes at once when the Japanese attack on the morning of December 7th and the focus turns to the war, as the emotional problems on the base are swept under the rug.
The film is certainly good enough, even with lackluster direction; but, think if someone like Nicholas Ray directed it how much better it would have been.
REVIEWED ON 1/3/2004 GRADE: B