CURSE OF THE CRIMSON ALTAR (THE CRIMSON CULT)
(director:  Vernon Sewll; screenwriters: Story Jerry Sohl/Henry Lincoln/Mervyn Haisman/H.P. Lovecraft story "The Dreams in the Witch House"; cinematographer: Johnny Coquillon; editor: Howard Lanning; music: Peter Knight; cast: Boris Karloff(Prof. John Marsh), Christopher Lee (J.D. Morley), Martin Eden (Bob Manning), Virginia Wetherell (Eva Morley), Denys Peek (Peter Manning), Barbara Steele (Lavinia Morley), Michael Gough (Elder), Rupert Davies (Vicar),Roger Avon (Sgt. Tyson),  Rosemarie Reed (Esther), Michael Warren (mute chauffeur); Runtime: 83; MPAA Rating: NR; producer; Louis M. 'Deke' Heyward: MGM; 1968-UK)
"Karloff and Lee give their usual mannered fine performances, but the story made no sense and was a bore."
Reviewed by Dennis Schwartz

Vernon Sewll ("The Blood Beast Terror"/"Burke And Hare") listlessly directs it as a derivative horror film, as writers Henry Lincoln and Mervyn Haisman adapt it from an uncredited story by H.P. Lovecraft "The Dreams in the Witch House."

This was the last completed film for the 82-year-old Boris Karloff, playing the role in a wheelchair, who succumbed to pneumonia after the shoot (two other films he completed earlier were released after this film).

Robert Manning (Mark Eden) owns a London antique store with his brother Peter (Denys Peek), who goes missing after going to the English countryside to Craxton Lodge to buy for the store ritual witchcraft items. Bob goes to the lodge to see if he can find Peter, knowing he was there after receiving a letter from him. There he meets the lodge's gentleman owner J.D. Morley (Christopher Lee). But he offers no help, just a room in his house to stay while he searches for his brother.

While there Robert has a romance with Morley's cute blonde niece, Eva (Virginia Wetherell), who is also a guest in her uncle's house. Eva is the typist for Prof. Marsh (Boris Karloff), the elderly town resident and expert on witchcraft, who is writing a book on his favorite subject.

The town of Greymarsh during Robert's stay is celebrating the death of Lavinia Morley (Barbara Steele), who died at the stake as a witch in 1650 and cursed her accusers, saying their descendants would all die through her witchcraft as revenge.

When Robert has nightmares of his brother being sacrificed by Lavinia, who is dressed in a wack demonic get-up, with large rams' horns and her face painted green, as he's hypnotized in the same room his brother slept in by the crazed warlord Morley. The relative vows to eliminate the descendants of Lavinia's accusers, with Robert being the last in line of his family of accusers still alive.

Karloff and Lee give their usual mannered fine performances, but the story made no sense and was a bore.

As for any character actor stealing some scenes, that goes to Michael Gough who plays the not all there retard butler, Elder. He appears at convenient times to warn Robert to go back to London fast or he will lose his life.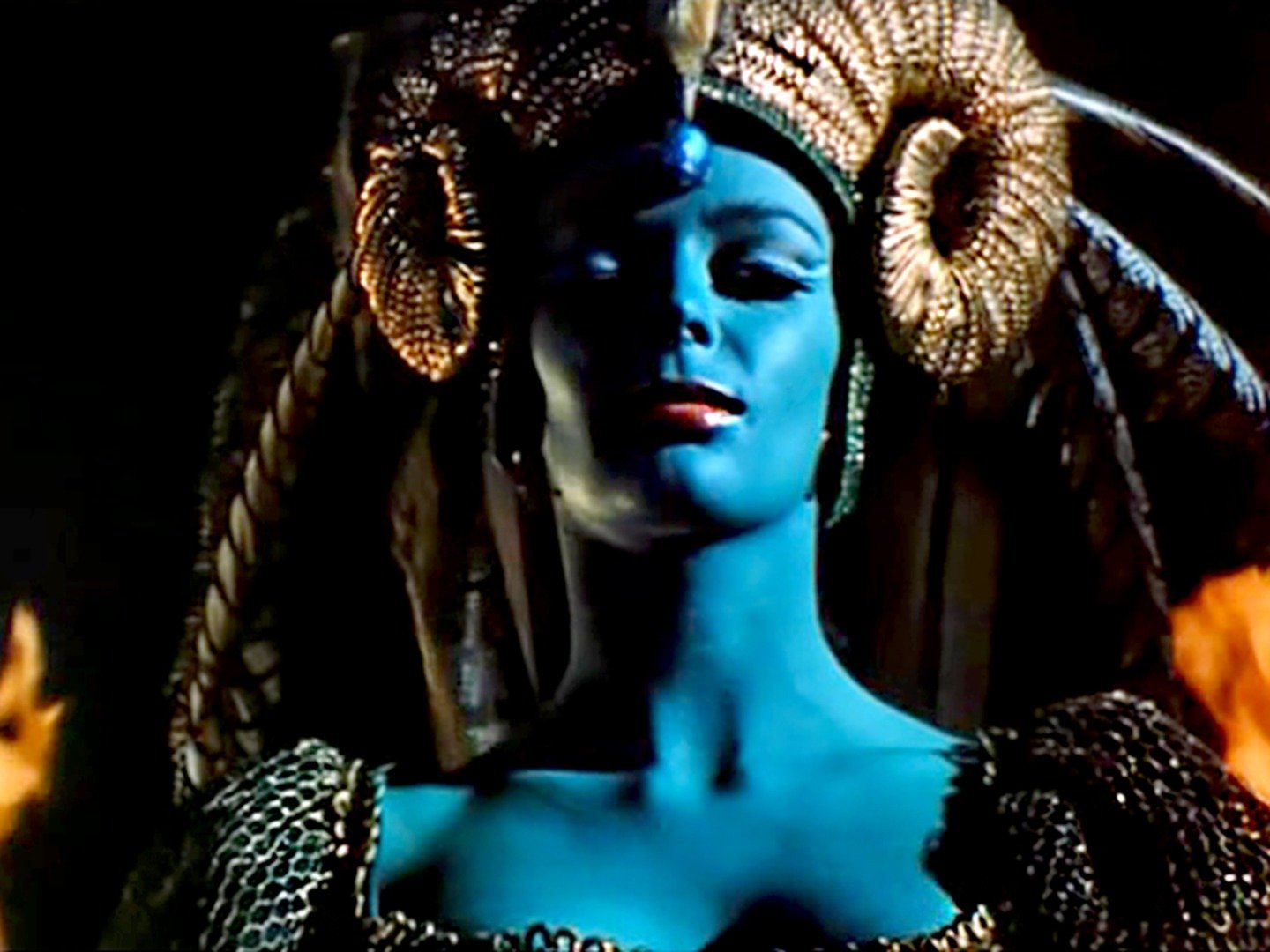 REVIEWED ON 9/12/2021 GRADE: C+