CREED III
Michael B. Jordan; screenwriters: Ryan Coogler/Zach Baylin; cinematographer: Kramer Morgenthau; editors: Tyler Nelson/Jessica Baclesse; music: Joseph Shirley; cast: Michael B. Jordan (Adonis Creed), Tessa Thompson (Bianca Creed), Jonathan Majors (Damian Anderson), Wood Harris (Tony 'Little Duke' Burton), Phylicia Rashad (Mary-Anne Creed), Mila Davis-Kent (Amara Creed), Jose Benavidez (Felix Chavez), Florian Munteanu (Viktor Drago), Thaddeus J. Mixson (Adonis Creed-at 15), Spence Moore II (Damian Anderson-at 18); Runtime: 116; MPAA Rating: PG-13; producers: Irwin Winkler, Charles Winkler, William Chartoff, David Winkler, Ryan Coogler, Michael B. Jordan, Elizabeth Raposo, Jonathan Glickman, Sylvester Stallone; United Artists Releasing; 2023)
"My problem was that I never bought into this obvious fantasy boxing/character film, that tells us with a straight face it's better to be rich with no worries than poor with a lot of worries."
Reviewed by Dennis Schwartz
 
The actor Michael B. Jordan does relatively good in his directorial debut and starring role for this third sequel to the popular after Rocky sports film franchise. This sequel takes the franchise to different places. It's written with intensity by Ryan Coogler and Zach Baylin, and is crisply filmed with IMAX on digital cameras.


Adonis Creed (Michael B. Jordan), the world champion boxer, is now living in a mansion, garbed in pricey tailored-suits and driving a luxury car as a wealthy retiree in Los Angeles. He's a celebrity, a good husband to his pop-singer wife Bianca (Tessa Thompson), a caring father for his daughter Amara (Mila Davis-Kent) and has a gym for young boxers to train and learn the craft from him.

Damian (Jonathan Majors), Adonis' close friend from childhood, a promising boxer he much admired and shadowed, but when he was imprisoned for a grocery store brawl as a youth Damian ended up missing out in his boxing career and spending time in prison. Adonis abandoned him and never answered his letters from prison. Now released from prison, Damian surprises him in Los Angeles with a visit. But Adonis doesn't recognize him dressed in a hoodie.

At lunch, the regretful Damian tells his old pal he just wants a chance to box again. Adonis wants to move on from him, as do his current pals. Duke (Wood Harris), who runs Adonis's gym, says it's a bad idea to have the jailbird train there. But the guilt-ridden Adonis gives in to Damian's request. It turns out that Damian wants to fight Adonis and give him a beating.

The fight scenes look great on IMAX. We get to see each fighter train for the Big Fight, which gives us insights to where they're at.

My problem was that I never bought into this obvious fantasy boxing/character film, that tells us with a straight face it's better to be rich with no worries than poor with a lot of worries.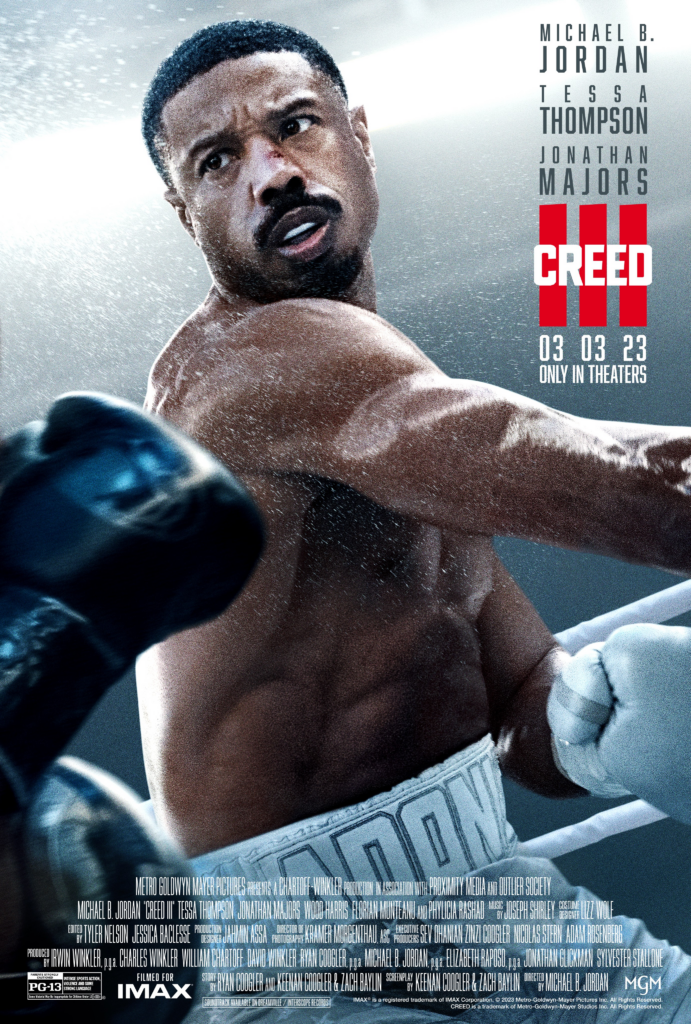 REVIEWED ON 3/5/2023  GRADE: C+