SADIST, THE (aka: PROFILE OF TERROR)
(director/writer: James Landis; cinematographer: Vilmos Zsigmond; editor: Anthony M. Lanza; music: Rod Moss; cast: Arch Hall, Jr. (Charlie Tibbs), Helen Hovey (Judy Bradshaw), Marilyn Manning (Doris Page), Richard Alden (Ed Stiles), Don Russell (Carl Oliver); Runtime: 94; MPAA Rating: NR; producers: Arch Hall, Sr./L. Steven Snyder; Alpha Video Distributors; 1963)
SADIST, THE (aka: PROFILE OF TERROR)
Reviewed by Dennis Schwartz
Mediocre writer-director James Landis ("Airborne"/"Rat Fink") has mediocre actor Arch Hall Jr. ("Wild Guitar"/"Eegah!"/"The Chopper"/"Deadwood '76″/"The Nasty Rabbit") playing the part of Charlie Tibbs, a 20-year-old mad dog psychopath on a killing spree out West with his wacko moronic girlfriend Judy Bradshaw (Helen Hovey, Hall's cousin). Hall's father had visions of his son being another Elvis and got into producing drive-in B films with his son in them to advance his musical career. They teamed up to make six lousy films, with this low-budget (cost $33,000 to make) thriller being their fourth and by far their best film–it was also one of the few that was not a showcase for his untalented son's musical career. Junior is actually good here as the maniacally giggling and menacingly leering sadist, as is the interesting cinematography from Vilmos Zsigmond making his film debut and soon going on to fame with such pics as McCabe and Mrs. Miller and the Deer Hunter. But these plusses were waylaid by it being overlong, too slow-paced and the narrative dealt with such an unpleasant subject that it was hard to find it enjoyable. It was inspired by the tabloid headline multi-state murder spree in 1958 by Midwestern 17-year-old psychopath killer Charlie Starkweather and his 14-year-old girlfriend Caril Fugate. They slaughtered Fugate's family and went on the road to kill a number of others before their own bloody demise. It was the first film to use as its subject matter the Starkweather killing spree.
The film opens with the narrator telling us "I have been hurt by others. I will make them suffer like I have suffered." Then we see that three pleasant straight small town teachers, the handsome bachelor Ed Stiles (Richard Alden, the only known professional actor in the film), the 52-year-old happy family man Carl Oliver (Don Russell) and the prim single math teacher Doris Page (Marilyn Manning), are on their way to watch a ballgame in Los Angeles between the Dodgers and Reds, with the great Sandy Koufax going against Bob Purkey, and in some remote country road up in the hills about 40 miles away from the stadium their car breaks down with a fuel pump problem. When the trio can't find anyone around the garage to help, the handy Stiles begins removing a fuel pump from one of the wrecked cars at the junk yard. But they are soon confronted by a gun-toting Charlie Tibbs and his moll Judy Bradshaw, who are wanted for a string of killings in neighboring Arizona and for a highway killing in California. When Oliver tells the sadist with the bouffant of blond hair that they are only teachers, the teach quickly learns Tibbs doesn't like teachers because they thought they were better than him and used to call Judy stupid. The teachers are bullied and pistol whipped. When they learn that their kidnapper's are wanted as mass killers, the situation looks hopeless and they expect to die. By the conclusion only one person will walk out of the desert area alive, but in a severe case of shock.
The Sadist gets a lot of bang for its dollar, and thrives on its raw energy and the creepy frightening sub-human performance by Hall. This crew hit acclaim one time only with this pic, unfortunately they were never able to duplicate something as good as this again though they tried.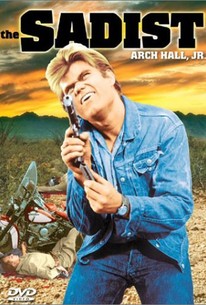 REVIEWED ON 11/26/2006 GRADE:   B-   https://dennisschwartzreviews.com/