CORSAGE
(director/writer: Marie Kreutzer; cinematographer: Judith Kauffman; editor: Ulrike Kofler; music: Camille; cast: Colin Morgan (Bay Middleton), Vicky Krieps (Empress Elisabeth/Sissy), Ivana Stojkovic (Mrs. Andrássy), Finnegan Oldfield (Louis Le Prince), Jeanne Werner (Ida Ferenczy), Lilly Marie Tschortner (Marie, Reine des Deux-Siciles), Manuel Rubey (Ludwig II, King of Bavaria), Aaron Friesz (Rudolph, Crown Prince of Austria), Rosa Hajjaj (Valerie), Lilly Marie Tschoertner (Marie, Queen of the two Sicilies), Katharina Lorenz (Marie Festetics), Alma Hasun (Fanny Faifalik), Marlene Hauser (Fini), Johanna Mahaffy (Lotti), Florian Teichtmeister (Emperor Franz Joseph), Tamás Lengyel (Count Andrássy); Runtime: 114; MPAA Rating: NR; producers: Alexander Glehr/Johanna Scherz; IFC Films; 2022-Germany-in German with English subtitles)
"A flowery performance by Vicky Krieps."
Reviewed by Dennis Schwartz


Austrian-born director-writer Marie Kreutzer ("The Ground Beneath My Feet"/"We Used to be Cool") is the creator behind the intriguing biopic on the unhappy Empress Elisabeth of Austria-Hungary (Vicky Krieps), known as Sissy, who lives in luxury and privilege but feels imprisoned, lonely and melancholic.

In 1877, at the age of 40, feeling over the hill, the flirty Sissy is married to the unfaithful and icy Emperor Franz Joseph (Florian Teichtmeister), who ribs her about getting old and shows no sympathy to her wants. He is jealous of her intimacy with the womanizing Hungarian Count Andrássy (Tamás Lengyel) and is disturbed that she favors the Hungarian side of the Habsburg empire.

The beautiful and physically fit imperious Empress is body shamed behind her back by the palace attendants, and when she gets wind of it her feelings are hurt. The fashion-setting Empress is restless in her Vienna setting, as her time is spent exercising, horseback riding or charged with monotonous ceremonial duties. She yearns to learn more about life, to travel again through Europe like she did when younger, and do more interesting educational things with her restrictive life.

Thanks to a flowery performance by Vicky Krieps, in this austere biopic, the film takes a positive feminist stance, as she speaks for women who even when not mistreated are still mistreated by men.

The Krieps character dresses in violet gowns, smokes violet cigarettes and in hospital and asylum visits to the sick, gives them gifts of violet-scented chocolates. When unable to bear her life any longer, she shoots up heroin. Nothing more needs to be said of her life, as she can only smile when with her dog or horse.

It's a satirical film that tries to smell the violet Sissy smelled, and in its soundtrack plays the music that the moderns hear, like The Rolling Stones.

It played at the Cannes Film Festival.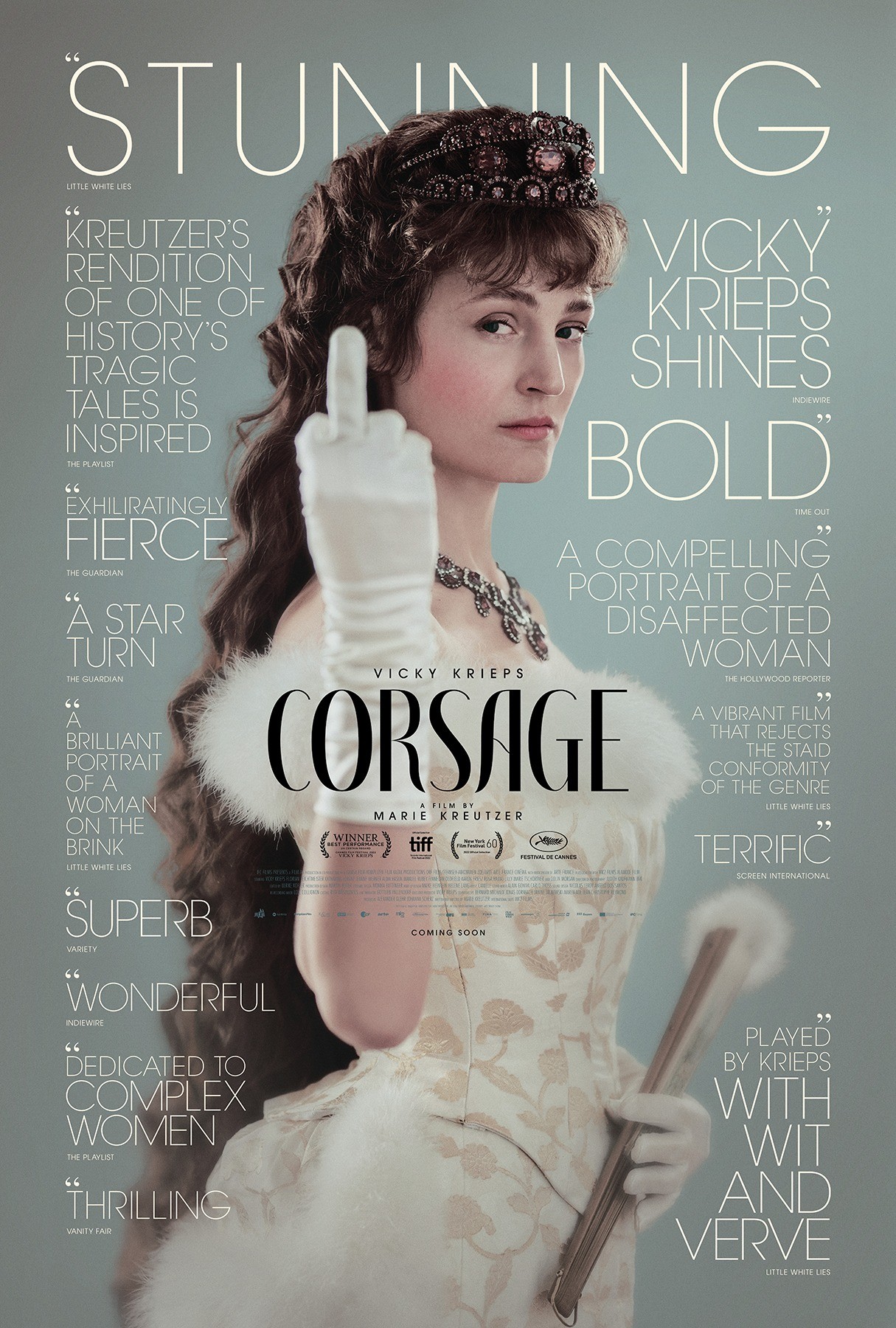 REVIEWED ON 12/7/2022  GRADE: B