COMPARTMENT NO. 6 (Hytti Nro 6)
(director/writer: Juho Kuosmanen; screenwriters: Andris Feldmanis, Livia Ulman, based on the novel by Rosa Liksom; cinematographer: Jani-Petteri Passi; editor: Jussi Rautaniemi; cast: Seidi Haarla (Laura), Yuriy Borisov (Ljoha), Dirana Drukarova (Irina), Tomi Alatalo (Sasha), Julia Augustin (Natalia Nemova, train conductor), Yulia Aug (Natalia), Polina Aug (Receptionist), Lidia Kostina (Lidia), Viktor Chuprov (Train Waiter), Denis Pyanov (Queue man); Runtime: 107; MPAA Rating: R; producers; Jussi Rantamäki, Emilia Haukka: Amrion/CTB Film Company/Sony Picture Classics; 2021-Finland-Germany-Estonia-Russia-in Finnish & Russian, with English subtitles)
"Engaging offbeat road movie."
Reviewed by Dennis Schwartz

Finnish director Juho Kuosmanen ("The Painting Sellers"/"The Happiest Day in the Life of Olli Mäki") directs this engaging offbeat road movie, in a wintry setting, he co-writes with Andris Feldmanis & Livia Ulman, that's based on the novel by the artist Rosa Liksom.

The Finnish archaeology grad student, Laura (Seidi Haarla), completes her studies in Moscow and leaves her Russian older female lover, Irina (Dirana Drukarova), her professor, to be on her way by train to Russia's remote north-west city of Murmansk (a city of about 300,000), in the Arctic circle, to explore the area's noted petroglyphs- – mysterious rock drawings, thousands of years old. Aboard the train she learns she has no other options but to share compartment No. 6, on the long trip (several days), in her second-class compartment, with a young Russian ruffian–the shaven-headed, drunk miner, on his way to the mines, Ljoha (Yuriy Borisov). Somehow, after a rough start, the sweet Laura makes the best of a bad situation by reaching out to the belligerent lost soul and makes contact with his better side. The opposites amiably pass the time and arrive in Murmansk without an incident, and against all odds they have made a genuine emotional connection (one that seems believable).

It premiered in the Main Competition section of the Cannes Film Festival.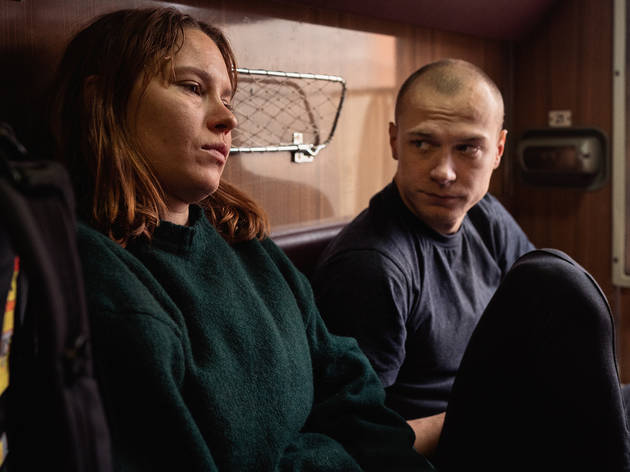 REVIEWED ON 1/12/2022 GRADE: B+