ZOMBIES 3
(director: Paul Hoen; screenwriters: David Light/Joseph Raso/characters based on those created by Light & Raso; cinematographer: Christian Herrera; editor: Lisa Binkley; music: George S. Clinton/Amit May Cohen; cast: Milo Manheim (Zed), Pearce Joza (Wyatt), Marie Ward (Missy), RuPaul Charles (Voice), Chandler Kinney (Willa), Terry Hu (A-Spen), Matt Cornett (A-Lan), Meg Donnelly (Addison), Trevor Tordjman (Bucky), Carla Jeffery (Bree), Tony Nappo (Zeven), Kylee  Russell (Eliza); Runtime:  91; MPAA Rating: NR; producer: Mary Pantelidis; Disney +; 2022)
"A silly musical comedy mixed in with some serious messages."
Reviewed by Dennis Schwartz

Paul Hoen ("Invisible Sister"/"Let it Shine") directs his third Zombie franchise film of the ongoing saga in the town of Seabrook. It was a sunny town until zombies moved in. But through the years the locals and outsiders learned to live together. Further danger came in Zombie 2 with the introduction of werewolf visitors, but they also learned to get along together. Now space aliens have arrived and how the town handles this situation is to be determined in Zombies 3. It plays out as a silly musical comedy mixed in with some serious messages. The third leg is the last one of the trilogy.

It's written by David Light and Joseph Raso, and is based on the characters created by them.

Zed (Milo Manheim) has his sights set on an athletic scholarship and being the first zombie to go to college. His high school girlfriend Addison (Meg Donnelly) hopes to lead her cheer-leading squad to victory in an international competition. These aspirations are threatened when aliens descend upon the peaceful Seabrook town.

You can think of the aliens as being viewed by the public like undocumented immigrants. Addison's ignorant cousin Bucky (Trevor Tordjman) feels threatened that the invaders came here to take the jobs of the locals and detests them.

So in Zombie 3 the citizens must once again learn tolerance and accept those who are outsiders and look different.

The sets look psychedelic in their pastel colors, the pop music is inspirational and the colorful freaky costumes could remind one of the "flower children" era.

RuPaul Charles is the voice of the aliens, speaking for them in a respectful voice.

The film has a bold sense of aesthetic beauty, and a tolerance for others is preached as gospel– aliens are accepted in town even when depicted as queers with blue hair.

Disney films have evolved over the years, and that's evident here in its positive message of opposites living in harmony.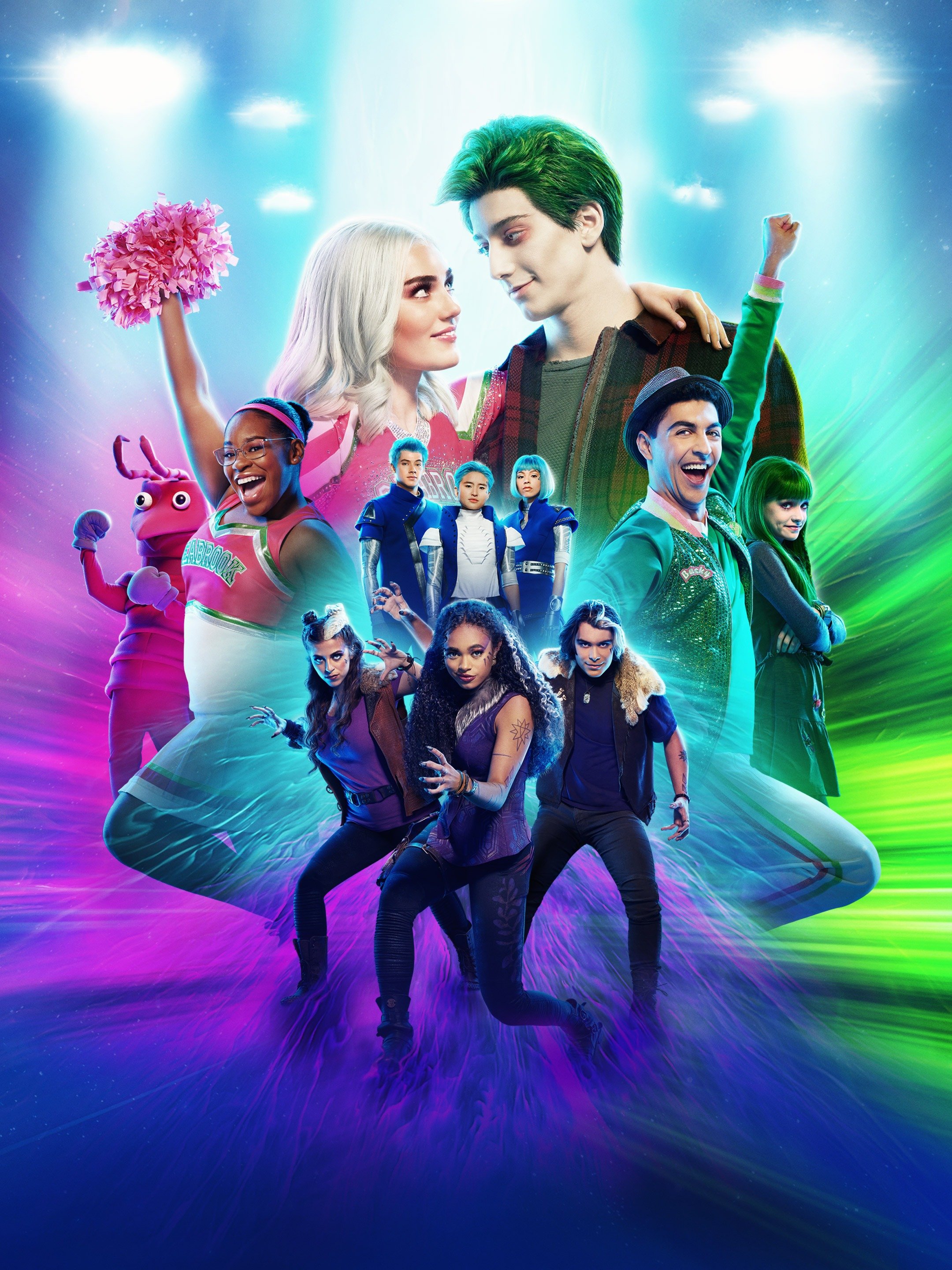 REVIEWED ON 8/27/2022 GRADE:B