COCAINE BEAR
(director: Elizabeth Banks; screenwriter: Jimmy Warden; cinematographer: John Guleserian; editor: Joel Negron; music: Mark Mothersbaugh; cast: Keri Russell (Sari), Ray Liotta (Syd), Alden Ehrenreich (Eddie), O'Shea Jackson Jr. (Daveed), Jesse Tyler Ferguson (Peter), Christian Convert (Henry), Brooklynn Prince (Dee Dee), Isiah Whitlock Jr. (Bob), Kristofer Hivju (Olaf), Hannah Hoekstra (Elsa), Margo Martindale (Ranger Liz), Matthew Rhys (Thornton), ; Runtime: 95; MPAA Rating: R; producers: Elizabeth Banks/Max Handelman/Brian Duffield/Phil Lord/Christopher Miller/Matt Reilly/Aditya Sood/Christine Sun; Universal Pictures; 2023)
"Very funny with the promise of reaching cult status."
Reviewed by Dennis Schwartz

The actress Elizabeth Banks ("Pitch Perfect 2″/"Charlie's Angels") directs the 1985 true story of a drug runner's plane crash, missing cocaine, and the black bear that ate it and overdosed on 34 kilos of cocaine. It's high-concept comedy, as written by Jimmy Warden, and its very funny with the promise of reaching cult status.

In the film version, instead of the bear dying from an overdose when the ex-narc drug runner (Matt Rhys) falls from the sky, it goes on a killing rampage in the woods in rural Georgia's Blood Mountain (filmed at the Chattahoochee National Forest in Georgia). In the crash area are foreign hikers (Hannah Hoekstra & Kritofer Hivju), the park ranger (Margo Martindale), her wannabe boyfriend, the wildlife expert and park inspector, Peter (Jesse Tyler Ferguson), two hooky players from school, the 12-year-old Dee Dee (Brooklynn Prince) & her boyfriend Henry (Christian Convert) and their concerned divorced nurse mom Sari (Keri Russell).

The mob boss Syd (Ray Liotta, died after filming) sends his son (Alden Ehrenreich) and his fixer (O'Shea Jackson Jr.) to retrieve the drug packets.

Meanwhile the local detective Bob (Isiah Whitlock Jr.), who has been after Syd for some time, is in the area tracking down the drugs.

When the raging grizzly arrives on the scene, all those in the area are in trouble.

The films aims for laughs over horror.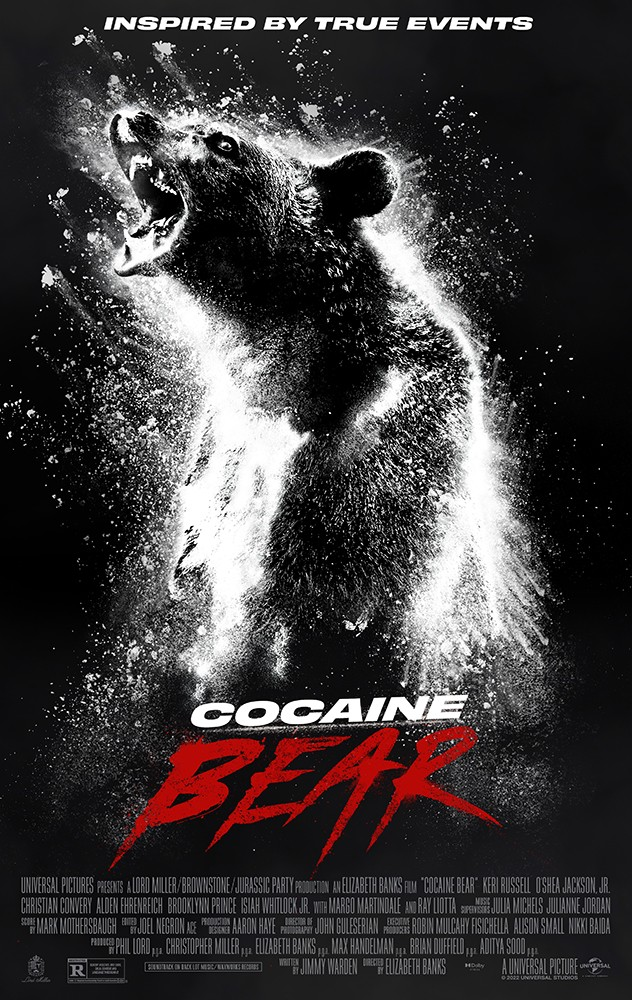 REVIEWED ON 2/24/2023 GRADE: B