MRS. HARRIS GOES TO PARIS
(director/writer: Anthony Fabian; screenwriters: Keith Thompson/Caroll Carthwright/Olivia Hetreed/based on the novel by Paul Gallico; cinematographer: Felix Wiedemann; editor: Barney Pilling; music: Rael Jones; cast: Lesley Manville (Ada Harris), Isabelle Huppert (Claudine Colbert), Lucas Bravo (André Fauvel), Rose Williams (Pamela Penrose), Ellen Thomas (Vi), Lambert Wilson (Marquis de Chassagne), Jason Isaacs (Archie), Anna Chancellor (Lady Dant), Alba Baptista (Natasha), Christian McKay (Giles Newcombe); Runtime: 115; MPAA Rating: PG; producers: Anthony Fabian, Xavier Marchand, Guillaume Benski; Focus; 2022-Hungary/UK/Canada/France/USA/Belgium-in English)
"Lesley Manville is glorious in a performance where she hits it out of the park."
Reviewed by Dennis Schwartz

Anthony Fabian ("Freeze-Frame"/"Louder Than Words") directs and writes this mostly dull but feel-good comedy that gets over with charm. It's based on a 1958 novel by the American author Paul Gallico, and is co-written by Keith Thompson, Caroll Carthwright and Olivia Hetreed. It stars the lovely Lesley Manville (who made her mark on Brit TV, where she became the Oscar-nominated actress in Phantom Thread). In this one, she's a London cleaning lady, giving an impactful performance of great feeling. Lesley Manville is glorious in a performance where she hits it out of the park.

Manville's Ada Harris is a London cleaning lady who scrubs toilets and tidies closets for lady bosses, who see her only as an invisible woman. When Ada tells her best friend Vi (Ellen Thompson) she wants to buy in Paris a Dior gown, like one seen in one of her client's closets, Vi looks at her desire as merely a foolish fantasy wish. But Ada comes into a war widow's pension after getting it confirmed that her adored Royal Air Force pilot husband died in action during World War II a dozen years earlier and is eligible for a stipend. At the House of Dior, in Paris, the frosty gatekeeper Claudine Colbert (Isabelle Huppert, in an underused performance) tries to keep her out. But Ada's aided by a genial French marquis (Lambert Wilson) who chivalrously escorts her into a Dior fashion show. Also helping her is the philosophical Natasha (Alba Baptista), a model, who fixes things with the philosophical Andre (Lucas Bravo), a shy Dior exec, so while in Paris she can stay for free in his sister's Paris apartment.

It takes longer than a week to be fitted for the Dior gown (costing 600 pounds), which makes it becomes too expensive for Ada to stay the course unless she gets unexpected  financial help.

The film expands into a colorful 1950s Dior fashion show (with the gowns recreated by Oscar-winner Jenny Beavan), as Ada's humble life gets reviewed and the French treat her with remarkable kindness. When Ada spots Dior himself, she thinks "He looks just like my milkman."

Running out of material, the film throws in a stupid plot pitting the marquis against Ada's bookmaker boyfriend (Jason Isaac) back home.

The film is a genial charmer about a lonely woman acting out a wish that might be slight, but the way Manville gives it life is a pleasure to behold.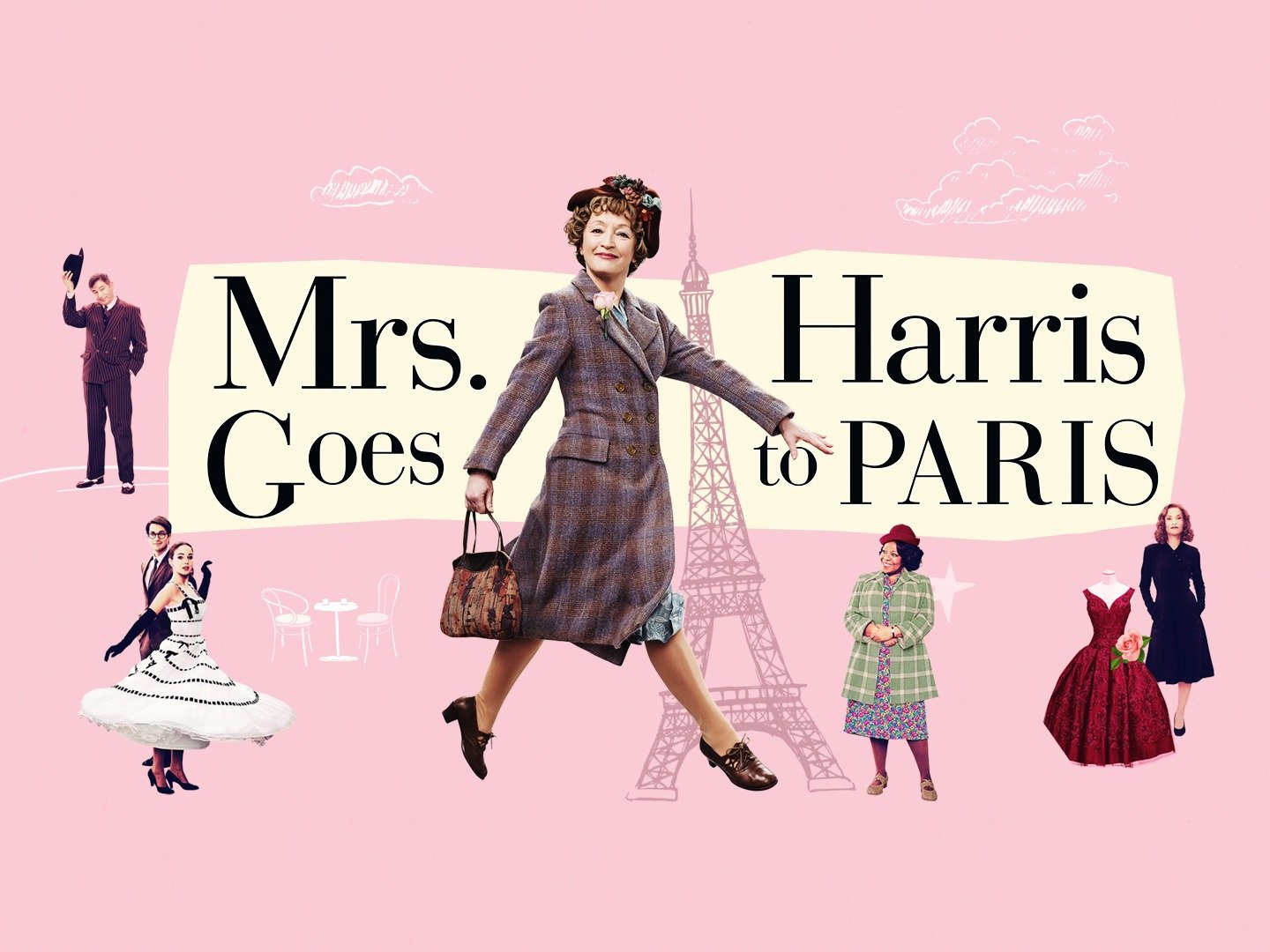 REVIEWED ON 7/21/2022 GRADE: B-