CHRISTMAS BLOODY CHRISTMAS
(director/writer: Joe Begos; cinematographer: Brian Sowell; editor: Josh Ethier; music: Steve Moore; cast: Riley Dandy (Tori Tooms), Sam Delich (Robbie Reynolds), Jonah Ray (Jay), Dora Madison (Lahna), Jeff Daniel Phillips (Sheriff Monroe), Abraham Benrubi (Santa), Jeremy Gardner (Officer Smith); Runtime: 87; MPAA Rating: NR; producers: Joe Begos/Josh Ethier; Shudder/RLJE; 2022)
"Senseless holiday slasher film."
Reviewed by Dennis Schwartz
Joe Begos ("VFW"/"Bliss") is director-writer of this beautifully shot in 16mm film, but one that is a senseless holiday slasher film that gives the business to two lost souls who are cynical about Christmas. Adding to its negative feel about the holiday season it features a robotic Santa going on a killing spree. You can add this one to a growing list of Christmas films that are sleazy, gross and evil, that include Krampus, Violent Night and Black Christmas.

On Christmas Eve, the record store owner Tori Tooms (Riley Dandy), of an old-fashioned vinyl-record store, is a Christmas hater. She is preparing to party that evening, to get high and to get laid. Her oversexed only employee is Robbie Reynolds (Sam Delich). He has a big-time crush on her. Their spunky talk about things such as films, bands and pop culture, hits the right comical spots between the cool and likeable youths as they argue over their choices.

The pair close up shop and pick up at a nearby toy shop a robot Santa, then go to a seedy neighborhood bar, decorated in neon. At the bar, their Robo Santa suddenly gets out of whack and goes on a killing spree, especially targeting them.

The pic doesn't make sense because it doesn't want to. Though it seems to be commenting on the exploitation of the holiday season, but does it ironically in an exploitative film. It's a film that requires an acquired taste for this new bad holiday genre.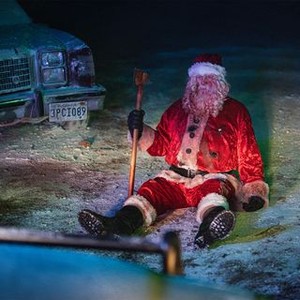 REVIEWED ON 12/11/2022  GRADE: C