BLINDED BY THE LIGHT
(director/writer: Gurinda Chadra; screenwriters: Sarfraz Manzoor, Paul Mayeda Berges; cinematographer: Ben Smithard; editor: Justin Krish; music: A.R. Rahman; cast: Viveik Kalra (Javed), Kulvinder Ghir (Malik), Meera Ganatra (Noor), Nell Williams (Eliza), Aaron Phagura (Roops), Kalra, Hayley Atwell (Ms. Clay), Charles Chapma (Matt Dean), Rob Brydon (Matt's Dad); Runtime: 117; MPAA Rating: PG-13; producers: Gurinder Chadha, Jane Barclay, Jamal Daniel; New Line Cinema; 2019)
"Bearable as a feelgood drama about a rock fan's pining to become a writer."
Reviewed by Dennis Schwartz
Female director-writer Gurinda Chadra("Bend it Like Beckham"/"Viceroy's House") was born in India but raised in England. Her ode to the working-class film could be titled "Write It Like Springsteen Sings It" and no one would go into a swoon over such a copycat title. The pic has a slight plot and is too dramatically empty and cheesy for comfort; but, it's a pleasant and harmless film–one that is bearable as a feelgood drama about a young rock fan's pining to become a writer.

The writers are Chadra, Paul Mayeda Berges and Sarfraz Manzoor. The story is based on Manzoor's acclaimed childhood memoir, published in 2007, which is titled "Greetings from Bury Park" It references the suburban district of Luton, Bedfordshire, a factory town where the journalist grew up. The memoir alludes to being influenced by Bruce Springsteen's debut 1980s album, Greetings from Asbury Park, NJ..

The film's protagonist is a fictionalized Manzoor, here portrayed as the teenager Javed (Viveik Kalra), a boy of Pakistani descent, growing up miserable in Thatcher's 1987 England until he hears the Boss's music. The lad tries to handle the racial bigotry on the street, his loneliness and the bad economic times by writing about his experiences. Javed must also learn how to find relief from his rigid father, the Pakistani-born Malik (Kulvinder Ghir), a long-time GM factory worker who gets laid off and loses his spunk, and cheer-up his anxiety-prone traditional mom Noor (Meera Ganatra).

When Javed tunes into the music of Bruce Springsteen on his Walkman, on the suggestion of his Pakistani friend Roops (Aaron Phagura), the singer's blue collar lyrics and powerful inspirational message to succeed catches his attention and the pop star icon becomes his Jesus. The nerdy Javed soon gets up enough nerve to ask out a girl (Nell Williams) in his literature class (And, you know if he can do this he can probably make good on his other dreams).

The kid relates small-town life in New Jersey to his British area, and all is well … because he has seen the light, and the energetic kids turn the remainder of the pic into a joyous rock musical the Boss would no doubt give his blessing to.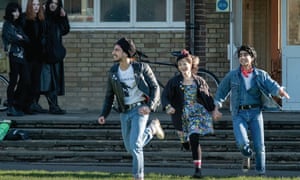 REVIEWED ON 8/13/2019       GRADE: B-    
https://dennisschwartzreviews.com/