BLAGA'S LESSONS (Urotcite na Blaga)
(director/writer: Stephan Komandarev; screenwriter: Simeon Ventsislavov; cinematographer: Vesselin Hristov; editor: Nina Altaparmakova; music: Kalina Vasileva; cast:  Eli Skorcheva (Blaga), Gerasim Georgiev, Rozalia Abgarian, Ivan Barnev, Stefan Denolyubov, Ivaylo Hristov; Runtime: 114; MPAA Rating: NR; producers: Katya Trichkova/Stephan Komandarev; Argo Film; 2023-Bulgaria/Germany-in Bulgarian with English subtitles)
"A dark farce."
Reviewed by Dennis Schwartz

A stultifying social injustice thriller by the veteran Bulgarian filmmaker Stephan Komandarev ("Directions"/"Un Certain Regard"). It's the third film of his trilogy on his country's social ills. He co-writes it with Simeon Ventsislavov as a dark farce.

It's set in the corrupt post-communist Bulgaria.

The 70-year-old widow Blaga Naumova (Eli Skorcheva, her first film in 30 years) is a retired school teacher who lives in the town of Shumen alone in a bleak apartment-complex since the death of her policeman husband. She's concerned about getting a burial-plot for her late husband. Her grown son is a gig-economy driver in the U.S., who only occasionally calls her and occasionally sends her some money since her pension is so inadequate.

A phone scammer terrorizes her, whereby she is so frightened she lets her guard down and lets him steal her life-savings. Both the police and the newspapers show no sympathy for her. Meanwhile the audience is enraged by how corrupt things are in Bulgaria.


After trying to get back on her feet fail, in desperation Blaga takes a job as a mule for the scammers who operate in the same way as those who scammed her. To survive, she becomes a scammer and goes about ruining the lives of others just like her life was ruined (and the viewer is urged to root for her).


It's basically a one-person movie, and Eli Skorcheva who was in every scene is convincing as the one scammed who turns into a scammer.


It played at the Karlovy Vary International Film Festival, where it won the top prize (the Crystal Globe).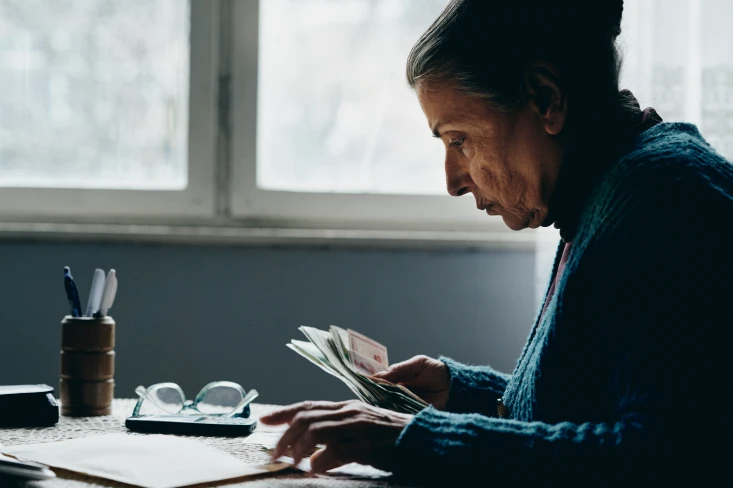 REVIEWED ON 7/10/2023 GRADE: B