BIRD BOX BARCELONA
(director/writer: David Pastor/Alex Pastor; screenwriter: Josh Malerman; cinematographer: Daniel Aranyo; editors: Marti Roca/Luis de la Madrid; music: Zeltia Montrs; cast: Mario Casas (Sebastian), Alejandra Howard (Anna), Georgina Campbell (Claire), Diego Calva (Octavio), Michelle Jenner (Liliana), Leonardo Sharaglia (Father Esteban), Naila Schuberth (Sophia), Gerard Oms (Vecino); Runtime: 110; MPAA Rating: NR; producers: Dylan Clark/Adrian Guerra/Chris Morgan/Nuria Valls; Netflix; 2023-Spain-in Spanish with English subtitles)
"Mostly disappoints."
Reviewed by Dennis Schwartz
 
A Netflix spinoff to its surprising Susanne Bier's 2018 sci-fi streaming horror-thriller smash hit. Which was a slick spinoff on A Quiet Place (2018), that worked so well because its concept and graphics struck a chilling chord with viewers. The brothers from Spain, Alex and David Pastor ("The Last Days"/"Self/less"), are co-directors and co-writers. It's based on the novel Bird Box written by Josh Malerman, which was used for both this and the 2018 film. The action has moved from Northern California to the post-apocalyptic world of  Barcelona, Spain, and away from Sandra Bullock to the new star Mario Casas. Unfortunately this film mostly disappoints, as it comes across as a botched attempt to capture the sparks of the prior 2018 film.

The narrative is set during the time nine months after the mysterious aliens caused the suicide-plague to sweep across the world in an apocalyptic time.

The caring father, an engineer, Sebastian (Mario Casas), searches in Barcelona with his daughter Anna (Alejandra Howard) and an English psychologist (Georgina Campbell) and the skeptical Octavio (Diego Calva), for places to score food and be safe–and they find a mountaintop fortress.

Being blindfolded is the only way to survive the madness foisted upon the world by the mysterious creature monsters, thereby Sebastian covers his eyes with goggles to avoid looking at the killer and its potent mysterious force.

It turns into the same plotted movie as the old one (no fresh ideas here) and with the same flaws, but with a new group of survivors and more of a story to unfold as it adds a creepy faith-based element to it.

The monsters desire to open the eyes of people to see 'eternity' and thereby eliminate them from the world, but now there are religious fanatics present who think it a good thing to escape the world and join God in eternity.

The trouble with this spin-off, despite decent visuals (especially those of bombed-out city-scapes, or of a mass suicide on a subway) and good acting from the Spanish cast, was that it was hard to care about any of the survivors when they made little impact on you.

It's an unneeded sequel, as the original gave the viewer everything needed.

But the depressing film still has something worthy to say about the dangers of extremist religions for those willing to take in the events with a suspension of disbelief.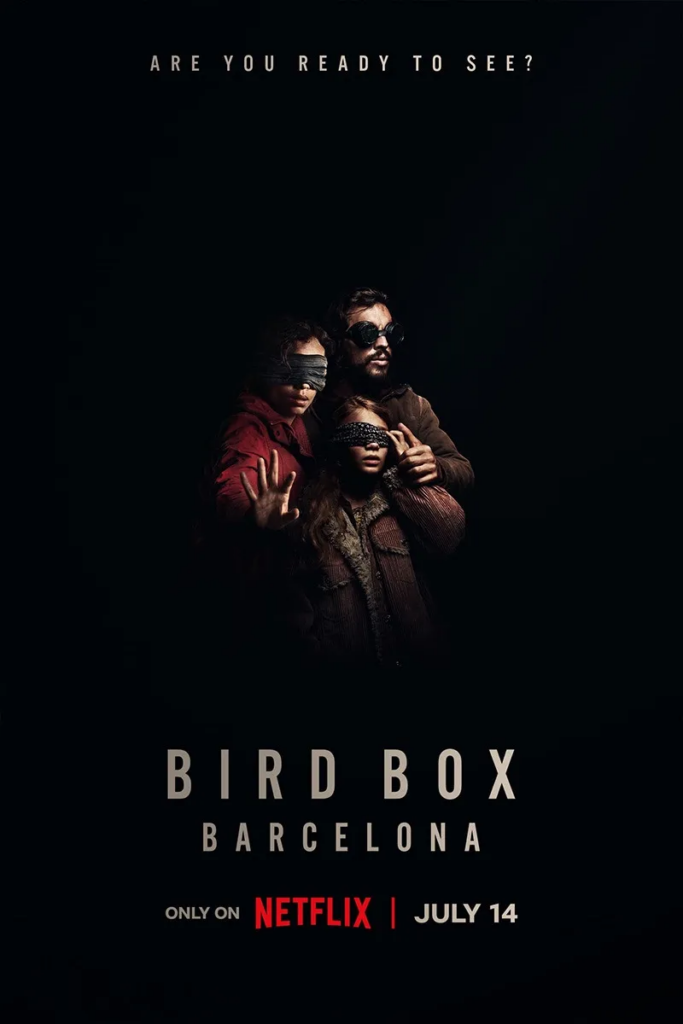 REVIEWED ON 7/22/2023  GRADE: C+