BIG BUG
(director/writer: Jean-Pierre Jeunet; screenwriter: Guillaume Laurant; cinematographer: Thomas Hardmeier; editor: Hervé Schneid; music:Raphaël Beau; cast: Elsa Zylberstein (Alice Barelli), Marysole Fertard (Nina), Stéphane De Groodt (Max), Youssef Hajdi (Victor), Claire Chust (Jennifer), Isabelle Nanty (Françoise), Alban Lenoir (Greg), Helie Thonnat (Leo), Claude Perron (Monique), Dominique Pinon (Igor), François Levantal (Yonyx), André Dussollier (voice of Einstein); Runtime: 111; MPAA Rating: NR; producer;Frédéric Doniguian: Netflix; 2022-France-in French with English subtitles)
"Went on for too long with the same nonsense and bugged me by becoming increasingly unfunny."
Reviewed by Dennis Schwartz

The eccentric French arthouse filmmaker Jean-Pierre Jeunet ("Amélie"/"Micmacs"), in his first film in 9 years, who is in a downward spiral after his Amélie in 2001 was a big hit with American audiences, directs and co-writes with longtime collaborator Guillaume Laurant this enticing idea-filled but disappointingly cartoon-like artificial-intelligence mystery sex farce satire (it should have been better pruned and the filmmaker's overreach should have been reigned in). This dicey fantasy sci-fi comedy, featuring how robots and humans might relate to each other in the future is filmed on a sound-stage. It should be suitable for a mainstream audience even if filled with the director's usual array of oddities in behavior and ideas that are usually not accessible.

In 2050 there's an android uprising of 4 robots in the suburbs of an unnamed generic city, who are dubbed Yonyx (all played by François Levantal) and all have oversized teeth and QR-code tattoos on their foreheads. They are the latest generation of robots, all interested in militaristic power, which makes them differ from the older obliging robots. Their revolt takes place among an unlikable family and their equally disgusting neighbor guests, who are taken hostage in a retro-modern house by the unfriendly war-like robots.

The bickering human hostages are taken in the home of the ditsy attractive divorcee Alice (Elsa Zylberstein), a single mother who lives with her horny politically active daughter Nina (Marysole Fertard). Other hostages include Alice's loutish ex-husband Victor (Youssef Hajdi), who lives with his whiny young girlfriend Jennifer (Claire Chust); the intrusive older neighbor Françoise (Isabelle Nanty), who gets off masturbating on her humanoid dildo; and the sex-driven sleazy single dad named Max (Stéphane De Groodt), chasing after Alice while living with his bored son Léo (Helie Thonnat).

The host's domestic robots are conceived as the good guys trying to protect their masters. They are the short circuit-looking vacuum, a talking bust of Albert Einstein (voiced by André Dussollier) that walks on animatronic spider legs, the cheerful bob-haired electro-maid Monique (Claude Perron) and the devoted pleasure model played deliciously by Alban Lenoir as Greg). 

Despite having so much going on it seems as if so little is happening, as it's so unfocused. In any case, things went on for too long with the same nonsense and bugged me by becoming increasingly unfunny. By the film's end I was exhausted by trying to follow all the strained attempts to be funny and couldn't wait for it to be over, feeling as if I too was a hostage made to watch the movie or else.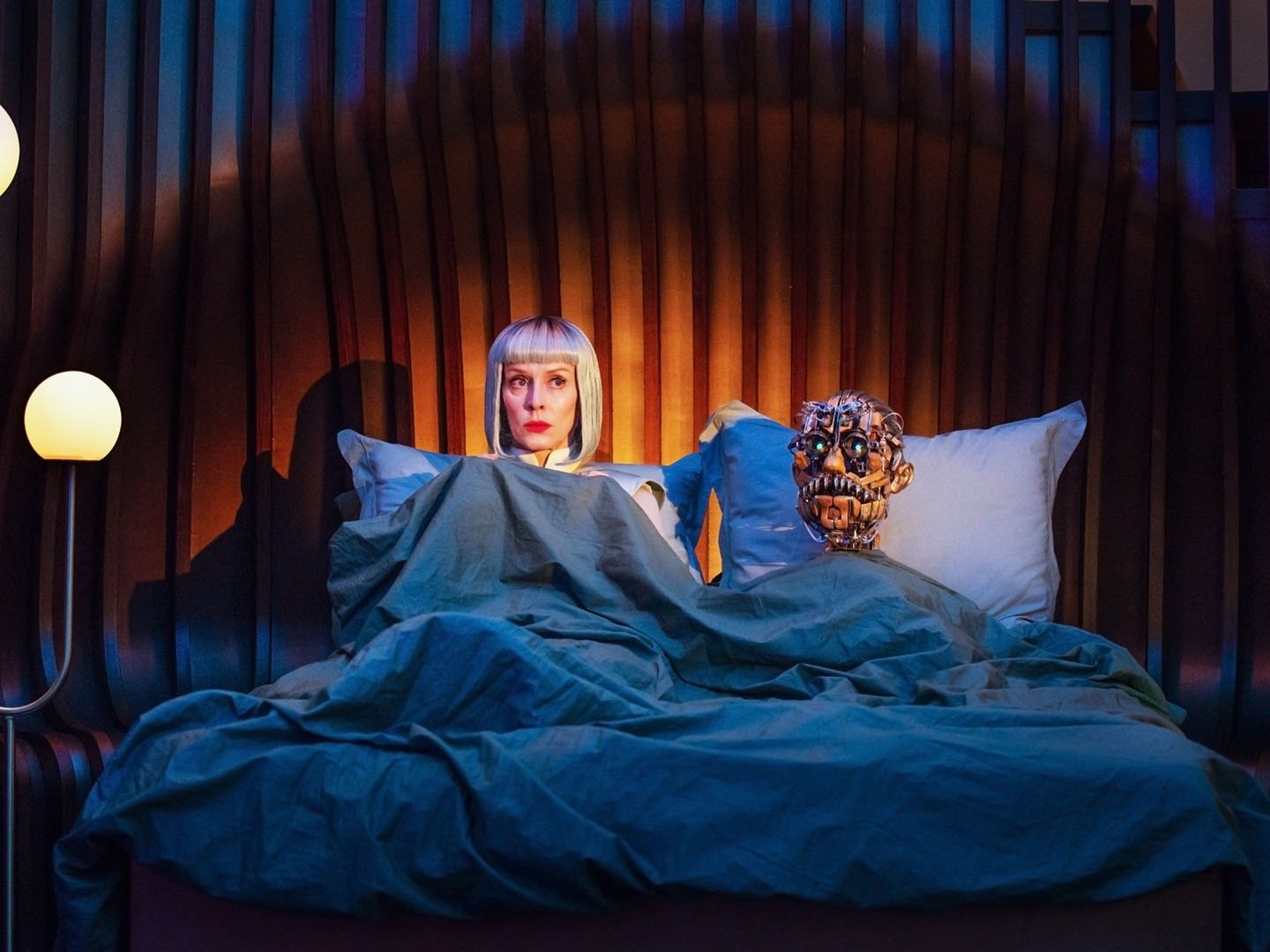 REVIEWED ON 2/26/2022 GRADE: C-