CLOSE
(director/writer: Lukas Dhont; screenwriter: Angelo Tijjsens; cinematographer: Frank van den Eden; editor: Allaine Dessauvage; music: Valentin Hadjad; cast: Eden Dambrine (Leo), Lea Drucker (Nathalie), Jacques-Henri Bronckhart (Sophie), Gustave De Waele (Remi), Kevin Jannsen (Peter), Igor van Dessel (Charlie); Runtime: 105; MPAA Rating: PG-13; producers: Michiel Dhont/Jacques-Henri Bronckart/ Michel Saint-Jean/Dirk Impens; A24; 2022-Belgium-in French, Flemish, Dutch, with English subtitles) 
"Rapturous and understated childhood friendship drama on the dangers of bullying."
Reviewed by Dennis Schwartz
Belgian director and writer Lukas Dhont ("Girl"/"L'infini") is the successful under 3o filmmaker of this rapturous and understated childhood friendship drama on the dangers of bullying.

In the French part of rural Belgium two adolescent boys, Léo (Eden Dambrine) and Rémi (Gustav De Waele), love playing together and are inseparable. During their sleepovers they share a bed.

Their friendship is tracked from their summer vacation through the school year.

When mocked at school by some of their mean-spirited classmates for being like a couple, Léo pushes Remi away and joins the ice hockey team without him and starts to hangout with the jocks, which clearly bruises Remi's feelings.

In the film's middle part it moves from a study in intimacy to a conventional one in tragedy.

Léo's parents work on a flower farm, where his mom (Lea Drucker) keeps an eye on him. Rémi's mother (Émilie Dequenne) is on the staff of a maternity hospital and his little time for her son.

The 12-year-olds give brilliant natural performances, conveying both the simplicity and complexity of growing up. Though the film deadens in its second half, its powerful first half images linger with its provocative intentions, air of mystery and sensitivity over a close and supposedly innocent relationship during childhood.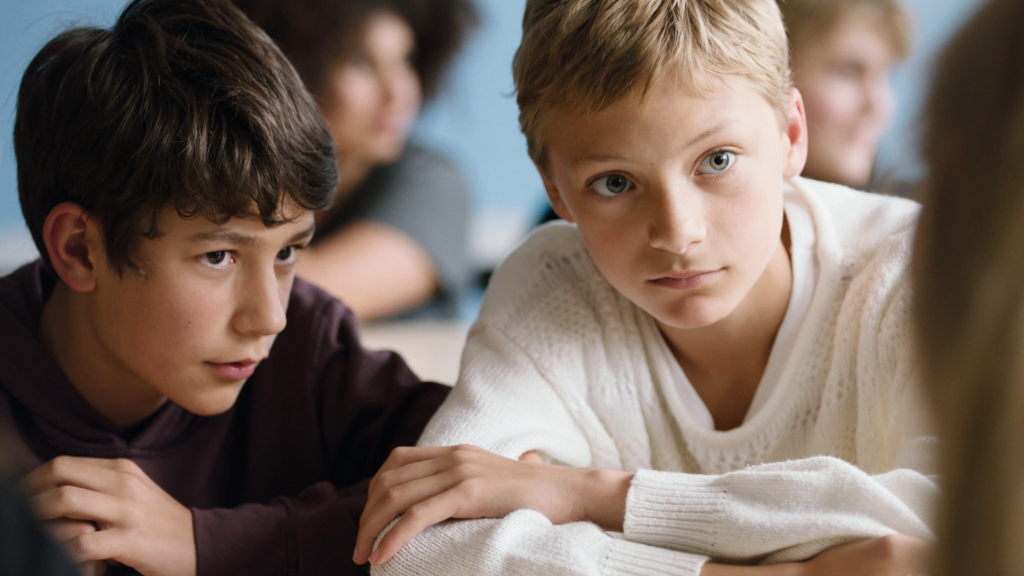 REVIEWED ON 1/30/2023  GRADE: B