BEFORE YOU KNOW IT
(director/writer: Hannah Pearl Utt; screenwriter: Jen Tullock; cinematographer: Jon Keng; editor: Kent Kincannon; music: Ryan Tullock; cast: Hannah Pearl Utt (Rachel Gurner), Jen Tullock (Jackie), Oona Yaffe (Dodge), Mandy Patinkin (Mel Gurner), Mike Colter (Charles, the accountant), Olivia (Arica Himmel), Alec Baldwin (Peter) Judith Light (Sherrell); Runtime: 98; MPAA Rating: NR; producers: Mallory Schwartz, Josh Hetzler, James Brown; 1041; 2019)
"Sprawling with too many sub-plots to sink your teeth into its main theme of overcoming dark family secrets."
Reviewed by Dennis Schwartz
Director-writer Hannah Pearl Utt in her feature film debut awkwardly offers a quirky blend of soap opera with a dysfunctional family comedy that never satisfies as it tries too hard to be an empowering women pic about their hidden feelings. Utt and co-writer (also co-star) Jen Tullock pen a conventional screenplay and keep it sprawling with too many sub-plots to sink your teeth into its main theme of overcoming dark family secrets.

The two opposite sisters living in Manhattan, the earnest, modest, efficient 30-something stage manager Rachel (Hannah Pearl Utt) and the older, more manic, brash and irritating ditsy aspiring actress sister Jackie (Jen Tullock), as children were told their actress mom had died. Rachel still lives with her family in a Village building the family owns above a small legit Off Broadway theater, where she resides with her hammy and unbearable failing actor-playwright father Mel (Mandy Patinkin), her sister Jackie and Jackie's smart but screwed up 12-year-old fatherless daughter Dodge (Oona Yaffe).

The family is currently involved with putting on Mel's new play, The Way I See It, when he suddenly dies of a heart attack after seeking financial backing for the play that Rachel arranged for him to receive from a Broadway producer. From his death the family learns their long missing mom, Sherrell (Judith Light), is still alive and is starring currently in a daytime soap opera called Time Will Tell. Jackie drags Rachel along with her to meet their mom on the Upper West Side and a contrived scene filled with mawkishness and social commentary ensues. This centerpiece scene turned out to be a killer scene that took the heart out of it for me (failing to adequately explain mom's departure), even if Light delivers her unbelievable lines as credibly as she can under the circumstances. In a hushed voice Light explains to Rachel why she ditched the family and about the mental pain she was undergoing at the time.

After meeting mom, Jackie undergoes a character change in the pic's second half that is for the better, which is not easy to buy into as so far everything seems contrived. But it's Rachel who wins mom's heart by finding a way for the aging actress not to be written off the long-time soap.

Alec Baldwin has an unfunny part as Dodge's inept therapist. Also Dodge begins a beautiful friendship with Olivia (Arica Himmel). She's the daughter of the family's single parent accountant (Mike Colter, who gives an uninspiring performance). Nothing much throughout happens to change the narrative dynamics for a comedy that seeks gravitas but can't find either gravitas or many laughs, but gets off its chest a few of the abuses actresses undergo over sexism in their careers under their mostly men bosses.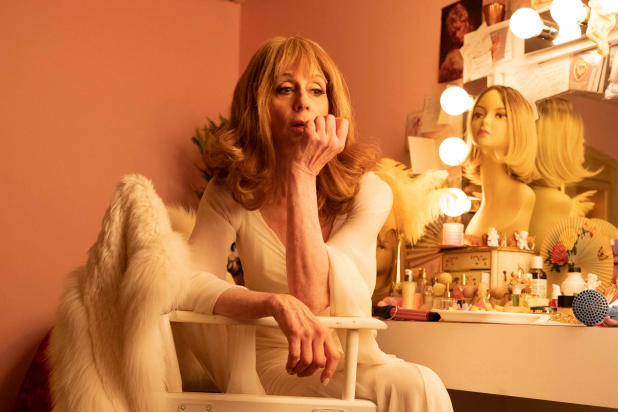 REVIEWED ON 8/30/2019 GRADE: C+
https://dennisschwartzreviews.com/