BEAST
(director: Baltasar Korakur; screenwriters: Ryan Engle/story by Jaime Primak Sullivan; cinematographers: Philippe Rousselot/Baltasar Breki; editor: Jay Rabinowitz; music: Steven Price; cast: Idris Alba (Dr. Nate Daniels), Sharito Copley (Martin Battles), Marin Munro (Kees), Iyana Halley (Meredith Daniels), Leah Sava Jeffries (Norah Daniels), Liyabuya Gongo (Cut Offs), Daniel Hadebe (Abduya), Thapelo Sebogodi (Camo), Chris Langa (Specs), Tafara Nyatsanza (Banji); Runtime: 93; MPAA Rating: R; producers: Will Packer/James Lopez/Baltasar Korakur; Universal; 2022)
"If you believe Idris can fight the lion without a weapon and survive, you're delusional."
Reviewed by Dennis Schwartz
An inane jungle thriller where its star Idris Alba in the climax takes on a demonic lion (turned bad by poachers) harming villagers in South Africa. This disposable thriller is directed in a pedestrian way by Baltasar Korakur ("Everest"/"2 Guns") and lamely scripted by Ryan Engle, from a story by Jaime Primak Sullivan.

The American widower Dr. Nate Daniels (Idris Alba), who after his South African ex wife dies, takes his 13-year-old daughter Norah (Leah Sava Jeffries) and his 18-year-old Meredith (Iyana Halley) on a hunting vacation in South Africa to the same spot he went to when happily married to his wildlife photographer wife. The healing vacation is arranged with Nate's old family friend and wildlife biologist,  Martin Battles (Sharito Copley).

On his first day, Nate goes on a safari with Martin and the kids, only to find his car and a native village destroyed by a mad rogue lion.

The kids resent dad because they believe he abandoned their sick mom. Dad believes he can regain the trust of his daughters by protecting them from the savage lion (a creation of CGI).

If you believe Idris can fight the lion without a weapon and survive, you're delusional.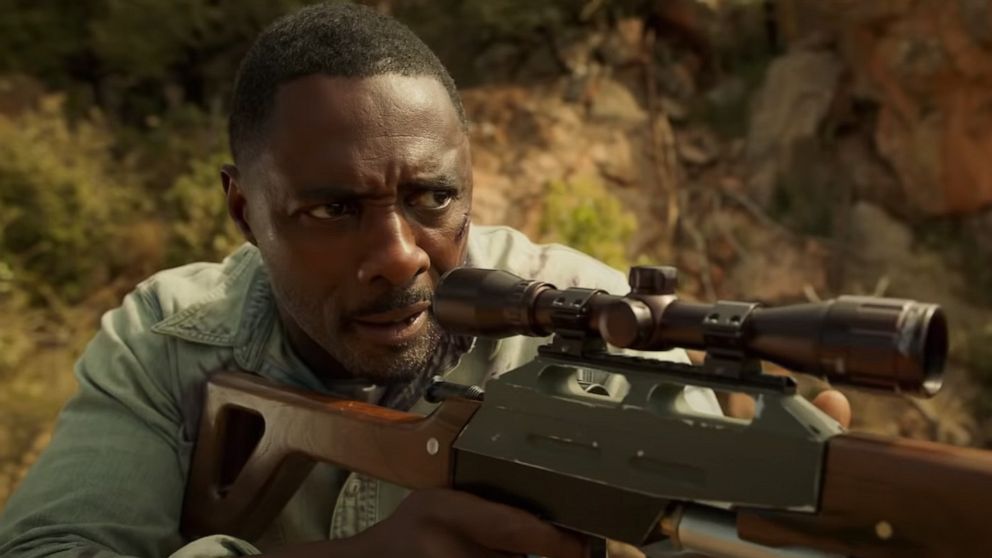 REVIEWED ON 9/7/2022 GRADE: C