AVATAR: THE WAY OF WATER
(director/writer: James Cameron; screenwriters: Josh Friedman/story and screenplay by Rick Jaffa & Amanda Silver; cinematographer: Russell Carpenter; editor: David Brenner; music: Simon Franglen; cast:  Zoe Soldana (Neytiri), Sigourney Weaver (Kiri), Sam Worthington (Jake Sully), Kate Winslet (Ronal), David Thewlis (Pawlet), Oona Chaplin (Varang), Stephan Lang (Miles Quaritch), Brendan Cowell (Mick Scoresby, human harpooner), Edie Falco (General Ardmore), Jack Champion (Spider),Joel David Moore (Norm Spellman), Giovanni Ribisi (Parker Selfridge); Runtime: 190; MPAA Rating: NR; producers Jon Landau/James Cameron: 20th Century Studios; 2022)
"The innovative technology trumps the elementary storytelling."
Reviewed by Dennis Schwartz

Director-writer James Cameron ("Titanic"/"The Abyss") sets his 3D epic, or in some cases a 2D one, budgeted for $350 million, a decade after his original in 2009. It's co-written with Josh Friedman. The story is by Rick Jaffa and Amanda Silver. It's a great technical and visual feat, with a superficial but splashy story that's set in the exotic distant moon called Pandora.

The sci-fi pic is overlong, soggy and bland. It's a digitized film I couldn't put my arms around without feeling childishly disappointed at times, while cynically knowing a follow up of future Avators is in the works if this pic does a big box office (it will take a 2 billion dollar box office just to break even).

The dead American colonizer from the Resources Development Adminstration (part of the military industrialist complex in Washington), the gung-ho ruthless Marine, Colonel Miles Quaritch (Stephen Lang), has been resurrected as a clone in a 10′ avatar on Pandora, after dying while brutally trying to colonize Pandora as a substitute for the dying Earth. He has vowed to return to Pandora to avenge his death. Unknown to Miles, he left behind a human son named Spider (Jack Champion), now a feral human kid living with the family of the former paraplegic Marine, Jack Sully (Sam Worthington), whose consciousness became part of an Avatar body, and is now residing in Pandora with the blue body of the pointy-eared native Na'vi, a forest residing tribe, whom Sully sided with over his fellow human invaders when the humans went greedily after the tribe's mineral resources.

Sully has since married the native Na'vi warrior Neytiri (Zoe Saldana) and is raising a family of four, that consists of their three biological Omaticaya half-human children: their obedient eldest son Neteyam (Jamie Flatters), their playful younger Lo'ak (Britain Dalton) and daughter Tuk (Trinity Jo-Li Bliss), and the fourth child is their teenage stepdaughter Kiri (Sigourney Weaver)–the genetically conceived daughter of the deceased RDA scientist, Dr. Grace Augustinee (also played by Weaver). Of note, Kiri is mystically connected with the Na'vi deity Eywa.

Sully depends on the Na'vi race to protect his home, when they can't he takes refuge from the vengeful Colonel by relocating to Awa'Atulu with Chief Tonowari (Cliff Curtis) and his pregnant wife Ronai (Kate Winslet). They belong to the hostile reef-dwelling Metkayina–an aquatic clan (whose skin is more turquoise with thicker, finny tails to enable them to swim). They introduce Sully's family to an underwater world with bioluminescent vegetation, whereas Lo'ak befriends an outcast Tulkun (a gigantic, super-intelligent whale-like creature–whose chatter is subtitled).

Filled with many set-pieces, whereby many are violent or sentimental family value ones, the story builds to a grudge match between the human invaders (called the "sky people"), led by Edie Falco's General Ardmore, clearing the way for the Colonel to attack the indigenous people.

Though the cinematographer Russell Carpenter's visuals are truly dazzling and the deep-sea sequences are truly breathtaking, the film itself is simplistic — a high-tech film with a YA story-line and a clunky dialogue that left me more cold than warm (yet, in the end, the innovative technology trumps the elementary storytelling).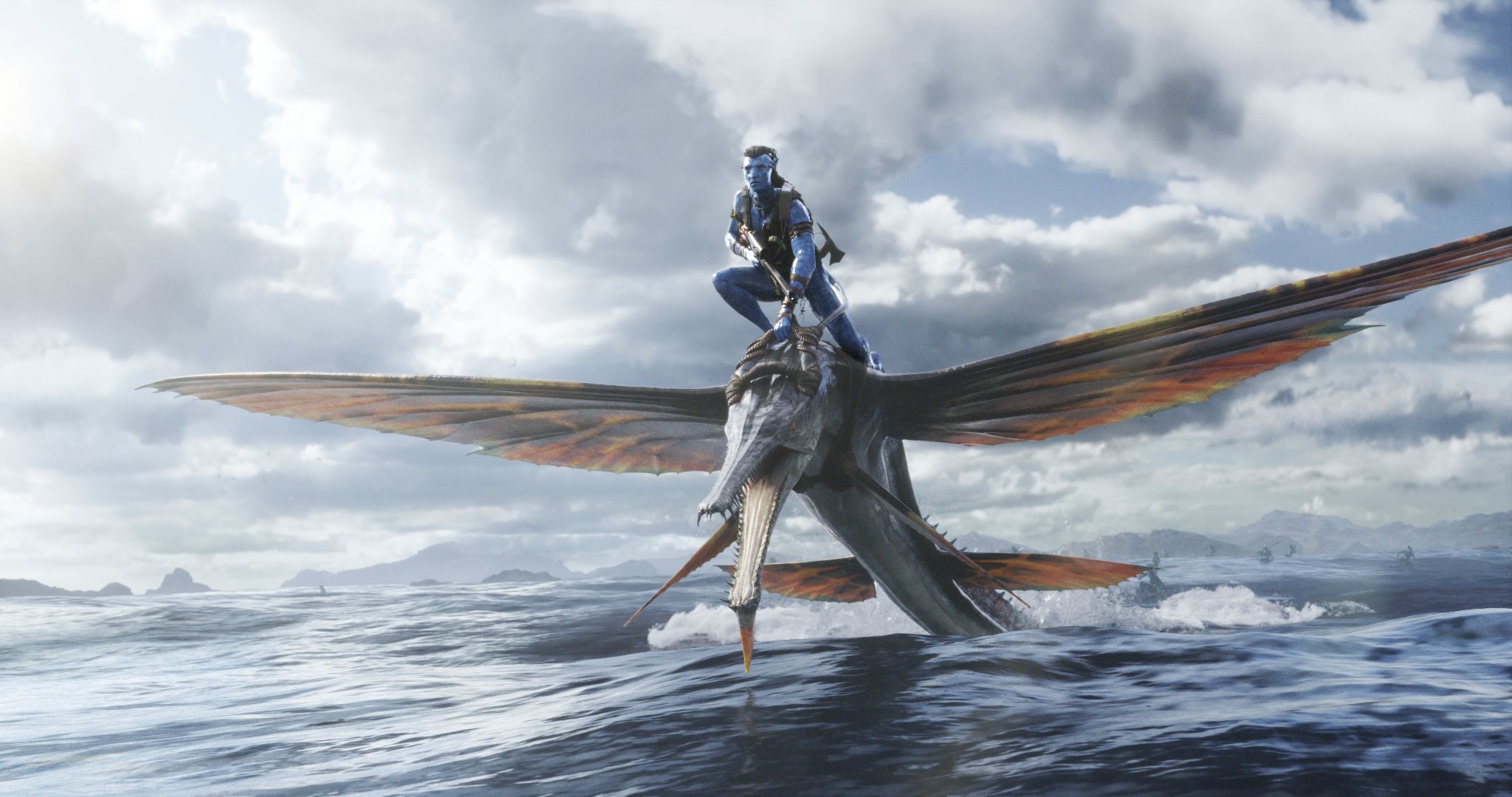 REVIEWED ON 12/20/2022  GRADE: B