AUTOMAT, THE
(director: Lisa Hurwitz; screenwriter: Michael Levine; cinematographers: Philip Lucas, Sandra Chandler, Stephen Cocklin, Paul Mailman, Daniel Vital, Garrett Lennington; editors: Michael Levine/Russell Greene; music: Hummie Mann; cast: Mel Brooks, Carl Reiner, Ruth Bader Ginsberg, Eliot Gould, Colin Powell; Runtime: 79; MPAA Rating: NR; producer; Russell Greene: A Slice of Pie Productions; 2021)
"It brings back pleasant memories that I can almost taste."
Reviewed by Dennis Schwartz

Lisa Hurwitz tells the affecting story of the Automat, a unique dining experience for the masses, and my favorite place to dine out as a kid with my parents. It brings back pleasant memories that I can almost taste. The first-time filmmaker charts the rise and fall of the dining out phenomenon, a commissary-style eatery of dropping nickels (later dimes and much later larger amounts) into see-through vending machines that would allow you to get your food. If hot food was required, a dumb-waiter kind of service brought the food into the vending machine. To get change, there was a person in a booth you first go to before hitting the vending machines.

We learn that the first Automat was opened by Horn & Hardart in Philadelphia in 1902 by Joe Horn (died in 1918) and Frank Hardart (died in 1941). It was inspired by technological advances in Berlin. They were places where all types frequented for good food (not junk food). At its height, in the 1940s, the two cities had as many as 150 locations. Their demise in the 1970s was supposedly heralded by rising food prices, social change (many downbeats became patrons), the advent of frozen foods and the advent of fast food restaurants.

Lisa Hurwitz gleefully tells their story in her new film,The Automat, but ignores speaking to the workers and going into the corporate decisions that brought about its fall. Instead it's a tasty feel-good film, one that features archive footage, a number of talking heads, celebrities such as (Mel Brooks (wrote the film's theme song), Carl Reiner, Colin Powell and Ruth Bader Ginsberg), interviews and discourses with its regular patrons.

My favorite foods as a child were the Salisbury steak, the meatloaf, the baked beans, the red beets, the creamed spinach, tapioca puddings and custards. As an adult I loved the pumpkin and lemon meringue pies and the nickel coffee (in the 1950s the price became a dime). The place was known for always being clean, tables were well-spaced out and on marble floors, the food was good, and the no-tipping dining experience was economical.

The last Automat, at Third Avenue and 42nd Street in Manhattan, closed in 1991. No one spoke ill of the Automat, as the only regrets are that it's no longer with us.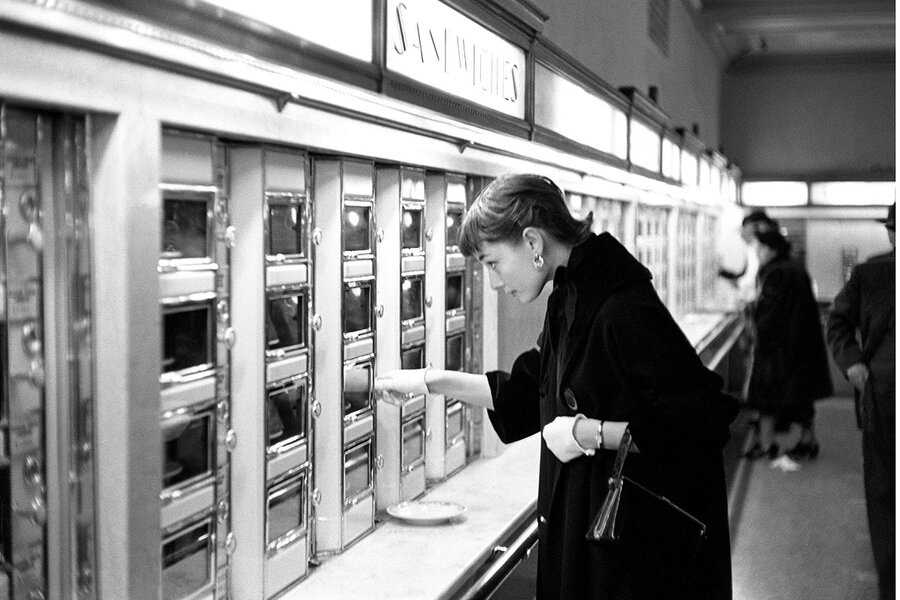 REVIEWED ON 4/8/2022 GRADE: B