ARMY OF THE DEAD
(director/writer:Zack Snyder; screenwriters: Joby Harold/Shay Hattan/story by Zack Snyder; cinematographer: Zack Snyder; editor: Dody Dorn; music: Tom Holkenboro; cast: Samantha Win (Chambers), Garret Dillahunt (Martin), Dave Bautista (Scott Ward), Theo Rossi (Burt Cummings ), Ella Purnell (Kate), Ana de la Reguera (Maria Cruz), Hiroyuki Sanada (Bly Tanaka),  Raúl Castillo (Mikey Guzman), Huma S. Qureshi (Geeta), Omari Hardwick (Vanderohe), Matthias Schweighöfer (Dieter), Nora Arnezeder (Lilly-the coyote), Richard Cetrone (Zeus), Michael Cassidy (Sgt. Kelly), Athena Perample (Alpha Queen); Runtime: 148; MPAA Rating: R; producers: Wesley Coller/Deborah & Zack Snyder; The Stone Quarry/Netflix; 2021)
"Enjoyable only as escapism."
Reviewed by Dennis Schwartz

A slow-paced grim and violent zombie video-game type of horror flick directed without much pep but getting off some delirious fun moments. It's directed by Zack Snyder ("300 "/"Dawn of the Dead"). Though enjoyable only as escapism, it appeals to horror film fans who like to see lots of blood.
It's overlong, as it takes its time telling its gory story as if time doesn't matter to its targeted zombie-fan audience. The story is rather weakly written by Snyder, as it's adapted from a story he wrote. It's co-written by him with Joby Harold and Shay Hattan.

The plot for the low-budget horror flick has strong-armed mercenaries infiltrate the zombie filled streets of Las Vegas and its quarantine zone for refugees. In the streets the invaders must fight the zombies off, as well as a zombie tiger (the one used by Siegfried & Roy in their Vegas act) to complete their assignment. The zombies all have a weird nameless eye infection and ugly distorted mouths, as they freely roam the deserted streets of the post-apocalypse period at night and in large groups attack the visitors.

The shadowy Vegas hotel owner Bly Tanaka (Hiroyuki Sanada) has hired the mercenaries to kick zombie ass and retrieve the billions of dollars still sitting in his hotel safe. The hired goons are led by the world-weary Scott Ward (Dave Bautista), who seeks to get out of the mercenary racket after this job and in retirement plans to sell in the street lobster rolls in his food truck (sounds like a good plan). The rest of the mercenaries include Vanderohe (Omari Hardwick), Maria Cruz (Ana De La Reguera), Lilly (Nora Arnezeder) and Ward's vulnerable estranged WHO worker daughter Kate (Ella Purnell), still not over her mom being bitten by a zombie and how dad handled that situation.


On a creative level the film lacks imagination, is humorless and witless. It wants you to think about such topical things as consumerism, conformism and the random mass gruesome street killings by the monsters. But it fails to be deeper than a superficial splatter zombie-heist film. Its 'army of the dead' fight a living army who appear to be more dead than alive. The mercenaries must deal not only with the marauding zombies but double-crosses in their ranks (Could there be a message Zack is sending us about his dealings with the Hollywood studios?).
There's also the matter of the dumb Prez (sounding Trumpian), who walled off Vegas preventing anyone from leaving town and is stupidly willing to bomb Sin City as a means to end the spread of the zombies.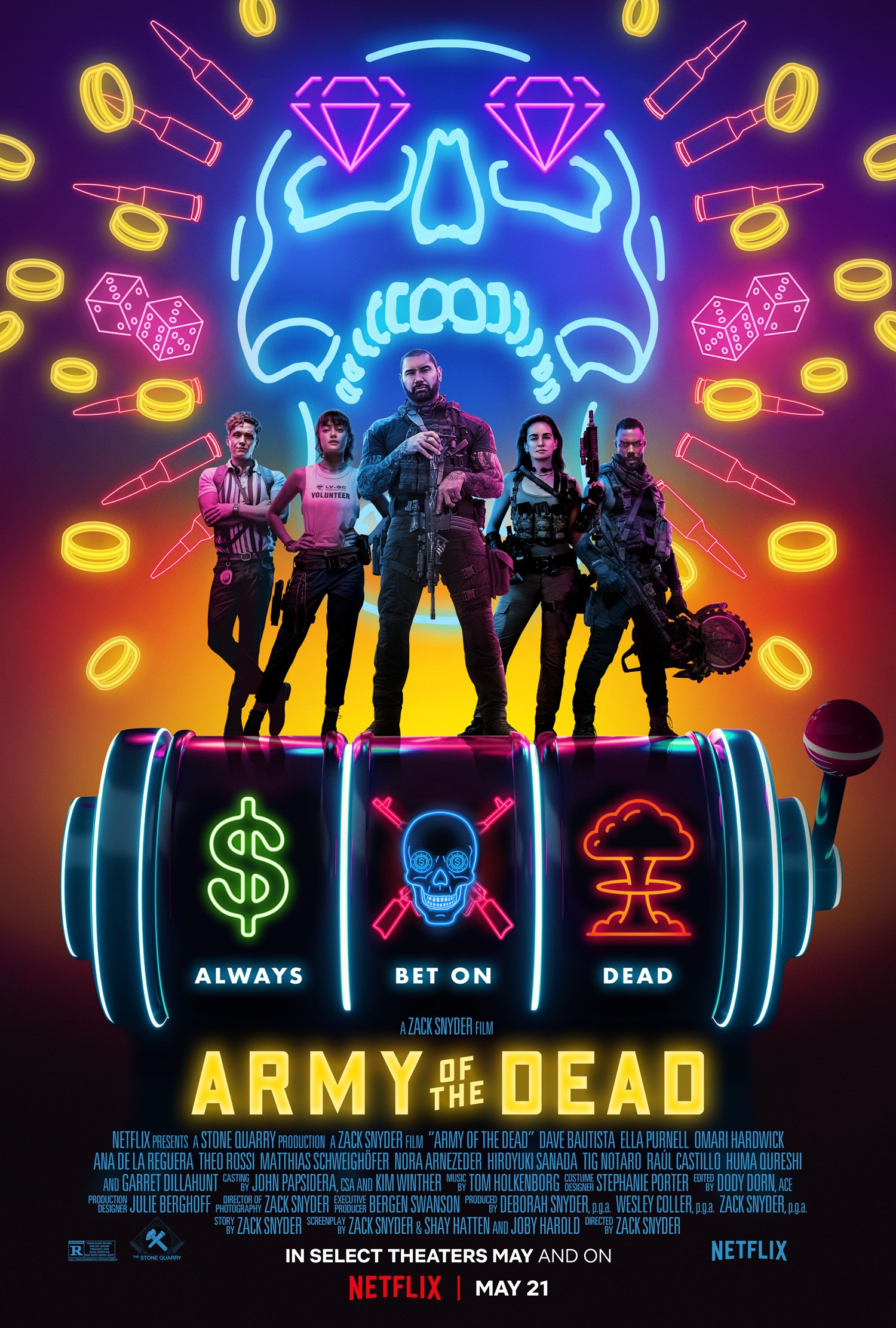 REVIEWED ON 5/22/2021 GRADE: C+