APPOINTMENT IN BRAY (Rendez-vous A Bray)
(director/writer: André Delvaux; screenwriter: from the short story "Le roi Cophetua" by Julien Gracq; cinematographer: Ghislain Cloquet; editor: Nicole Berckmans; music: Frédéric Devreese; cast: Anna Karina (Servant),  Mathieu Carrière (Julien Eschenbach), Bulle Ogier (Odile), Roger Van Hool (Jacques Neuil), Boby Lapointe (L'Aubergiste), Pierre Vernier (Monsieur Hausmann), Luce Garcia-Ville (Mme Nueil), Nella Bielski (Woman on train), Pierre Lampe (The Soldier), Jean Aron (Joseph, projectionist), Léonce Corne (Le Garde-Vue), Martine Sarsey (Mme Hausmann), Jean Bouise (editor); Runtime: 90; MPAA Rating: NR; producer: Mag Bodard; Parc Film; 1971-France/Belgium/West Germany-in French & German, with English subtitles)
"A thought-provoking magical film."
Reviewed by Dennis Schwartz

The overlooked and usually not accessible great Belgium filmmaker André Delvaux ("The Man Who Had His Hair Cut Short"/"Belle") bases this glacial, enigmatic, brilliant artistic tale on the not too film-able short story "Le roi Cophetua" by Julien Gracq. Like all his other films, this one is a blend of realism with fantasy.
The non-linear drama sets a mood for how terrifying war is compared with how vital the arts are for achieving a more valued and enlightening life. The photography by the great cinematographer Ghislain Cloquetthe is painterly, while the music by Brahms and Franck is heavenly. It should also be noted that the stunning performance by a young Bulle Ogier is what gives life to this purposely muted film.

It's set in 1917, as WWI is taking place.

Julien Eschenbach (Mathieu Carrière) was a piano student in Paris and now works there as musical journalist. He's not in the war because he's a citizen of Luxemburg. In Paris, he made friends with his former French classmate Jacques Neuil (Roger Van Hool), now a composer who is fighting for France as a fighter pilot. One day Jacques surprises him with an invitation by telegram to visit his family's unoccupied country estate in Bray for the weekend, as he will be there when going on leave. Curiously, Bray, in northern France, is only a few miles away from the war zone (the villagers can hear the gunshots from the battle). Julien jumps at the opportunity and takes the train there for his appointment in Bray.

At the estate, Julien is greeted by the mute, expressionless and beautiful but sad-looking housekeeper (Anna Karina). She lets him wait in the house as Jacques has not arrived yet and prepares something delicious for him. In the dark she walks around with a candelabra. Meanwhile the student takes the quiet time to reminisce of the happier pre-war days spent with his friend and Jacques' girlfriend Odile (Bulle Ogier), as a Jules and Jim threesome. Numerous flashbacks will show the three friends in different situations and enjoying themselves in a lively Paris, as a dream-like mood is set so the viewer has to wrestle if he's in the dream or real world.

A melancholy lingers over the story, as there's the dread that Jacques is a no show because something bad happened to him on the front. The atmosphere is stifling even on this beautiful estate, as the gloomy war spirit is present everywhere.

This is a thought-provoking magical film, set in a disturbing atmosphere, that might not resolve its plot situation as if it were a Hollywood film but conveys a deep sense of realization of what the young experience during times of war. It looms as a powerful, subdued anti-war film, one that's timeless and meant as essential cinema for those who look upon film as an art form.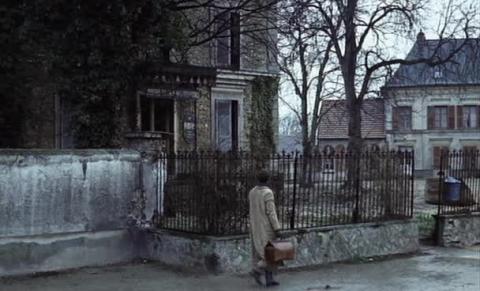 REVIEWED ON 4/1/2020 GRADE: A