ALL OF US STRANGERS 
(director/writer: Andrew Haigh; screenwriter: based on the novel Strangers, by Taichi Yamada; cinematographer: Jamie D. Ramsay; editor: Jonathan Alberts; music: Emilie Levienaise-Farrouch; cast: Andrew Scott (Adam), Paul Mescal (Harry), Jamie Bell (Dad), Claire Foy (Mum), Carter John Grout (Young Adam); Runtime: 105; MPAA Rating: NR; producers: Graham Broadbent, Peter Czernin, Sarah Harvey; Searchlight Pictures; 2023-in English)
"Touches the heart."
Reviewed by Dennis Schwartz

Brit filmmaker Andrew Haigh ("Weekend"/"45 Years") directs and writes this emotionally personal fantasy drama on gay love, loneliness and alienation. He adapts to the screen the 1987 novel Strangers, by Japanese author Taichi Yamada. It has already been filmed in Japanese.

The gay middle-age fantasy romance is set in the late 1980s, in contemporary London. 

Adam (Andrew Scott) is a reserved 40-something movie and TV screenwriter, who was orphaned as a child of 12 when both of his working-class parents were killed in a car accident coming home from a Christmas party.

From his skyscraper residence overlooking the Thames, he struggles with his childhood memories while working on a script about how he grew up. Seemingly the only other resident in the new building is a fellow named Harry (Paul Mescal). The smiling younger man visits when tipsy, bringing with him a bottle of Japanese whiskey. But for now Adam prefers to be alone with his thoughts. Eventually they will get into a relationship.

One day Adam decides to go by train back to the London suburban neighborhood where he was raised and is surprised to find his mum (Claire Fox) and dad (Jamie Bell) are alive and still living in the same Tudor house without aging (they were both in their 40s when he last saw them thirty years ago, and are about the same age he is now).
 
During the ghost story part of the film we learn Adam was closeted as a child, but is relieved to learn he could now talk more freely about his queerness to his disapproving folks. His mom doesn't reject him when he now tells her he's queer, but muses she feels sorry he will have such a sad life (worrying that he has no family). While dad never helped when he was bullied at school as a child and sulked in his room, but now even if he doesn't approve of his sexual orientation he can at least live with it and be less hostile.

On his return to his own apartment, Adam's relationship with Harry grows stronger and we're left thinking maybe he can find some happiness by not turning away from living his life.

Through the so-called ghost story (no haunting here), the gay child who has been traumatized and filled with pain and not supported in his time of need by his clueless parents, gets a chance to face them again and clear the air. This supernatural reuniting of a family is emotionally very powerful and should bring back memories that cannot be dismissed or forgotten by anyone who faced those circumstances. For the straight viewer, who might not be brought to tears like a gay person would, nevertheless will take in a well-acted by Scott and Mescal compassionate film that touches the heart.
skip past newsletter promotion
It played at the Telluride Film Festival.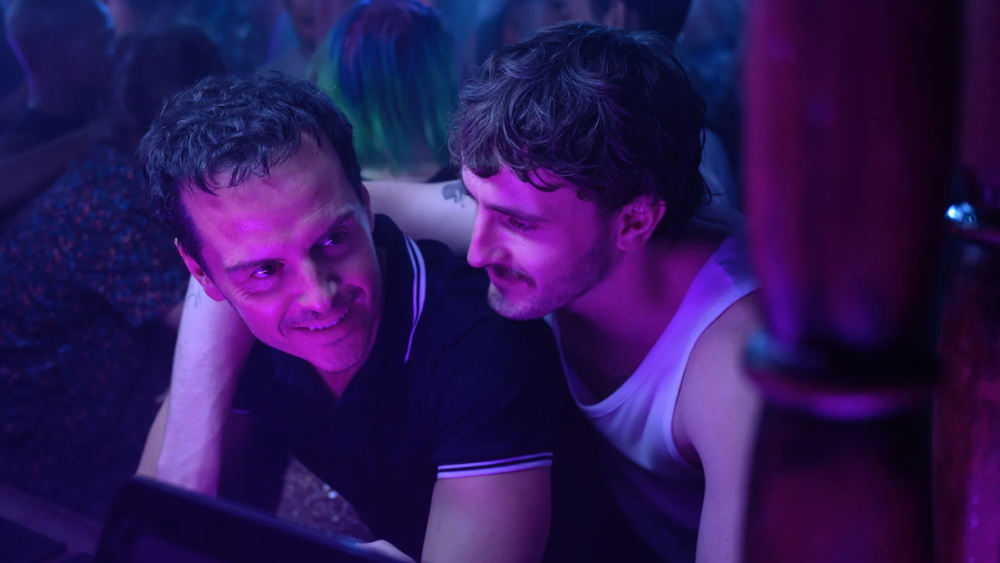 REVIEWED ON 10/4/2023  GRADE: A-