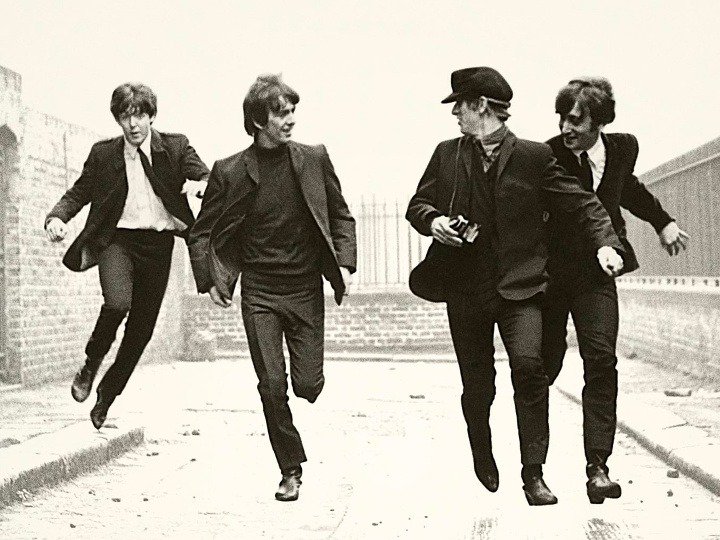 A HARD DAY'S NIGHT
(director: Richard Lester ; screenwriter: Alun Owen; cinematographer: Gilbert Taylor; editor: John Jympson; music: Paul McCartney/George Harrison/George Martin; cast: John Lennon (Himself), Paul McCartney (Himself), George Harrison (Himself), Ringo Starr (Himself), Wilfrid Brambell (John McCartney, Paul's grandfather), Norman Rossington (Norm, Manager), Victor Spinetti (TV Director), John Junkin (Shake, Manager), Anna Quayle (Millie); Runtime: 90; MPAA Rating: NR; producer: Walter Shenson; Miramax; 1964-UK)
"It's by no stretch of the imagination a good film, but it gets over as a curio and a landmark in modern Western culture."
Reviewed by Dennis Schwartz
Filmed in black and white by Richard Lester (an expatriate American, with experience as a TV director) and written by Alun Owen; it was made in a hurry to capitalize on the Beatles meteoric rise in fame. It's a badly dated septic semi-documentary look at 36 hours in the lives of the Fab Four while on the road. The boys are on a train from Liverpool to London to do a TV show; the plot centers around if the boys will make it to the show on time. This supposedly natural look caught the group just at the onset of Beatlemania, a worldwide show of affection for the mod rockers and their slick bubblegum type of music that revolutionized the music business and helped usher in a kaleidoscopic swinging London of the sixties.
Their first feature film catches them horsing around for the camera, giving off likable vibes, seeming relaxed in their roles as pop culture superstars, and feeling groovy sporting their fancy looking mod long hairstyles. It comes with a slight story line about them being harassed by their nervous managers Norm Rossington and Shake, having their hands full trying to look after Paul's spry irascible grandfather (Wilfrid Brambell), and dealing with the hordes of screaming teenage girl fans that mob them in transit. It's by no stretch of the imagination a good film, but it gets over as a curio and a landmark in modern Western culture, and poses as an intimate portrayal of them as fun-loving regular dudes (giving them some good publicity). At the time it seemed like a breath of fresh air, viewed today one might ask what was all the fuss about.
Lester wisely keeps things moving at a brisk pace mixing sight gags and one-liners with songs, and uses gimmicky camera shots lifted from the French New Wave such as jump-cuts and fast and slo-motion shots. It all seemed to work for the public, as the film made in 6 1/2 weeks for only a $500,000 budget ended up grossing about $6.165 million.
The songs include "I Should Have Known Better," "And I Love Her," "Tell Me Why," "If I Fell," "Can't Buy Me Love," and "A Hard Day's Night."
REVIEWED ON 8/30/2005 GRADE: B- https://dennisschwartzreviews.com/