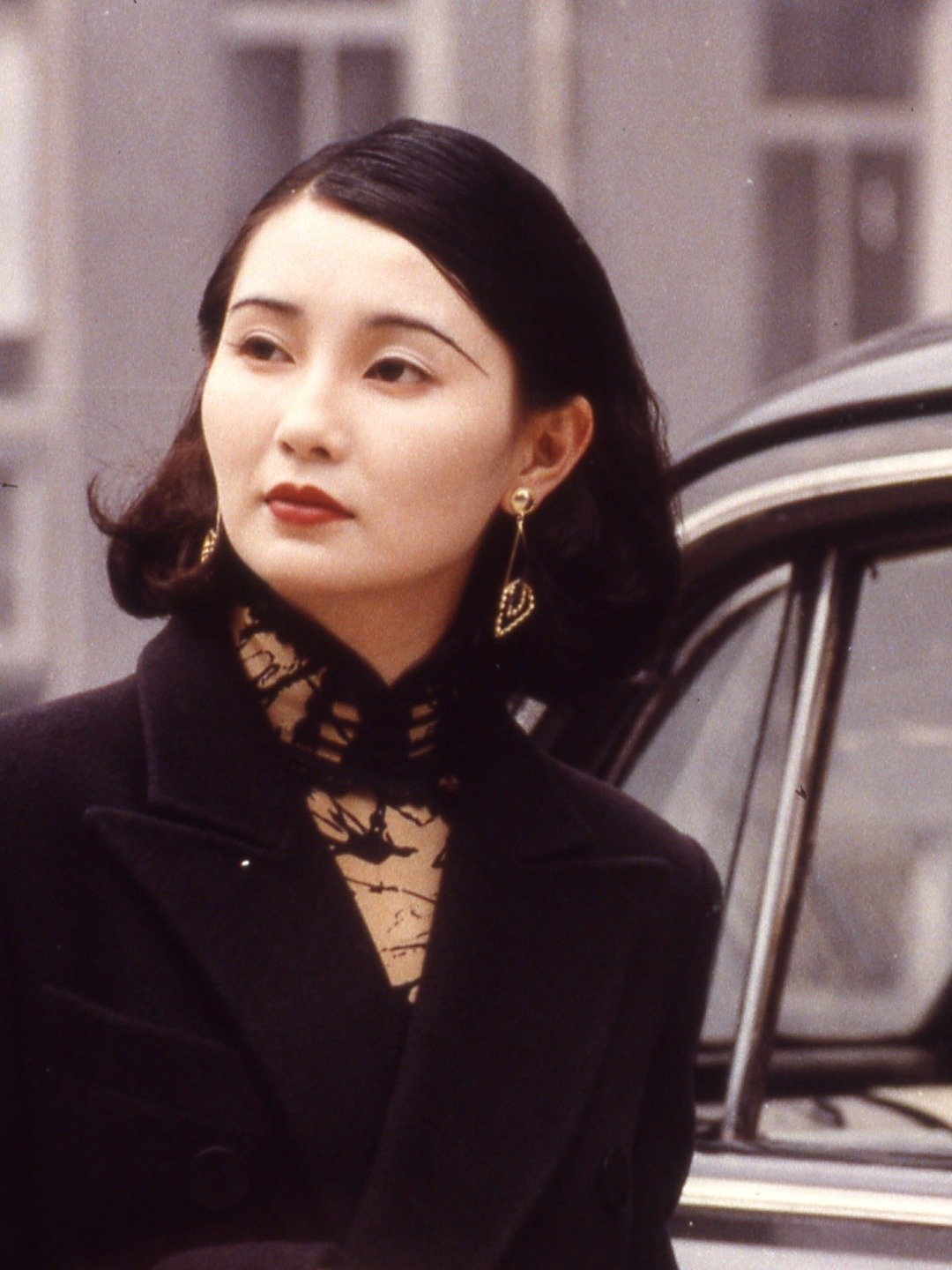 ACTRESS, THE (CENTRE STAGE) (Yuen Ling-yuk)
(director: Stanley Kwan; screenwriters: Yau Tai On-ping/Tai An-Ping Chiu as Peggy Chiu; cinematographer: Hang-Sang Poon; editor: Peter Cheung; music: Siu Chung/Huang Jin Chen; cast: Maggie Cheung (Ruan Ling-yu), Tony Leung Ka-Fai (Tsai Chu-sheng), Carina Lau Ka Ling (Lily Li), Cecilia Yip (Lin Chu-Chu), Lawrence Ng (Chang Ta-Min), Waise Lee (Li Min-wei), Li-Li Li ( (Herself); Runtime: 121; MPAA Rating: NR; producers: Leanard Ho/Jackie Chan/Koon-Cheung; Swift Distribution/Golden Harvest; 1992-Hong Kong/Taiwan)
"An overwhelmingly moving tribute to the popular Hong Kong actress Ruan Ling-yu of the 1930s…"
Reviewed by Dennis Schwartz
An overwhelmingly moving tribute to the popular Hong Kong actress Ruan Ling-yu of the 1930s. She's someone the press called "the Chinese Garbo," who is magnificently played by Maggie Cheung despite not looking like the actress. This is the film that made Ms. Cheung a prominent figure among the world's actresses. Maggie won Best Actress honors at the prestigious Berlin International Film Festival for her portrayal of China's first moody star and glamorous prima donna. Ruan was born in 1910 and took her own life when she was only 25 on March of 1935 in protest against the social pressures on her and the malicious gossip stirred up by a hostile press, as a scandal erupted which was precipitated by her evil extortionist ex-husband Chang Ta-Min (Lawrence Ng). She had no fear of death, but couldn't live and face her critics. The press was only to eager to take her down a few pegs after she made "New Women," a film that did not present the press in a good light. They bitterly criticized her for an affair with a married wealthy man, Tsai Chu-sheng (Tony Leung), and even though he's the one with the wife and mistress she's the one who gets all the bad press.
The beautiful Cantonese speaking Ruan, who arose from humble origins to stardom in the Shanghei film studio system, began her acting career at 16, where she was in "wallflower roles" — small parts. She started out playing roles of prostitutes at the tender age of 16 and then elevated herself by learning Mandarin and playing mostly noble and tragic roles, with the tragic ones reflecting the fate of the women of the time. The film picks up in 1929 and charts the progress in her career and her development by flashing onscreen the significant annual dates until her suicide in 1935. Ruan was the people's choice as a great feminist actress, whose rotten luck in her private relationships became too much for her to bear. Yet it was those personal tragedies that helped her gain empathy for the difficult roles of the tragic figures she became noted for.
Ruan worked with some distinguished directors such as Pu, Sun and Fei Mu, who helped her grow as an actress. One of her early noteworthy films was "Reminisces of Peking," she was later acclaimed for her work in "The Goddess," while one of her more popular box office hits was "Gimmicks."
Taiwanese director Stanley Kwan ("Rouge") inter-meshes reconstructed black-and-white footage of Ruan's films with his color film of her life story in this masterly done unorthodox and curious biopic. By including in a tasteful and smooth way into his dramatic film many documentary clips from her films and interviews from the veteran film people who knew her, Kwan increases the interest of her dramatic story with the real-life insights into the real Ruan. By filming without telling a linear story and without a flat definitive presentation of the actress Kwan allows the viewer to see for himself the flaws and vulnerabilities and strengths in Ruan's character, which allows for one to find their own truth about the gracious actress who felt trapped by life yet still was such a dedicated actress that she made 29 films in her short career.
REVIEWED ON 10/6/2002 GRADE: A