A LITTLE PRAYER
(director/writer: Angus MacLachlan; cinematographer: Scott Miller; editor: Tricia Holmes; music: Greg Danner; cast: Jane Levy (Tammy), Will Pullen (David), David Strathairn (Bill), Celia Weston (Venida), Anna Camp (Patti), Amy Marie Murphy (Female Accountant), Billie Roy (Hadley), Ashley Shelton (Bethany), Steve Coulter (Sarge), Dascha Polanco (Narcedalia), Martha Bassett (unseen VFW singer), Viktor Hernandez (Factory Worker), Keisha Tillis (Woman in Scrubs); Runtime: 91; MPAA Rating: NR; producers: Max A. Butler/Angus MacLachlan/Lauren Vilichick; Sony Pictures; 2023)
"A slow moving but smart indie drama."
Reviewed by Dennis Schwartz

A slow moving but smart indie drama, set in North Carolina, that's adeptly written and directed by Angus MacLachlan ("Abundant Acreage Available"/"Goodbye to all That). Angus made his mark as the writer of the acclaimed Junebug.

When the impulsive David (Will Pullen) cheats on his sweet wife Tammy (Jane Levy) with his office secretary (Dascha Polanco), his dad Bill (David Strathairn), the owner of the sheet metal place where his son works, awkwardly steps in to try and save the marriage and protect his daughter-in-law.

The young couple share a home in Winston-Salem (the director's hometown) with David's parents Bill and Venida (Celia Weston). At the same time of his son's problems, his daughter Patti (Anna Camp) arrives back home from Virginia dead broke with their granddaughter Hadley (Billie Roy). Patti's reeling from her marital problems.

After dealing with the stressful situation in an adult-way, his son's marriage gets back on good-footing, in this quiet film that in an easy way deals with contemporary marital problems facing many Americans.

Its best advice is given by the medical doctor (Keisha Tillis), who while in scrubs, tells Tammy that "People always have their strong opinions." Which seems to be the light message the film wants to leave us with when it comes to dealing with family problems.

Strathairn as usual is marvelous. But Levy's intelligent and discerning performance takes the acting honors. The low-key melodrama leaves us taking in a gesture for 'a little prayer' from the family patriarch and some soulful music coming from an unseen VFW band singer (Martha Bassett) filling the peaceful country town with hope after experiencing some past tragedies.

It played at the Sundance Film Festival.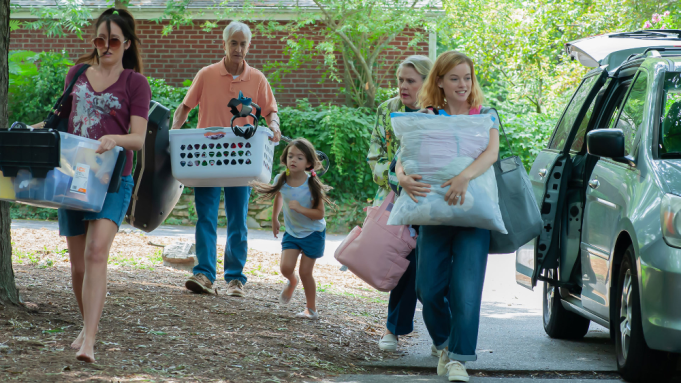 REVIEWED ON 3/23/2023  GRADE: B