ZYZZYX ROAD  (DEAD AHEAD)
(director/writer: John Penney; cinematographer: David Klein; editor: Joseph Gutowski; music: Ryan Beveridge; cast: Leo Grillo (Grant), Katherine Heigl (Marissa), Tom Sizemore (Joey), Rickey Medlocke (Meth Dealer), Yorlin Madera (Truck Driver); Runtime: 90; MPAA Rating: NR; producer: John Penney; GoDigital Media Group; 2006)
"Only made $30."
Reviewed by Dennis Schwartz

At the time Zyzzyx Road was The Lowest Grossing Movie Ever: It Only Made $30 in the Dallas theater where it played for a week, showing once a day at noon, and for its run drew only 6 patrons in the theater that was  rented out by the filmmakers for a thousand dollars a day. Its budget was for $2,000,000. In 20ll, the dubious honor of lowest grossing film went to "The Worst Film Ever Made," an 11-minute short which took in $11. Years later, after released on DVD in numerous countries the Zyzzyx Road crime thriller grossed a hefty $368,000.
The film was shot in 20 days in California's Mojave Desert.

The title is taken from the rural road in the Mojave Desert.

The first-time director John Penney ("Hellgate") is also the writer and producer.

The philandering middle-aged family man, with a daughter, the accountant named Grant (Leo Grillo), travels to Las Vegas on business, where he meets in a casino the sexy 21-year-old Marissa (Katherine Heigl). While in a motel with Marissa, her violent ex-boyfriend Joey (Tom Sizemore) bursts in the room and conks Grant in the noggin. Grant recovers and kills him.

Grant puts his corpse in his car trunk and goes to bury him in the Zyzzyx Road in the Mojave Desert, but after digging a grave he can't find the body in the car trunk. But will soon find Joey hidden in an abandoned mine, as he evidently didn't kill him as first thought.

The film destroyed Grillo's Hollywood career, who instead became an animal rights advocate. The film, which never received a theatrical distribution, became notorious in Hollywood as a colossal failure. But it wasn't a bad film as much as an unlucky one.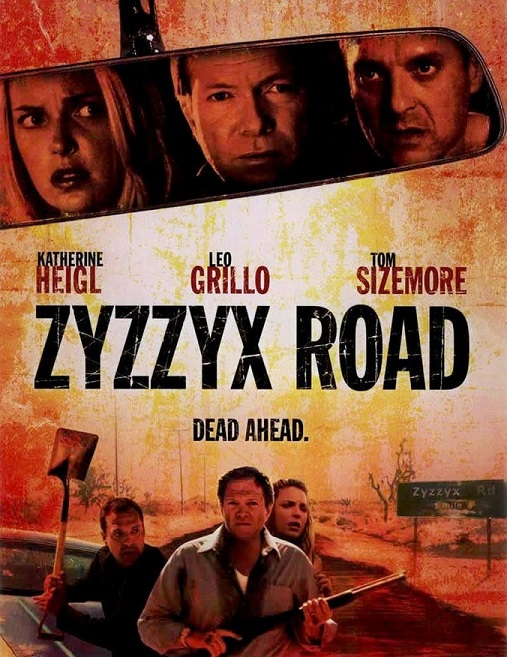 REVIEWED ON 7/17/2023 GRADE: B-