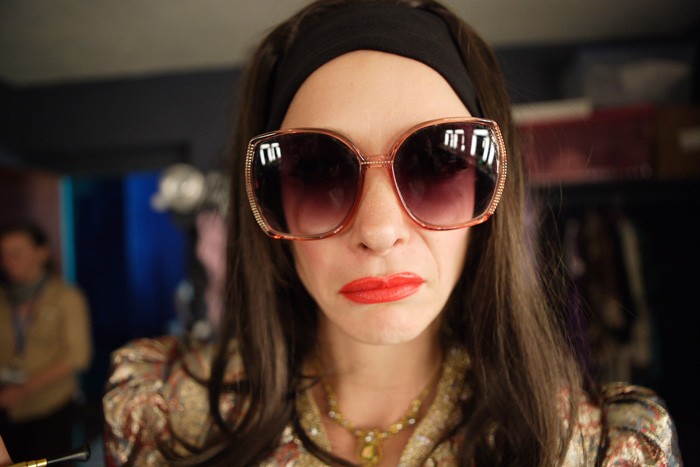 ZOMBIE STRIPPERS!
(director/writer: Jay Lee; cinematographer: Jay Lee; editor: Jay Lee; music: Billy White Acre; cast: Jenna Jameson (Kat), Roxy Saint (Lillith), Robert Englund (Ian Essko), Penny Drake (Sox), Joey Medina (Paco), Shamron Moore (Jeannie), Jennifer Holland (Jessy), John Hawkes (Davis), Jeannette Sousa (Berenge), Whitney Anderson (Gaia); Runtime: 80; MPAA Rating: R; producers: Angela Lee/Larry Schapiro/Andrew Golov; Triumph Films; 2008)
"More dead than undead."
Reviewed by Dennis Schwartz
A poorly made and badly acted comical futuristic sci-fi horror film that has a good start but a bad end. Filmmaker Jay Lee ("Houses with a 100 Eyes"/"The Slaughter") keeps the low-budget B film under wraps as more dead than undead. The one-trick-pony film sports what could have been a decent political subtext if it tried more (in George Bush's fourth Presidential term war is everywhere and more soldiers are needed so contractors are hired to find a way to bring the dead soldiers back to life to fight again). But Lee can't wait to show zombie gore and tits and ass, as he discards the political premise about the military-industrial complex overreaching to gain military might and goes all in on keeping it a trashy zombie flick.Rhino's is an underground Nebraska strip club that the oily Ian Essko (Robert Englund, noted as Freddy Krueger) operates. The dude's name pays homage to "Theater of the Absurd" playwright Eugene Ionesco. The strip-club is the first place hit when a soldier bit by a zombie at the research facility goes to the strip-club and infects the lead stripper Kat (Jenna Jameson, noted porn star) and she becomes a flesh-eating zombie. When she continues her routine as a zombie, customers take her fresh looking act to be hot and lap it up. The scheming, greedy and heartless Essko envisions making a fortune from this act, even when things get violently out of hand he doesn't stop it. The cheapo production values result in unimpressive special effects and a tawdry look. Though a low-quality work, it nevertheless was a fun watch (in a moronic way) that should appeal to the stoner crowd if they have enough weed to get through the whole rotten movie.
REVIEWED ON 11/8/2018 GRADE: C+        https://dennisschwartzreviews.com/